Want to learn how to stop spam comments on WordPress? Are you annoyed with these unwanted spam comments? Then this article is best for you, keep reading you will never get disappointed.
WordPress is one of the most popular website-building platforms, used by millions of people worldwide. While it offers numerous features and benefits, it also attracts spam comments that can be frustrating and time-consuming to manage. Spam comments can harm the reputation of your website and also affect its search engine ranking.
In this article, we will discuss the best ways to avoid spam comments on your WordPress website. We will cover different techniques and tools that you can use to reduce the number of spam comments you receive, ensuring that your website remains secure and professional.
What is a Comment?
On WordPress, a comment is a feature that allows visitors to leave feedback, share opinions or ask questions about a specific post or page on a website. Comments are displayed at the bottom of a post or page, and users can add their thoughts or respond to other comments in a threaded discussion format.
WordPress comments can include text, images, or links, and they can be moderated by the website owner to ensure that they are relevant and appropriate for the content being discussed.
Site owners can also enable or disable commenting on specific posts or pages, and they can set up various anti-spam measures to prevent unwanted or malicious comments. In this article, we will discuss the same thing.
Overall, comments provide a valuable way for website owners to engage with their readers and build a community around their content.
What is a Spam Comment on WordPress?
A spam comment on WordPress is a comment that is posted on a website with the intent of promoting a product or service or generating backlinks to another website.
These comments are often irrelevant to the content of the post or page and are posted in large numbers with the help of automated bots or software.
Spam comments can be harmful to a website in several ways. They can clutter up the comments section, making it difficult for readers to engage in meaningful discussions.
They can also harm the website's reputation and search engine ranking if they include links to low-quality or spammy websites. Additionally, spam comments can be a security risk if they contain malware or other malicious code.
WordPress provides various tools and plugins to help site owners combat spam comments, keep going, and we will see all the best ways to stop spam comments on WordPress.
7 Best Ways to Stop Spamming Comments On WordPress
1 Disable comments on the whole website
2 Turns off comments for anonymous users
3 Setup comment Moderation on your website
4 Only logged-in users can add comments
5 Make a list of Blacklisted words and links
6 Lower the number of links or don't allow links in comments
7 Disable comments for specific posts
Points in the above list, are the ways that help you to avoid spam comments on WordPress websites. So let's see them in depth one by one.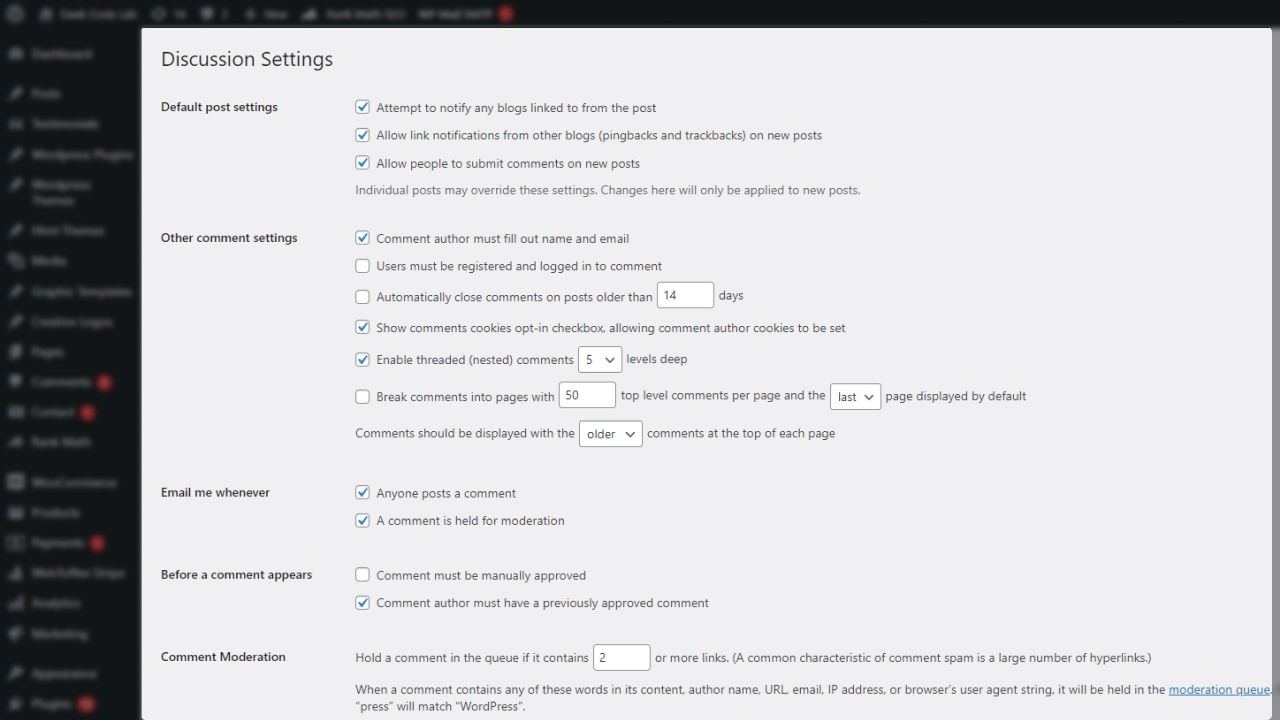 All settings are available in Settings > Discussion.
1. Disable Comments on the whole website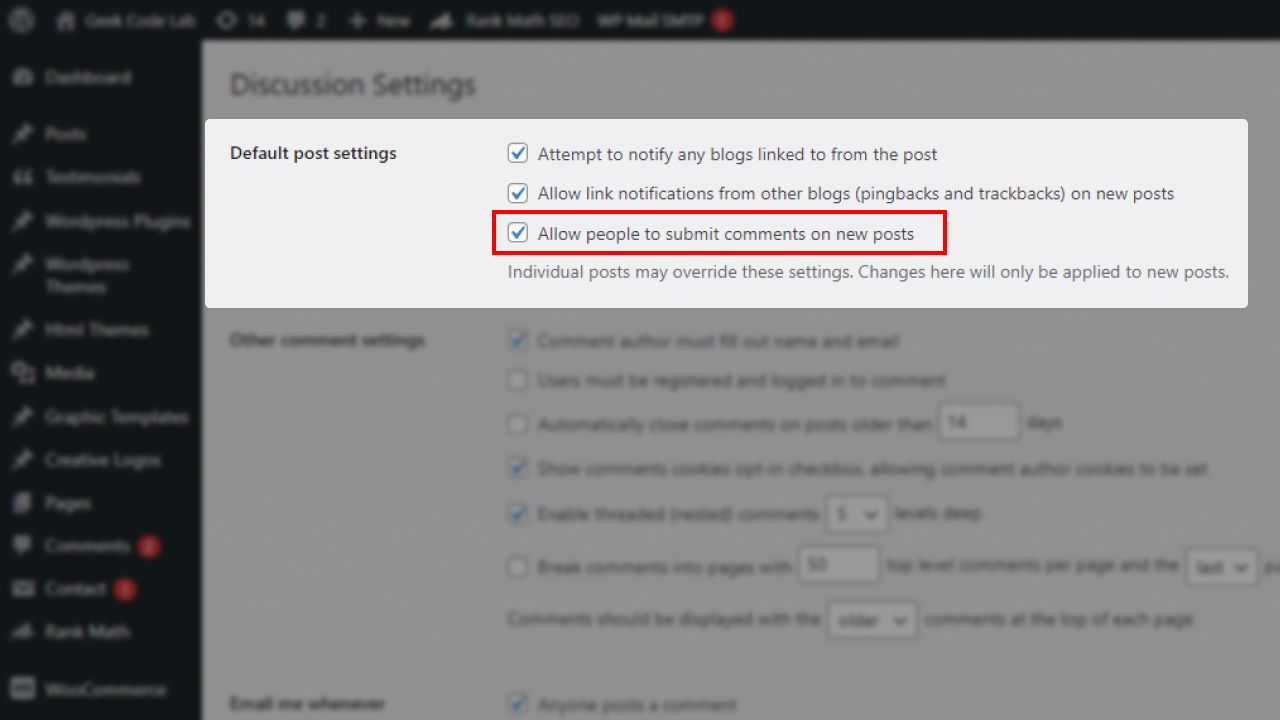 Here is the first way to stop spam comments on WordPress, you can disable comments on your website. But it depends on whether your website or business wants to use them.
A simple way to do this is to uncheck the Allow people to post comments on new articles option, at Settings > Discussion > Default post settings.
By doing this you turn off comments for all new posts. Also, turn off ping backs too. Attention, if you have some old or published posts, you need to disable comments for each of them individually.
We will also show you how to stop comments on old or published posts.
2. Turn off Comments for Anonymous Users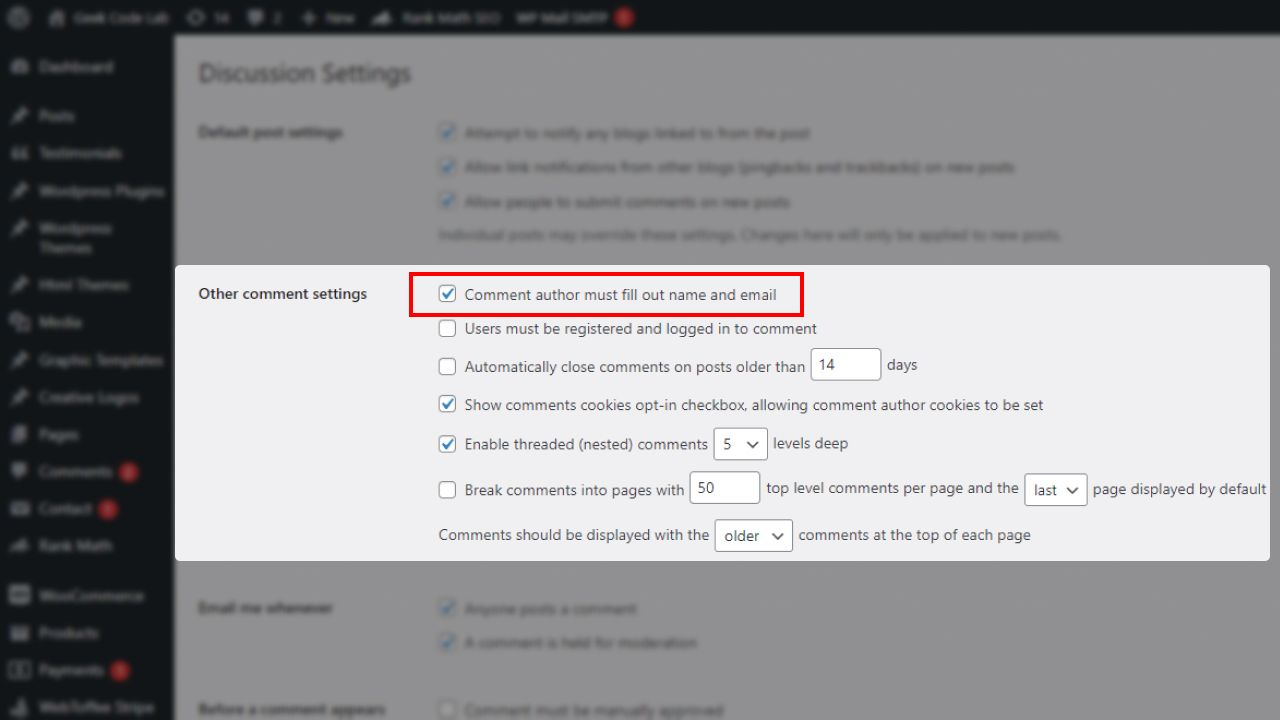 The second best option is to turn off anonymous comments on your website. The default WordPress always asks the visitor for the following details: comment, name, email and website link, before they will give a comment on your post.
If you enable anonymous comments, these details are no longer required. This step can open a way for a spammer to fill the comment section with spam comments.
To disable anonymous comments you need to follow my instructions. Go to Settings > Discussion > Other Comment Settings, and check Comment author must fill out name and email option.
3. Setup Comment Moderation on Your Website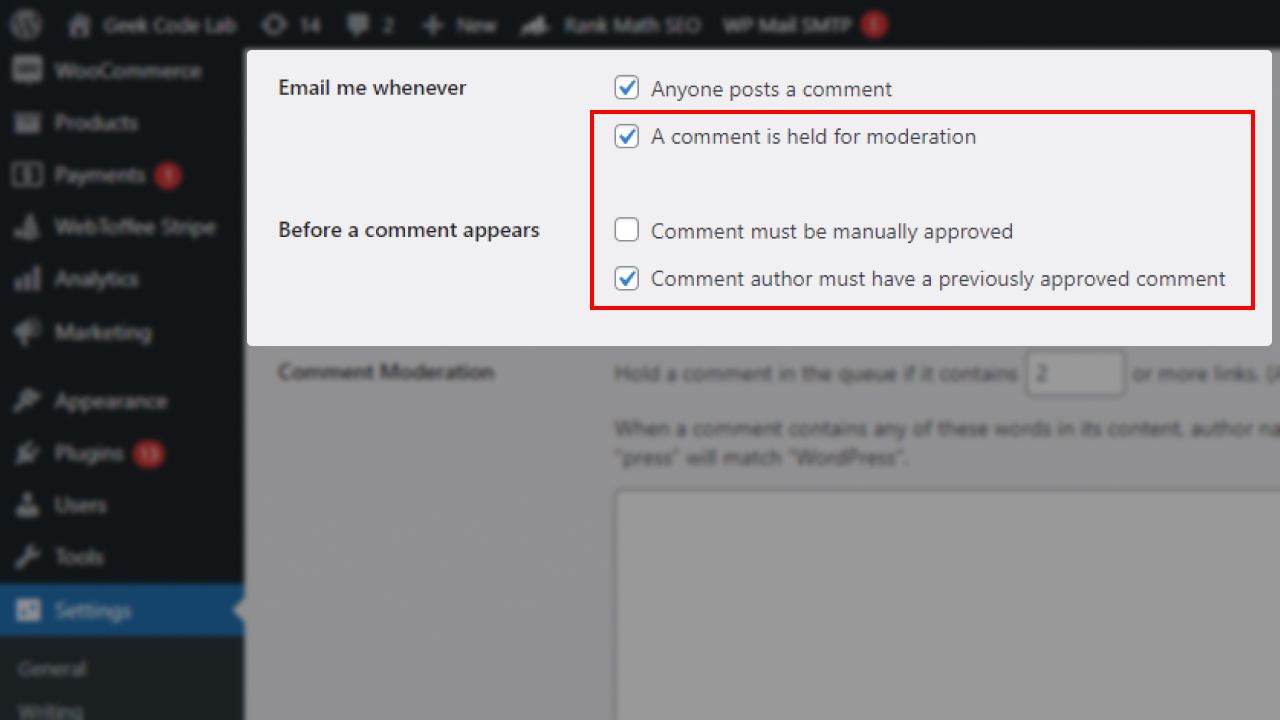 The other option is to use the WordPress built-in moderation features.
Manually approve each comment.
Comment moderation queue.
Using first moderation does not stop spam comments on WordPress but you to show only high-quality comments to your visitors by approving comments yourself.
Now using the comment moderation queue, you can hold some comments in moderation if they contain a certain number of links. You can create a list of names, IPs, words, URLs, etc. that are held for moderation too.
For the moderation settings you have to visit two sections Email me whenever and Before a comment appears.
To set all comments on hold, check Comment must be manually approved.
To hold comments from new commenters, check Comment author must have a previously approved comment.
If you want to receive an email when a comment is held for moderation, check the Email me whenever… A comment is held for moderation option.
4. Only logged-in Users can Add Comments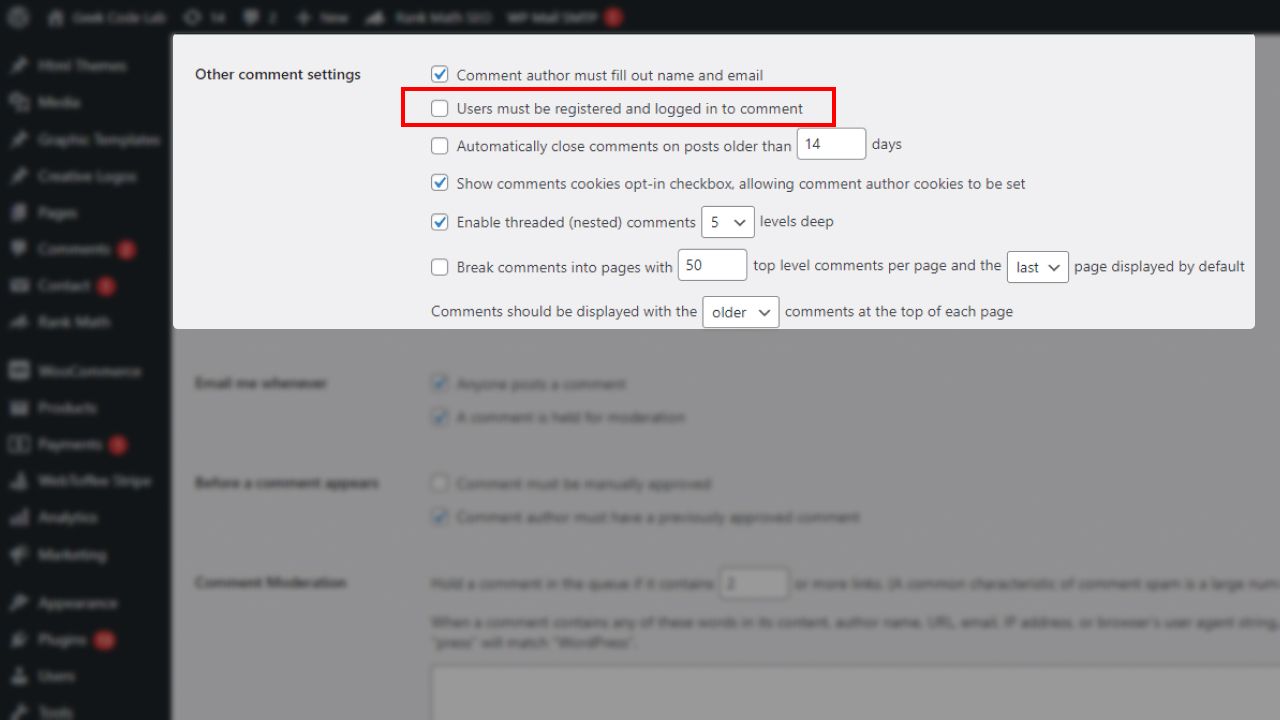 So simply you can understand what you do here. You can allow only logged-in users to comment on your website. So you can avoid spam comments on WordPress.
For this setting, you have to visit Settings > Discussion > Other Comment Settings and check Users must be registered and logged in to comment option.
This can help you if your website is a membership community, so you can avoid unnecessary comments. And maintain a clean environment for your users.
5. Make a list of Blacklisted words and links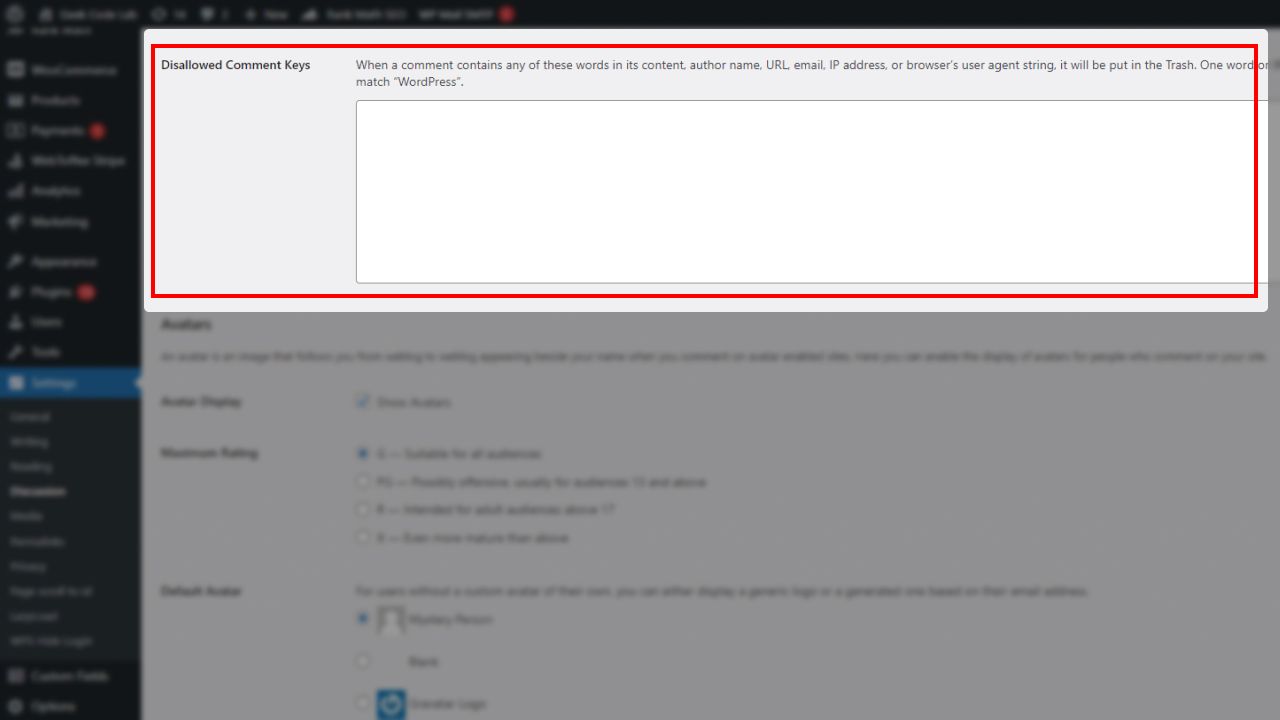 You can also avoid comments on specific topics or words. Here you have an option for that. You can create a list of blacklisted words to avoid comments which include those selected words.
If you want to avoid comments for your competitor's product and links, you can also include them in a list of blacklisted words.
To create a list go to the Settings > Discussion > Comment Blacklist field and add the blacklisted words or sentences. Here you can add anything email addresses, links, IP addresses, and anything you want.
6. Lower the Number of Links or Don't allow Links in Comments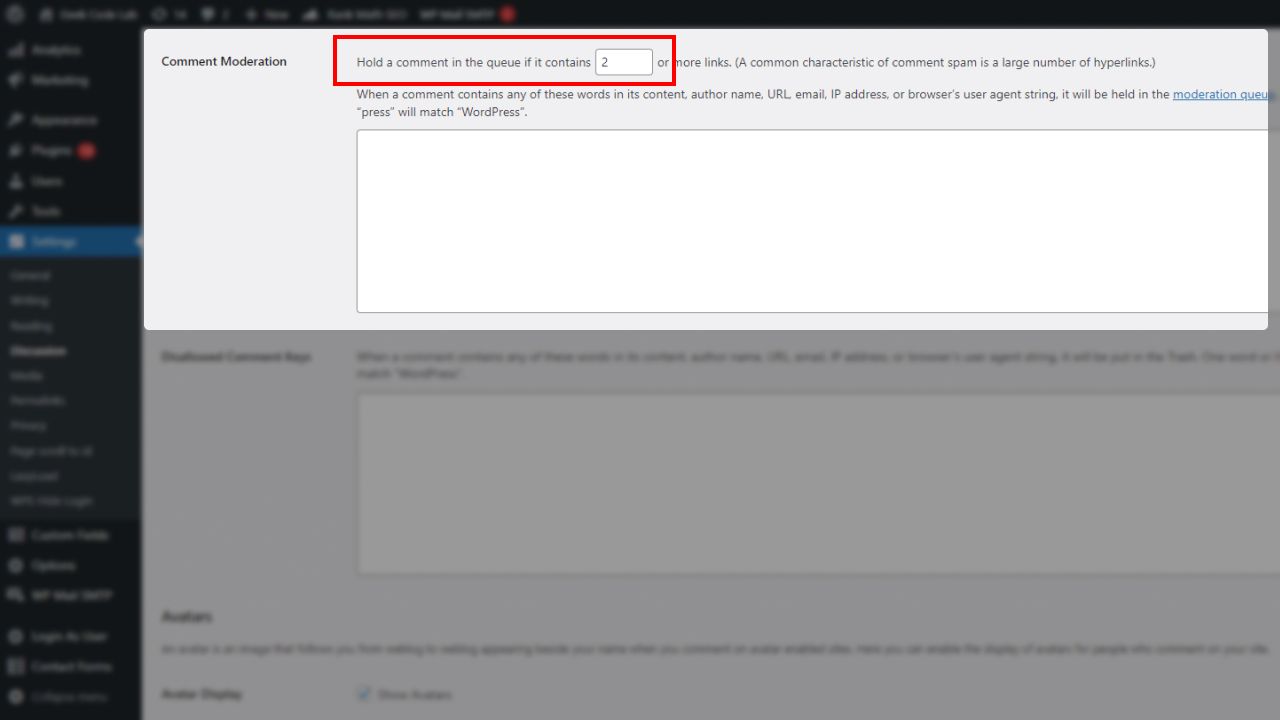 Spam comments have links to the spammer's website, so they can drive your website traffic to theirs. You can ban the comments which include the links or allow the minimum number of links in the comments.
For this setting, you have to go to Settings > Discussion > Comment Moderation section. Here you can set up your comment moderation settings.
Now in the comment moderation if you want to allow the users to add only one link select 2, and if you don't want to allow a single link in your comment then select 1.
7. Disable Comments for Specific Posts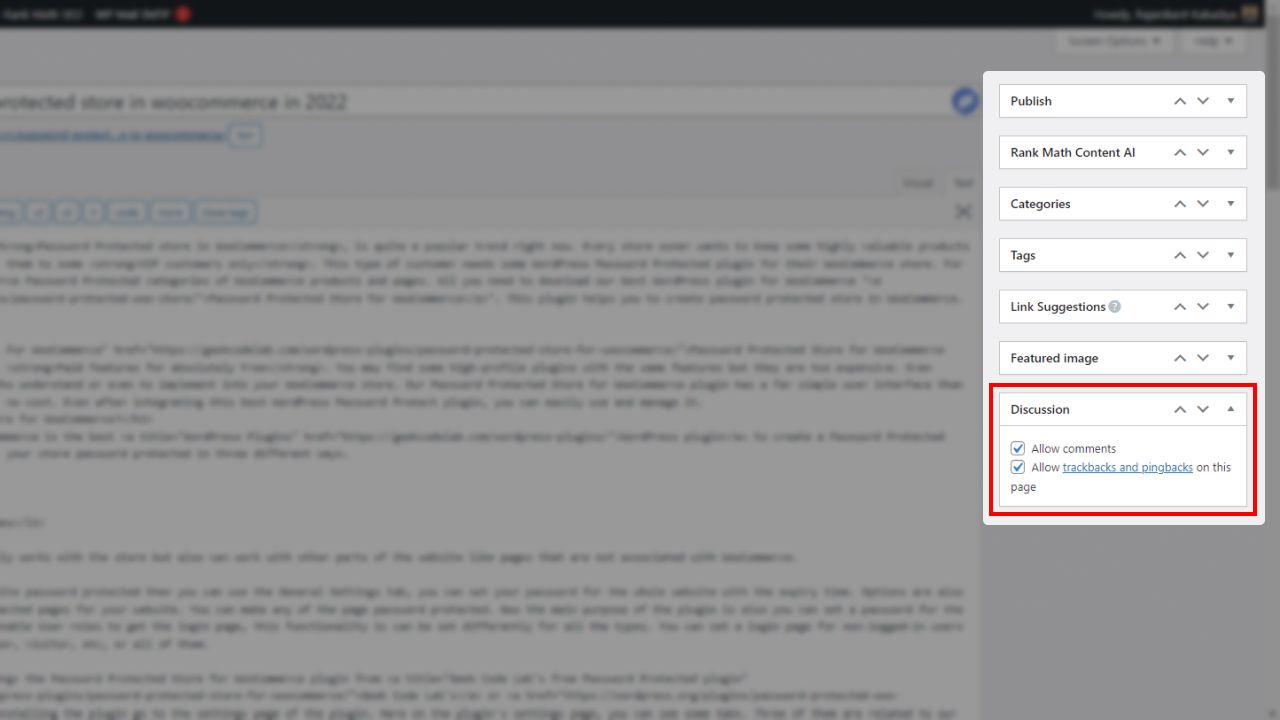 Assume that you disabled the comments after publishing some posts, or in another case, you only want to stop spam comments on specific posts. At this time you have to edit that particular post and set the comments option from the edit post page.
For this setting, you need to follow these steps. Select the post for which you want to stop the comments. Find the discussion tab on this edit post page. If you don't find it, then you can check the "Discussion" option from the Screen Options.
Now you can see the discussion tab on the product edit page. So here you can uncheck to allow comments option. So now you can avoid users' comments for this particular post.
Plugins to Stop Spamming Comments on WordPress Site.
So let's have a look at some plugins to stop spam comments on WordPress. These plugins can very helpful when you're not familiar with WordPress systems, you can use these WordPress disable comments plugins.
You can use ready-made plugins and simply stop WordPress comments on WordPress with no time and no extra cost.
Disable Comments
The Disable Comments WordPress plugin is a useful tool for website owners who want to manage the comments section of their site. The plugin allows users to disable comments on all or specific post types on their WordPress site.
Benefits of Disable Comments plugin
Reduces Spam: Disabling comments can reduce spam on your website. Spam comments can be annoying and can also affect your website's SEO ranking.
Saves Time: Disabling comments can save you time in moderating and responding to comments. This is especially useful for busy website owners who don't have the time to manage their comments section.
Improves Site Performance: Disabling comments can improve site performance by reducing the load on your site's database. This is especially important for sites with high traffic.
A kismet
A kismet is a powerful WordPress plugin that helps protect your website from spam comments and content. It's a must-have tool for website owners who want to keep their website's comment section clean and secure.
Benefits Akismet plugin
Spam Protection: A kismet protects your website from spam comments and content. It uses advanced algorithms to identify and block spam before it can be posted on your site, saving you time and effort in moderating and deleting spam comments.
User-Friendly: A kismet is easy to use and doesn't require any technical knowledge. Once installed, it works in the background to keep your site secure, without any additional work required on your part.
Customizable: A kismet can be customized to fit the specific needs of your website. You can choose to block or allow specific types of content, customize the messages displayed to users, and more.
Conclusion
In conclusion, spam comments can be a significant problem for WordPress website owners. They can clutter up the comments section, harm the website's reputation and search engine ranking, and even pose a security risk.
However, by using the best practices and tools discussed in this article, website owners can minimize the impact of spam comments and maintain a more secure and professional online presence.
Some of these techniques include using CAPTCHA tests, enabling comment moderation filters, and installing spam detection software.
By taking these steps, website owners can ensure that their readers can engage in meaningful discussions without being bombarded by unwanted and irrelevant spam comments.
So if, you are interested in the posts like this please stay connected with us at Geek Code Lab. At Geek Code Lab we are having such great tools like WordPress and WooCommerce plugins, HTML themes, XD Graphics templates, Creative logos, and Blogs with meaningful content. So keep with us and enjoy your day, thank you!