Woo Donation Plugin
I think you might have across the World Wide Web, there are lots of organizations and website owners collecting donations digitally. All non-profitable organizations, charity organizations, and NGOs, use this approach for collecting donations or funds for giving valuable effort to helping in special causes like natural disasters, old age homes, poor people, orphan homes, or any other causes.
Using Woo Donation plugin you can easily collect endless donations for your organizations or website. Our Woo Donations is the best WooCommerce donation plugin available on the WordPress platform.
We have two variants one is free and another is pro with lots of extra functionality. Woo Donations is a WordPress donation plugin which never lets you down.
With Woo Donations you can create a donation campaign for raising funds for your organizations or charity. Admin can set minimum and maximum donation amount, predefined amount, user's preferable custom amount. Display WordPress donation form on Cart page and Checkout page. Donors can also change the donation amount on these pages before payment. Admin can track all the donations from the Donation Orders page, on this page listed all the past donation orders.
Pros of WooCommerce Donations Plugin
Easy to integrate and use
User-friendly system and interface
So much helpful for a maintaining WooCommerce donations digitally
Lots of features with free plugins also can get extraordinary features with the pro version of WordPress Donation Plugin
Fully customizable
Multiple display options for donation form
A most important benefit of Woo Donations is 24×7 great support
Any issue or query can be solved in 24 hours with the pro version of the WooCommerce Donations Plugin
The Pro version of Woo Donations has higher priority for customer support
We're always ready and excited to support and help to you
We can provide guidance as much as you need
Cons of WooCommerce Donations Plugin
We're happy to tell you that no cons are found if you're using Woo Donations WordPress plugin for your Site
Features of WooCommerce Donation Plugin
Free WordPress Donation plugin features
Set up location to display donation form with options cart and checkout page
Set up the donation button color as per your theme's main color requirement
Options to set up donation button text as per your requirement
Options to set up donation button text color as per your requirement
Manually have the option to set a donation form on the cart and checkout page
Manually have the option to set the Description field donation form
Manually have the option to set donation forms on other pages with short code
Manually enable or disable the option to display the donation form on the cart and checkout
Dynamic Label Options.
Pro Donation plugin features
Display predefined and custom price donation amount options.
Display donation request popup.
Add the donation widget on the website's sidebar or footer.
Show donation order listing.
Download the CSV file in the donation order table.
Configurable screen position for a donation form on the cart page.
Configurable screen position for a donation form on the checkout page.
Fundraising donation campaign.
Auto-create a donation page.
Admin can set sticky donation buttons on the websites.
Donation button short code for set in the entire site.
Allow Email template for sending mail to donors.
Option to change any title, label, placeholder, button text, etc.
Timely support 24/7.
Regular updates.
Well documented.
How to install and Usages of Woo Donations Plugin
1. Select a donation product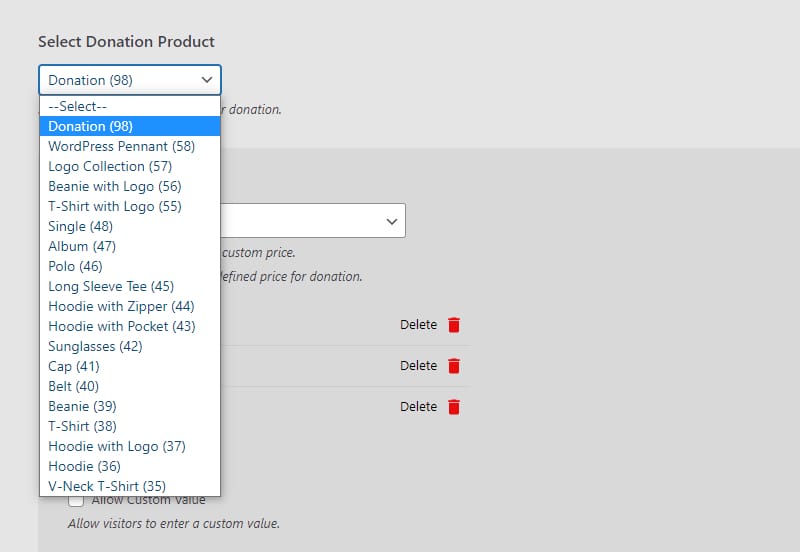 We provide you with an already created product for donation product or select any WooCommerce product as a donation product.
2. Flexible donation amount options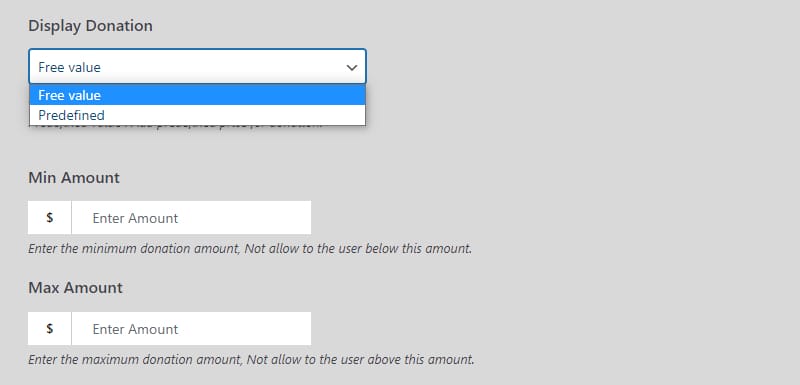 The donation amount can be set with min/a max amount, predefined amount, or donor's desirable amount.
3. Set minimum and maximum donation amount limit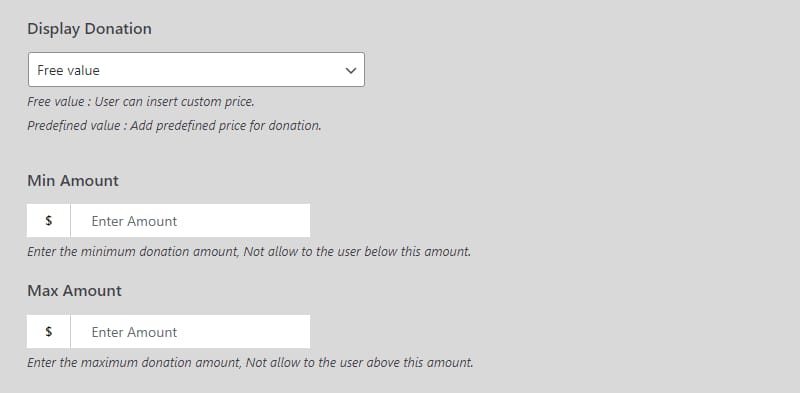 Admin can use this option to set minimum donation amount and maximum donation amount limits. You can set both or only one option like you can only set a minimum donation amount or only a maximum donation amount. Assume that you're setting a minimum donation amount of 10 and a maximum amount is 50. So in this case donors can only donate an amount between 10 and 50, not more than 50, and not less than 10.
4. Predefined donation amount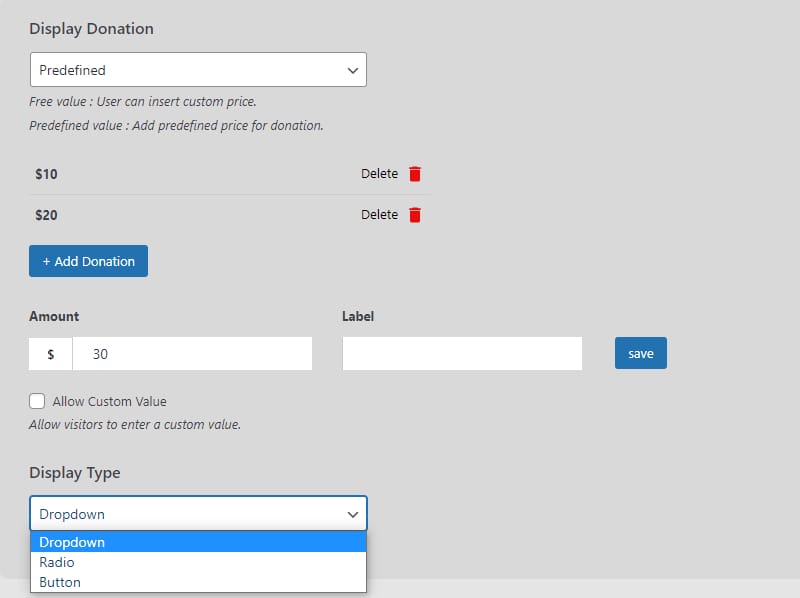 WooCommerce Donations Plugin provide you to set predefined donation amounts. Donar can select an amount from those already created donation amount predefined options. These options can display in different styles, like buttons, radio, or dropdowns.
5. Add a donation form on the Cart page and Checkout page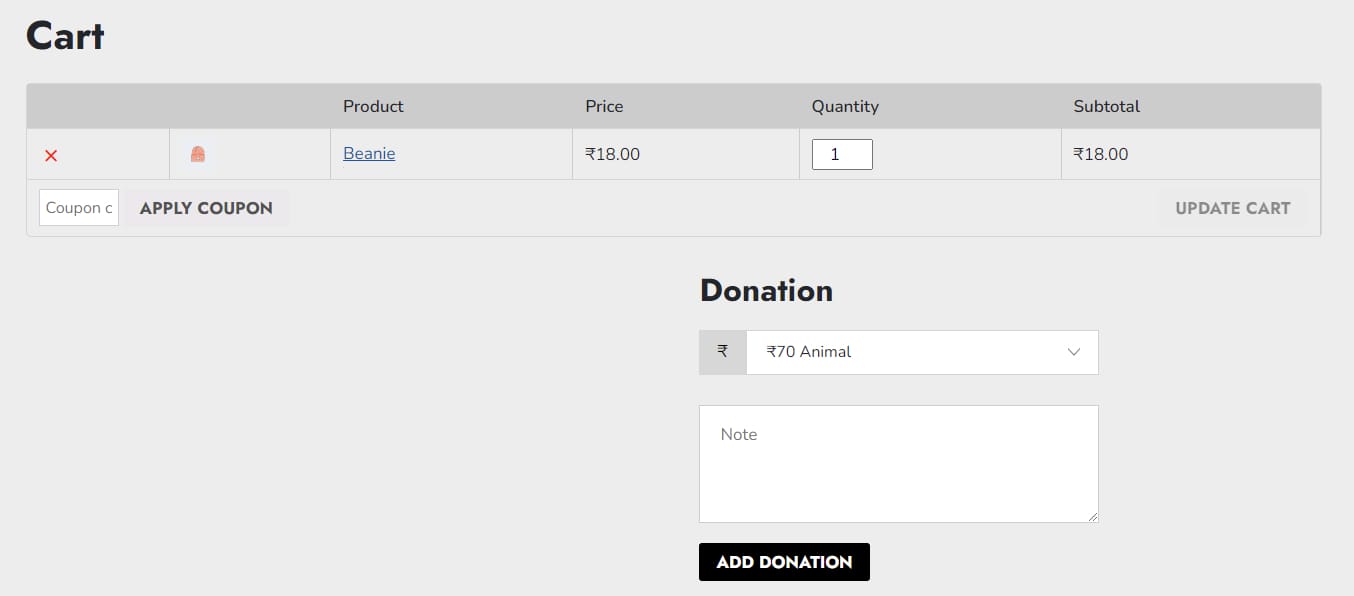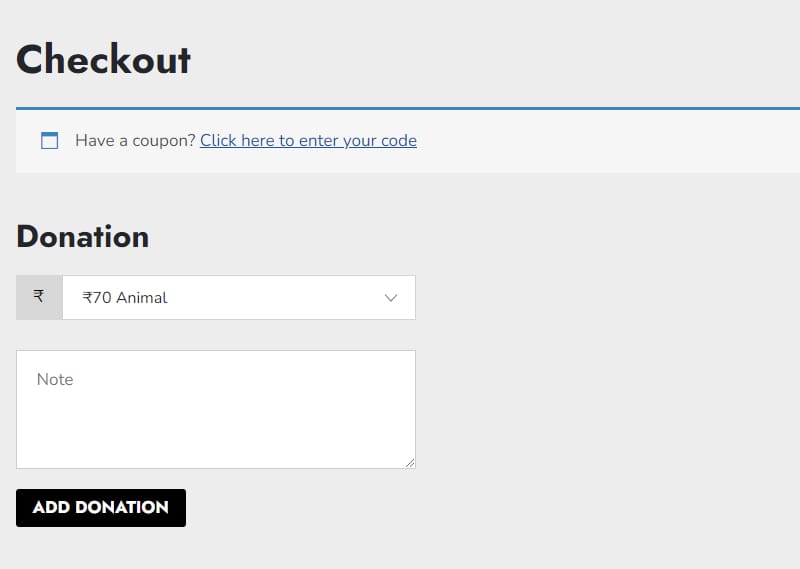 Enable donation form on the Cart and Checkout page with customizable positions.
6. Show a Donation Widget on your website

Admin has the option to add a customized Woo Donations Widget to display donation form on your website. A WordPress widget is a modular element that enables you to add a specific feature to your website. Widgets can be added to different areas of a website, such as a website's sidebars or footer areas, and they're an inherent part of WordPress' design and layout customizations.
7. Available position guide map for both pages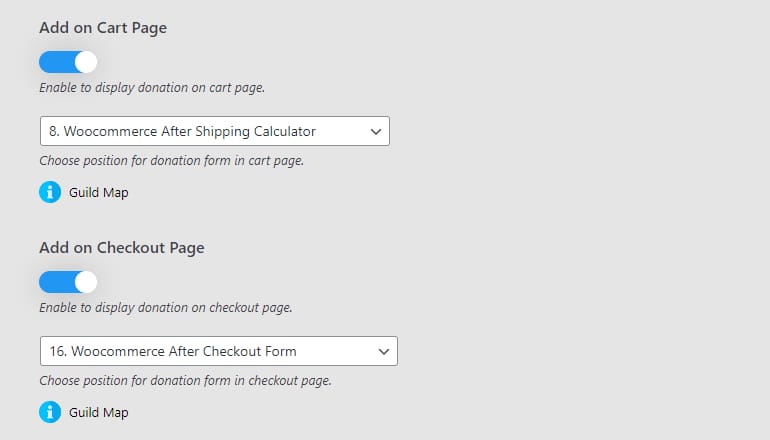 This map shows you exactly where your donation popup will be displayed if you select any particular position.
8. Create multiple donation campaigns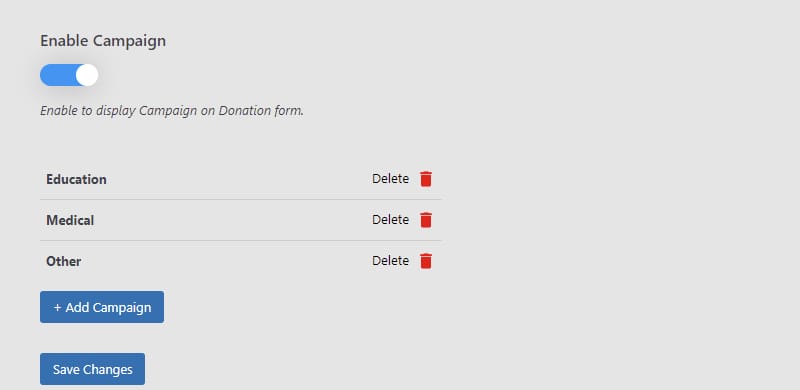 You can create multiple donation campaigns and display them among your donation forms.
You can create donation campaigns like Old age Homes, Orphan Homes, Help poor people, or any natural disaster helping fund, etc.
9. Customizable labels settings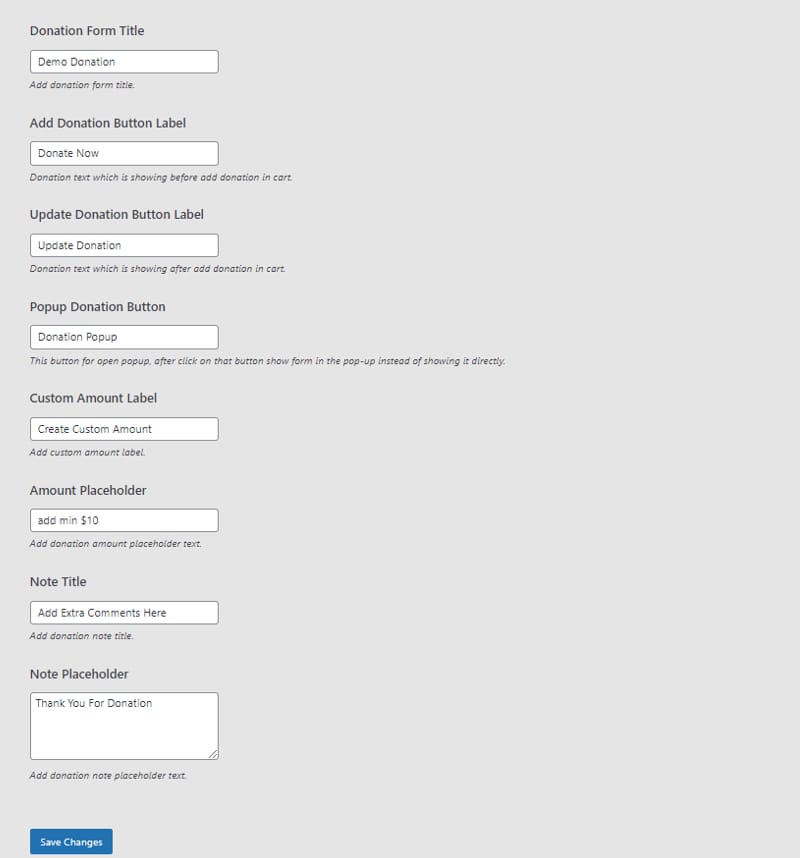 Woo donations provide most of the labels that are customizable. Set Donation form title, Add donation buttons label, Update donation button label, Popup donation button label, Custom amount label, Amount input field placeholder, donation note title, and donation note placeholder.
10. Display a customizable popup on the first visit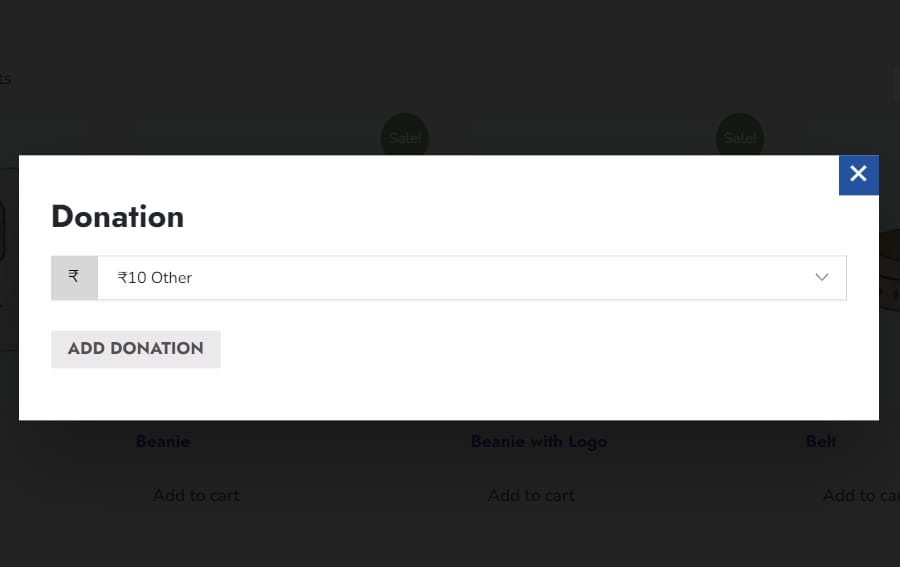 Set the popup for only display if the user visits the website for the first time with an expiry time for when needs to display the popup again. You can set your custom popup body.
Select the target page for the first visit popup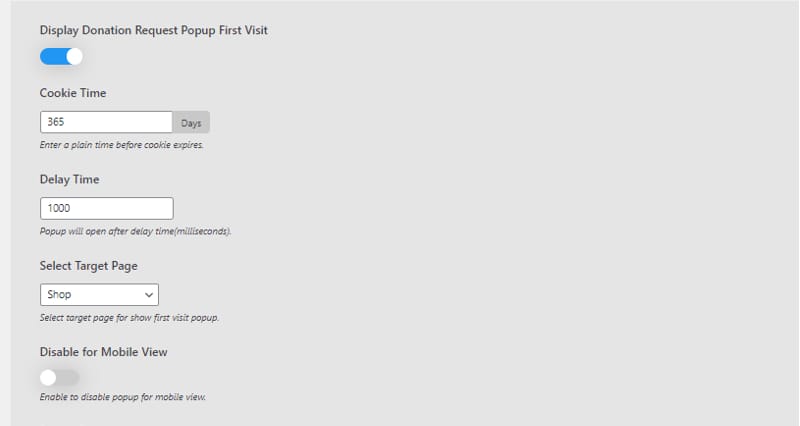 Option available for selecting a page to display a popup for the first time. Can also enable or disable popups on mobile devices.
11. Sticky button for donation form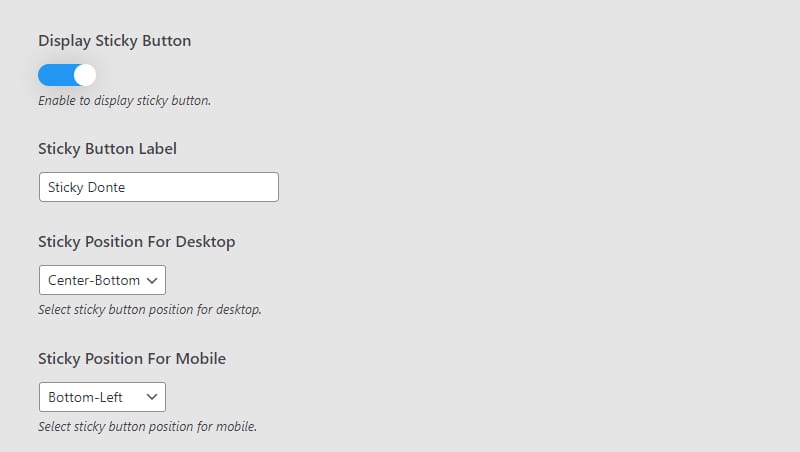 Enable a sticky button for your website. The button can be fully customized, can customize labels, button color, and text color. Select the sticky button position for desktop and mobile both. Customize the view of sticky button, like label with icons, only label,s or only icons for both mobile and desktop device.
12. Send thank you email to the donors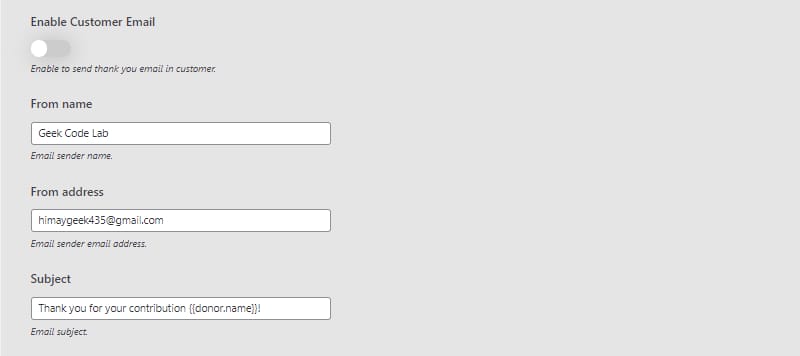 Woo Donations lets you send thank you emails to the donor for their kindness. The email body is fully customizable like set the sender's name, email subject, email body, etc. The email body contains the name of the donor and the donated amount.
13. Donation order listing page



Admin can track all the past donation orders on this page. The donation orders listing contains every detail of the donation like customer name, order status, donation amount, campaign, donation note, and date etc. you can also download a .csv for the donation order list.
14. Want to use the donations form at any other place on the website?
If you need a donation form at any place on your website, don't worry we can give you short codes for the donation button and donation form. You can also use a pre-created Donation Page or create a donation page by your own using premade short codes.
Free donation plugin short code



[wdgk_donation] — Using this short code, you can show the donation form on any page, post, or custom template.
Pro donation plugin short code



[wdpgk_donation] – Using this short code, you can show the donation form on any page, post, or custom template.
[wdpgk_donation_btn] – This Short code displays the donation button, after clicking on this button shows the donation form in the popup instead of showing the donation form directly.
Why use the WooCommerce Donation plugin
Woo Donations is the best WordPress donation plugin
Set Fundraising donation campaign
The donation amount can be customizable
Display donation form at Cart, Checkout page
Multiple campaigns can be run at a time
With the help of short code, you can display the donation form anywhere on your website
Can create donation widget, popup, and sticky button for donation form
Fully customizable options for form, popup, and button
Admin can customize button color and label of the sticky button
Multiple positions for display sticky button
Option for hiding show popup in mobile device
Showing all the positions in the guide map
Donar can get thank you for a customizable email with all information of their donation
You will never find any best WooCommerce donation plugins at this cheap rate so must try them.
Our Useful WooCommerce Plugins
Please check our other useful WooCommerce plugin at our website Geek Code Lab.
Thank you for giving your valuable time please visit our website Geek Code Lab for more. Here you can also find very high-rated WordPress plugins, HTML themes, Graphics templates, and Creative logos.