How to Duplicate a WordPress Page or Post with a Single Click : Complete Guide
As a content creator, you know how important it is to produce high-quality content consistently. However, this process can be time-consuming, especially while creating multiple pages or posts with similar content or layout. Here the Duplicate Page and Post Plugin will help you.
The Duplicate Pages and Posts Plugin is a powerful tool that allows you to duplicate pages and posts with just one click. This plugin is helpful for content creators who frequently create pages or posts with similar layouts, such as landing pages, product pages, or blog posts.
In this blog post, we will provide a step-by-step guide on the Duplicate Page and Post Plugin, discuss the benefits of Duplicate pages and posts and examine the pros and cons of this practice.
How to Install and setup Duplicate Pages and Posts Plugin?
To use the Duplicate Page and Post Plugin, follow these steps:
1. Install Duplicate Pages and Posts Plugin
First, activate the Duplicate Pages and Posts plugin on your WordPress website.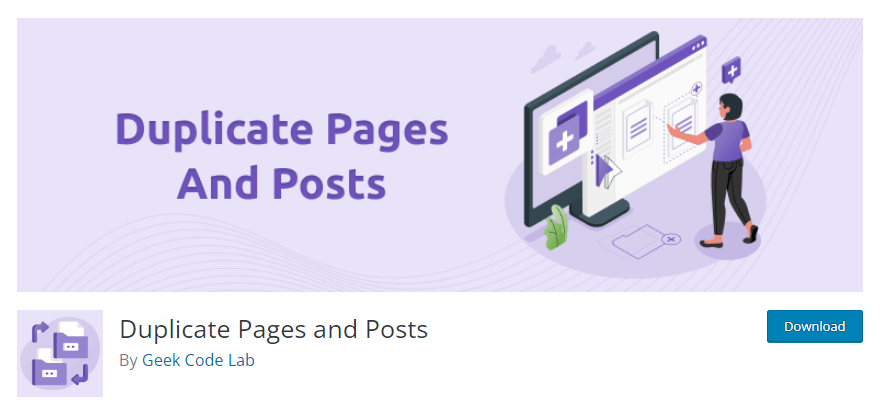 2. Go to Setting and click Duplicate Page & Post menu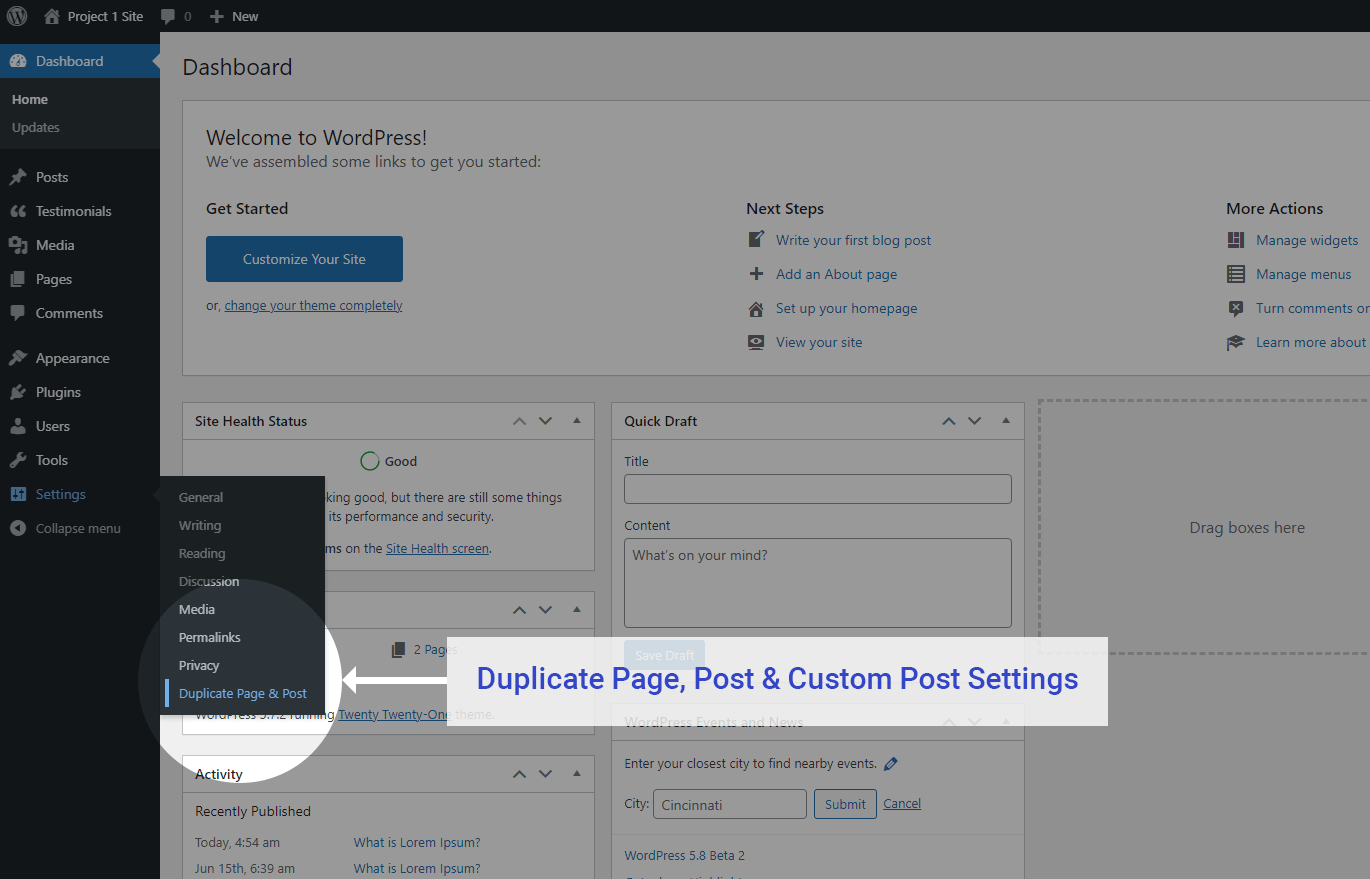 3. Configure the plugin settings according to your preferences.
You can select which post types to duplicate, where to show the clone link, what status the duplicate posts should have, and more.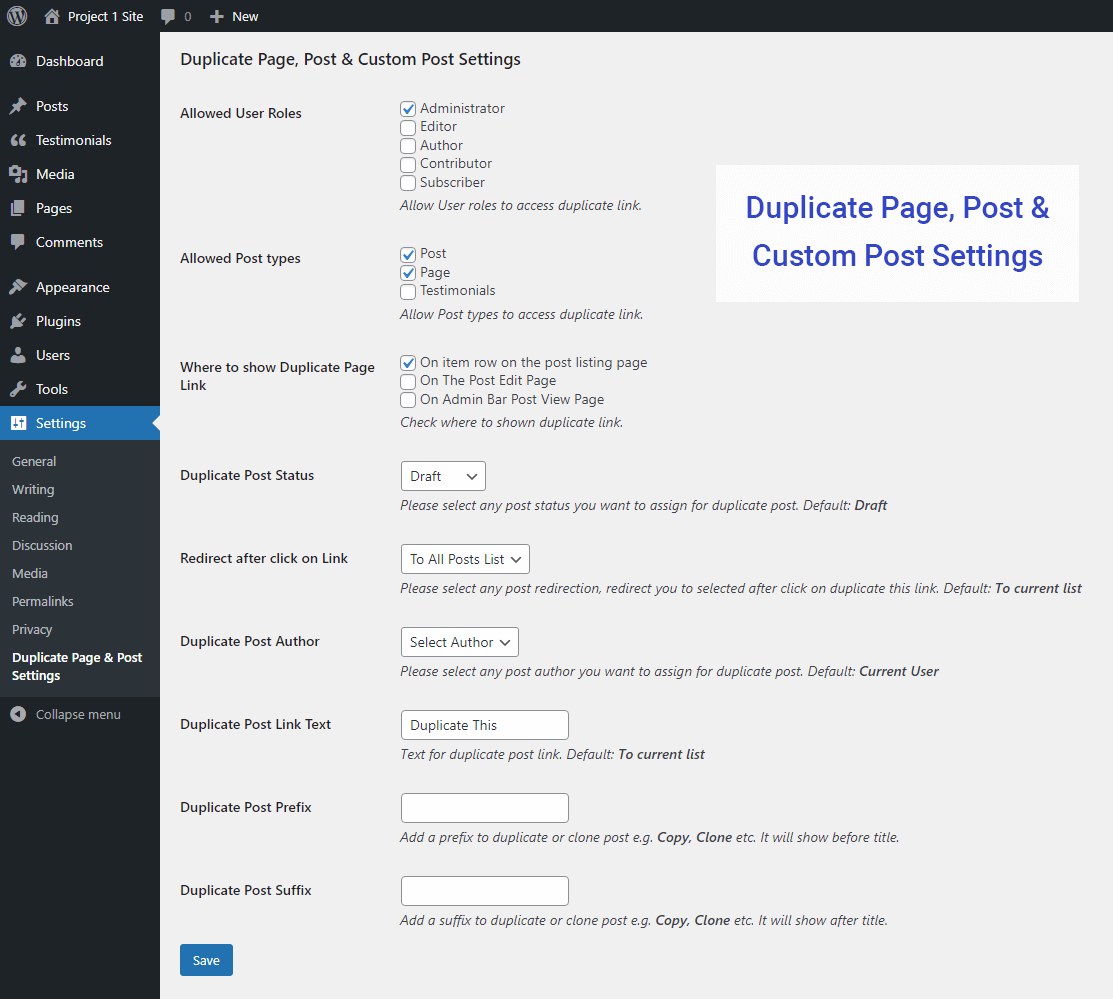 4.  Go to the Edit Screen of the Page or Post you want Duplicate.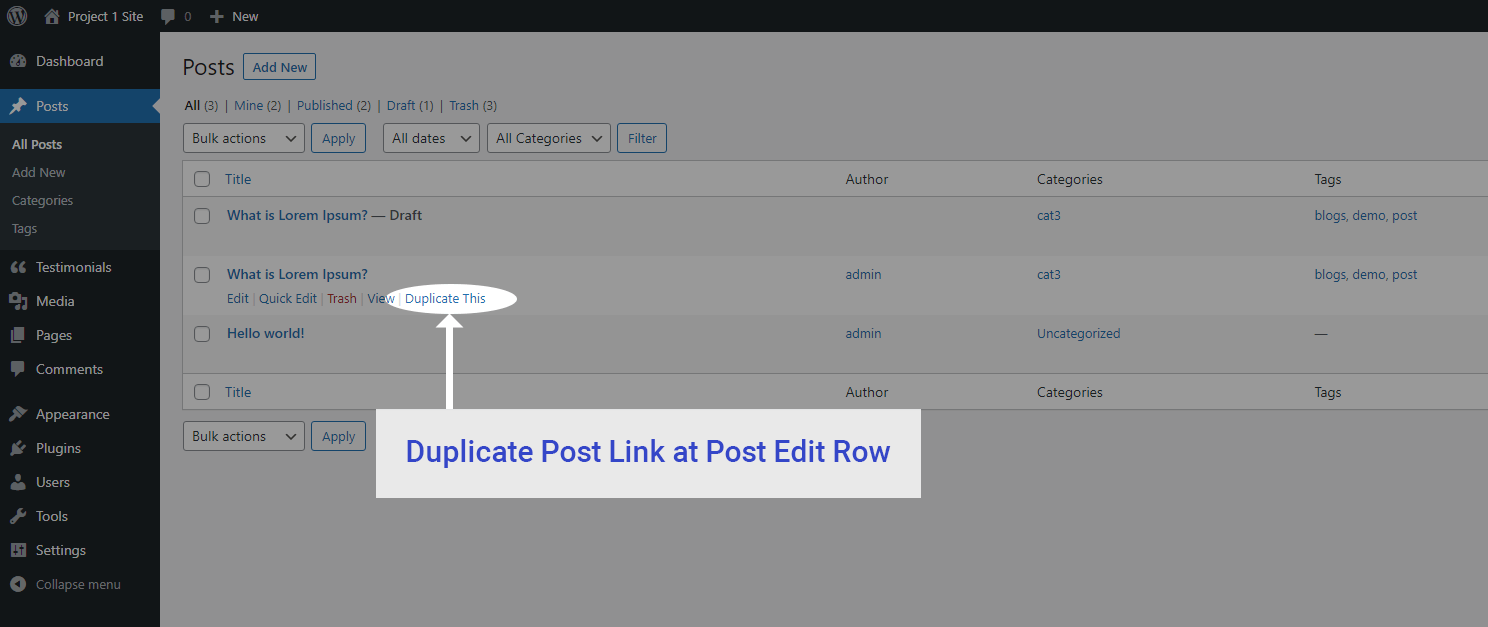 5. Click the "Duplicate This"
Link to create a duplicate page or post.

6. Easily create your Duplicate Page and Post
The duplicate page or post will be saved as a draft, private, public, pending, or any other status you specified in the plugin settings.

7. Edit the duplicate page or post as necessary.
Here are ten reasons why you should consider Duplicate your pages and posts:
10 Reasons Why You Need to Duplicate Page and Post Plugin?
Reasons 1. Saves time:
Duplicate pages and posts Plugin can save you time when creating similar pages or posts with the same layout or content.
Reasons 2. Ensures consistency:
Duplicate pages and posts Plugin ensures consistency in your website design and content.
Reasons 3. Improves efficiency:
By using the Duplicate Pages and Posts Plugin, you can improve your content creation efficiency, allowing you to produce more content in less time.
Reasons 4. Easy customization:
This plugin allow, you to easily customize and modify existing content, without having to start from scratch.
Reasons 5. Reduces errors:
Duplicate pages and posts Plugin reduces the risk of errors and typos since you can copy content and layout elements from existing pages and posts.
Reasons 6. Increases productivity:
By using this Plugin, you can increase your productivity and output, enabling you to focus on other important aspects of your business.
Reasons 7. Enables testing:
Duplicate Page and Post Plugin enables you to test different layouts, content, or calls to action, allowing you to determine what works best for your website.
Reasons 8. Provides flexibility:
This plugin provide, flexibility in your content creation process, allowing you to adapt to changing market trends or customer needs.
Reasons 9. Saves money:
Duplicate Pages and Posts Plugin can save you money, as you do not have to pay for additional resources or tools to create similar content.
Reasons 10. Improves SEO:
This can improve your SEO, as it allows you to create multiple pages or posts with similar keywords or meta descriptions, increasing your chances of ranking higher in search engine results.
Tips and Tricks for Duplicate Page and Post Plugin
While the process of duplicating pages and posts with a plugin is relatively straightforward, there are some tips and tricks that can help make the process even smoother.
Here are a few to keep in mind:
Take advantage of the plugin's customization options: The Duplicate Page and Post plugin offers several customization options, including the ability to change the duplicate link title and add post prefixes and suffixes. These can help make it easier to keep track of your duplicate posts and pages.
Consider your post or page status: The plugin offers the option to duplicate posts or pages as a draft, private, public, or pending. Think about what status makes the most sense for your needs before duplicating.
Don't forget to update content: While the plugin will duplicate all the content, categories, tags, and settings of the original post or page, it won't automatically update any content. Be sure to review and update the new post or page as needed.
Save time with bulk duplication: If you need to duplicate multiple posts or pages at once, you can use the plugin's bulk duplication feature. Simply select the posts or pages you want to duplicate and click the "Duplicate" button.
Also check: Learn 7 Best Ways to Avoid Spam Comments on WordPress Website
Pros of Duplicate Page and Post Plugin.
Easy to use: This plugin is straightforward to use, with no complicated settings or options.
Saves time: Duplicate Pages and Posts Plugin saves time by allowing users to quickly duplicate posts and pages, without having to create them from scratch.
Customizable: This plugin provides various options for customizing the duplicated post or page, such as the status, author, and title.
Compatible with popular editors: The plugin works with popular post and page editors such as Gutenberg, Classic Editor, and page builders.
Reduces errors: By Duplicate Pages and Posts, users can reduce the chances of making errors when creating new content.
Cons of Duplicate Page and Post Plugin.
The duplicate Page and Post plugin is a highly recommended tool for anyone looking to create high-quality content efficiently. With its ease of use, customization options, and compatibility with popular editors, the plugin has no significant drawbacks or cons, making it an ideal choice for content creators of all types.
Conclusion
In conclusion, the Duplicate Pages and Posts plugin is an essential tool for any content creator looking to streamline their content creation process. With just a few clicks, you can duplicate posts, pages, and custom post types, saving time and effort. The plugin's customization options and bulk duplication feature make it even more versatile and user-friendly.
For more informative blogs related to various plugins, HTML templates, XD templates, and other technical blogs you can visit the Geek Code Lab Website.