Are you looking for some Best WordPress Plugins without spending anything? If yes, we are here with a list of 9 Free WordPress Plugins to help your Website grow. So, without wasting more time, let's get started.
A person who runs a website has to take care of many things, like security, loading time, website design, password protection etc. It is hard to keep an eye on each and everything together, and if you do, you will miss out on at least one thing among all that can lead to loss in the future. So, for this problem, there are many plugins available that can help you in taking care of each and everything related to your Website; as there are different plugins for different things, you won't miss out on any of them, and you can run your Website smoothly without any complications.
In this blog, we will give you a list of 9 Free WordPress Plugins that can be helpful to your Website. Along with the plugin details, we will also discuss the features, pros, and cons of that particular plugin so that you can choose one according to your convenience. So, without wasting more time, let's dig in.
So let's discuss the 9 Free WordPress Plugins one by one.
List of 9 Free WordPress Plugins that can be helpful to your Website.
Here's the list of any website's nine most important Free WordPress Plugins.
1. Password Protected Store For WooCommerce

As we all know, password protection is essential for all websites. Once a website gets hacked, you lose access towards your website, and all your hard work gets wasted in seconds. It would help if you used the Password Protected WooCommerce store Plugin to protect your website from such cyber crimes.
The Password Protected WooCommerce Store is a free WordPress Plugin that offers three different ways to protect your online store: on the entire website, on a page-by-page basis, or by product category. Each method is fully secure and dynamic. It allows store administrators to select specific pages and product categories to protect and choose which user roles will be required to enter a password to access them.
By enabling password protection, the Password Protected Woo-Commerce Store makes it easy to create a private or password-protected store. Administrators can set unique passwords, choose different expiry times, and select which user roles are required to enter a password for each protected page or category.
Whether you want to create a private store for a select group of users or protect specific pages or product categories from the direct preview, the Password Protected WooCommerce Store provides a flexible and secure solution.
Here are the features of the Password Protected Store for Woo Commerce Plugin.
User role-wise protection for each page, product categories and the whole site
Enable different passwords for the whole site, pages, and product categories.
Set different password expiry times for the site, pages, and product categories.
Customize form title and form above/below content.
Admin can set content color, size, and alignment.
Change title color, size, and alignment.
Customize input box size, color, font size, border color, border color, placeholder text, placeholder text color.
Set a custom to submit button text, text color, text hover color, font size, button color, button hover color, and border color as you like
Option to customize page background image, color or none with custom opacity and opacity color
Customize form background image, color or none with custom opacity and opacity color.
Set a password for a specific page and specific product categories.
You can read the blog about How to set up a password-protected store for more details.
2. Shop Page Customizer For WooCommerce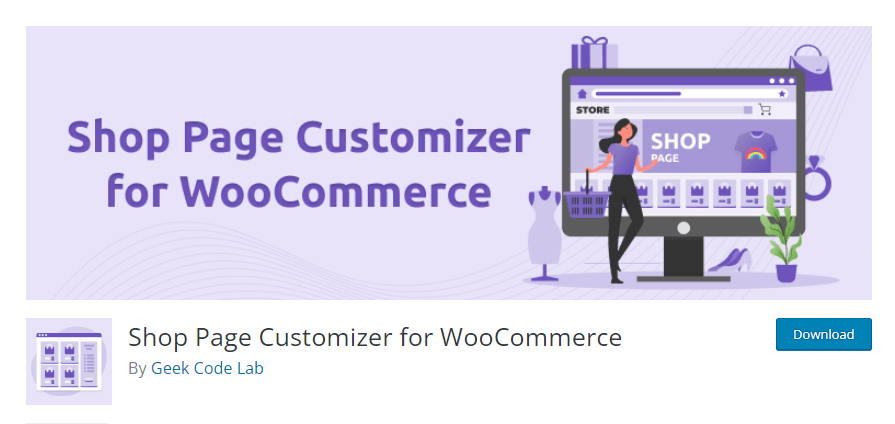 Woo Commerce is a popular e-commerce platform that powers many online stores. While it offers many customization options, changing your store's appearance can require some coding knowledge. However, with the WooCommerce Shop Page Customizer plugin, you can easily customize your store without needing to write any code or modify any templates.
This Free WordPress Plugin provides a user-friendly settings page to customize the product loop settings, shop page layout, and product descriptions. You can also change the button text, labels, and design, including the color, text, and font size.
One of the best things about this Plugin is that it allows you to make changes quickly and easily. You don't have to spend hours writing code or figuring out how to modify templates. Instead, you can use the settings page to make the necessary changes. It is beneficial if you want to make quick updates to your store or test out different designs to see what works best.
Overall, the Woo Commerce Shop Page Customizer plugin is an excellent tool for anyone who wants to customize their online store. Whether you're a seasoned developer or just starting, this Plugin makes it easy to create a store that looks and feels exactly how you want it to.
You can also read this blog to learn How to Customize WooCommerce Shop Page.
Now let's discuss the features of this Plugin.
Remove shop page options like breadcrumbs, title, sorting dropdown, and sorting results.
Can display Stock Quantity.
Add to cart button text can be changed for simple, variable, grouped, or stock products.
Customize Shop Page Layouts like Products per page and Products per row.
Customize product price, font colour, and font size.
Users can change flash styles like font size, border radius, font weight etc.
It can display the shop now button in the product loop.
Customize product title font color and font size.
Customization options for add-to-cart button style include font size, border radius, padding, etc.
Option to change shop now button style like font size, border radius, padding, etc.
Users can hide sale flash and change sale flash content.
Customize Product loop Settings, Shop page settings, Product description and button colour, text and design without needing to write any code or modify any templates.
3. Preload Requests WordPress Plugin

Have you ever visited a website and noticed that some content takes a while to load, causing the page to load slowly? It can frustrate users, especially those trying to access information quickly.
To address this issue, web developers can use the preload attribute in the HTML's link tag to declare fetch requests for resources the page will need very soon. It can include fonts, CSS, JavaScript, images, and video files. Loading these resources early in the page's lifecycle, before the browser's central rendering machinery kicks in, they become available earlier. They are less likely to block the page's render.
If you want to improve your website's performance by preloading content, then the Preload Plugin can help. With this free WordPress plugin, you can easily preload various types of content to ensure that your pages load faster and provide a better user experience. Specify which resources to preload, such as fonts, CSS, JavaScript, images, or video files, and the plugin will handle the rest. By using the Preload Plugin, you can improve the loading speed of your website and keep users engaged with your content.
Let's have a look at the features of this plugin.
Preload Multiple Link Types (Font, Style, Script, Images, Video)
Preload Links to Whole Site
Preload Links for Single Posts, Custom Posts and Page
Preload Links from Another Domain
Links show with Resource and MIME Type
Duplicate Links can't Preload
The same Links can't Preload
Easily Add Links to Plugin
4. WordPress Duplicate Pages And Posts Plugin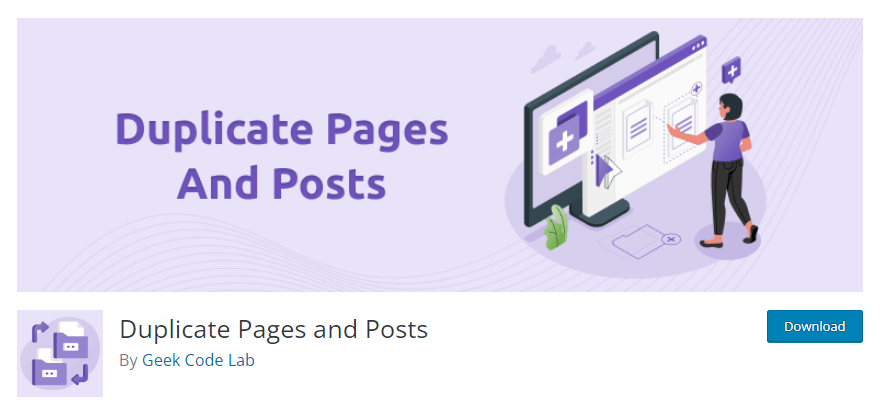 The WordPress Duplicate Plugin is a powerful tool that can help you save time and improve your workflow. This Plugin allows you to quickly and easily duplicate your website's posts, pages, and custom post types. It can be a huge time-saver, especially if you create a lot of content.
The WordPress Duplicate Plugin is easy to use. You have to install the Plugin and activate it. Afterwards, you can duplicate any website or custom page type very quickly. The Plugin will copy the original post's content, categories, tags, featured images, and settings.
The best part is that you don't have to worry about losing your original content or settings, as the Plugin will make an exact copy of your original post. It means you can quickly and easily create new content based on existing posts without starting from scratch.
Overall, this Plugin is an excellent addition to any website owner's toolbox, making it easier to create new content and improve the efficiency of your workflow.
Following are the features of this Plugin.
User Roles: Allow User Roles To Access Duplicate Page.
Post Types: Filter to show Duplicate Page links in post types.
Duplicate Link Location: Option where to show clone link.
Status: Option to select Duplicate Posts Status.
Redirection: Option to Redirect after clicking on the clone link.
Author: Option to assign author for clone post.
Duplicate Link Title: Option to change Duplicate Post Link Title.
Post Prefix: Option to add Post Prefix.
5. Menu Cart For WooCommerce

Menu Cart For WooCommerce is a helpful tool for WooCommerce website owners who want to ensure their website runs smoothly and quickly. If your website could be faster, it could put you at a disadvantage in today's fast-paced world.
This Plugin can easily show your Cart details using the default menu. You can display the Cart icon, number of items, and total price in the menu that users select. The Flyout will be shown when the menu is hovered over or clicked, allowing users to easily access and modify their cart.
Users can customize their cart icon and menu item's layout with this Plugin. The Cart flyout can display helpful information such as the product name, quantity, price, and total amount.
You can easily customize these options even if you don't have any technical knowledge, and anyone can access this Plugin without facing any complications. and read this blog How to Add WooCommerce cart Icon in Menu Bar.
Here are the features of this Plugin.
The cart icon, number of items and price are displayed in the user-selected menu
The Flyout will show on the menu. Hover and click on the menu
Users can display the maximum number of products in Flyout
You can choose different cart icons
Users can guide the cart and checkout button in Flyout
Users can show a sticky cart icon with the number of items
Customize sticky cart position color
Customize menu and Flyout using design elements
6. Schedule Maintenance Mode

Sometimes you must put your WordPress site into maintenance mode to perform essential updates or other business procedures. The Schedule Maintenance plugin makes it easy to do just that! With this plugin, you can choose the exact date and time when your site will go into maintenance mode and when it will return online.
You can also enable a countdown timer to let your visitors know how much longer the site will be down for maintenance. As an admin, you can preview the maintenance mode using the preview link on the settings page or by opening the website in a private window or a different browser.
This plugin is also compatible with WordPress Multisite installs, meaning that each blog on the network can have its maintenance settings. With Schedule Maintenance, you can ensure your site is always up-to-date and running smoothly. And also, read how to Enable WordPress Maintenance mode in 2 easy steps.
Now let's have a look at the features of this plugin.
Fully customizable (change colors, texts, Logo and backgrounds)
Enable for Any Specific Start and end time
Countdown timer
Preview Mode
Google Analytics Support
Coming soon page
Landing page templates
WordPress multisite
Responsive design
Works with any WordPress theme
SEO options
Visible only non-logged user
Add Html content in the description
All Browser support
Custom Favicon
Latest Article : Best Way to Optimize Your WooCommerce Store for Sales
7. All 404 Pages Redirect To Homepage

If you're looking for a solution to redirect all of your website's 404 pages to the home page or a custom page, consider using a reliable plugin. Not only can 404 errors negatively impact search engine indexing, but they can also frustrate visitors and lead to lost opportunities for engagement.
Fortunately, with the help of the All 404 Pages Redirect to Homepage Plugin, you can address these errors in a way that's beneficial for your website's SEO performance. By automatically redirecting visitors to a relevant page instead of leaving them on an error page, you can provide a better user experience and increase the chances of visitors staying on your site longer.
Overall, All 404 Pages Redirect to Homepage is a plugin that automates 404 redirects and can effectively enhance your website's SEO and user experience. By redirecting visitors to relevant pages, you can keep them engaged and encourage them to explore more of your site's offerings.
Here you can read how to install and set a 404 redirect to the home page plugin step-by-step guide.
Following are the features of this plugin.
Work with and without permalinks.
Easy to use and navigate the plugin GUI.
Redirect any URL to new, Internal and external ones.
Safe to redirect.
8. Insert Script In Headers And Footers

If you want to quickly insert custom code and scripts into your WordPress site's header, footer, or body, consider using Insert Script In Headers And Footers Plugin. This plugin provides an easy solution that allows you to add Google Analytics code, Facebook pixel code, custom styles, JavaScript, and more, without editing the theme.
With this plugin, you can easily add custom scripts from the admin side of your WordPress site. Whether you need to insert header code, footer code, or script code in the body of your pages, this plugin provides a simple solution that can save you time.
Insert Script In Headers and Footers plugin provides a range of features that make adding custom code and scripts to your WordPress site easy. This plugin can help you optimize your site's performance and enhance your online marketing efforts by simplifying the process of adding tracking codes, analytics codes, and custom styles.
Let's discuss all the features of this plugin one by one:
Quick to set up
Simple to insert scripts
Insert header code and footer code
Add Google Analytics code to any theme
Add custom CSS across themes
Add any Website tracking code
Add Advertisement script code
Insert Facebook pixel code
Insert any code or script, including HTML and JavaScript
9. Woo Commerce Sale Discount Scheduler

Woocommerce Sale Discount Scheduler Plugin offers you a wide range of options to effectively manage the discounts on all your WooCommerce products, ensuring that your customers get the best deals all year round.
This free WordPress Plugin also provides you with the flexibility to automatically show or hide the "schedule discount price" on your shop, category, and product pages, depending on the date and time range you've set. This way, you can ensure that your customers are aware of the discounts available to them without overwhelming them with information.
In short, this powerful Plugin offers you complete control over your pricing strategy, allowing you to provide your customers with attractive discounts on your products, boosting your sales and enhancing your brand's reputation.
Now it's time to discuss the features of this Plugin.
Option to customize single product page content using Hooks in bulk.
Users can update and remove the content of any position.
We provide a Guide Map of product single-page places.
Stick it on overall 18 posts on the page.
Support HTML and short codes in the editor.
Easy and reliable to use.
Conclusion
So, these are the nine best Free WordPress Plugins that can be helpful for your website. To get more information about some plugins, you can check the detailed blogs on Geek Code Lab Website. Apart from these, we have some more plugins, HTML Themes, XD Templates, and Creative logos. Information and download links are available on the Geek Code Lab website itself. Stay in touch with our website if you want to read such technical and informative blogs every week.