Preface
I heard lots of times "The WordPress redirect 404 to homepage! who the hell cares, don't give a damn, it's not so harmful to our website it's just a 404 error, let it go." a lot of people say those words. But they don't know it's may not so good for their website's growth. If users are surfing your website with the purpose to find some helpful stuff, and they get a 404 error instead of the result, they went back to search for other websites. This may bring down your website's rank, and it's may lead you to a loss. Don't you know it's a far more fearsome thing than you think?
There are mainly two factors to consider when you want to redirect 404 to homepage if your website visitors encounter a 404 page.
How to redirect 404 to the homepage?
Is it necessary, or it's better not to redirect to the Home?
Lots of website owners prefer WordPress to redirect 404 to homepage, it's so necessary because so many users leave immediately to look for others. That's the reason you have to redirect the visitors to the Home page when they encounter the 404 page. Instead of redirecting some website owners make the custom design 404 page to give visitors something nicer to look at.
What is a 404 Error?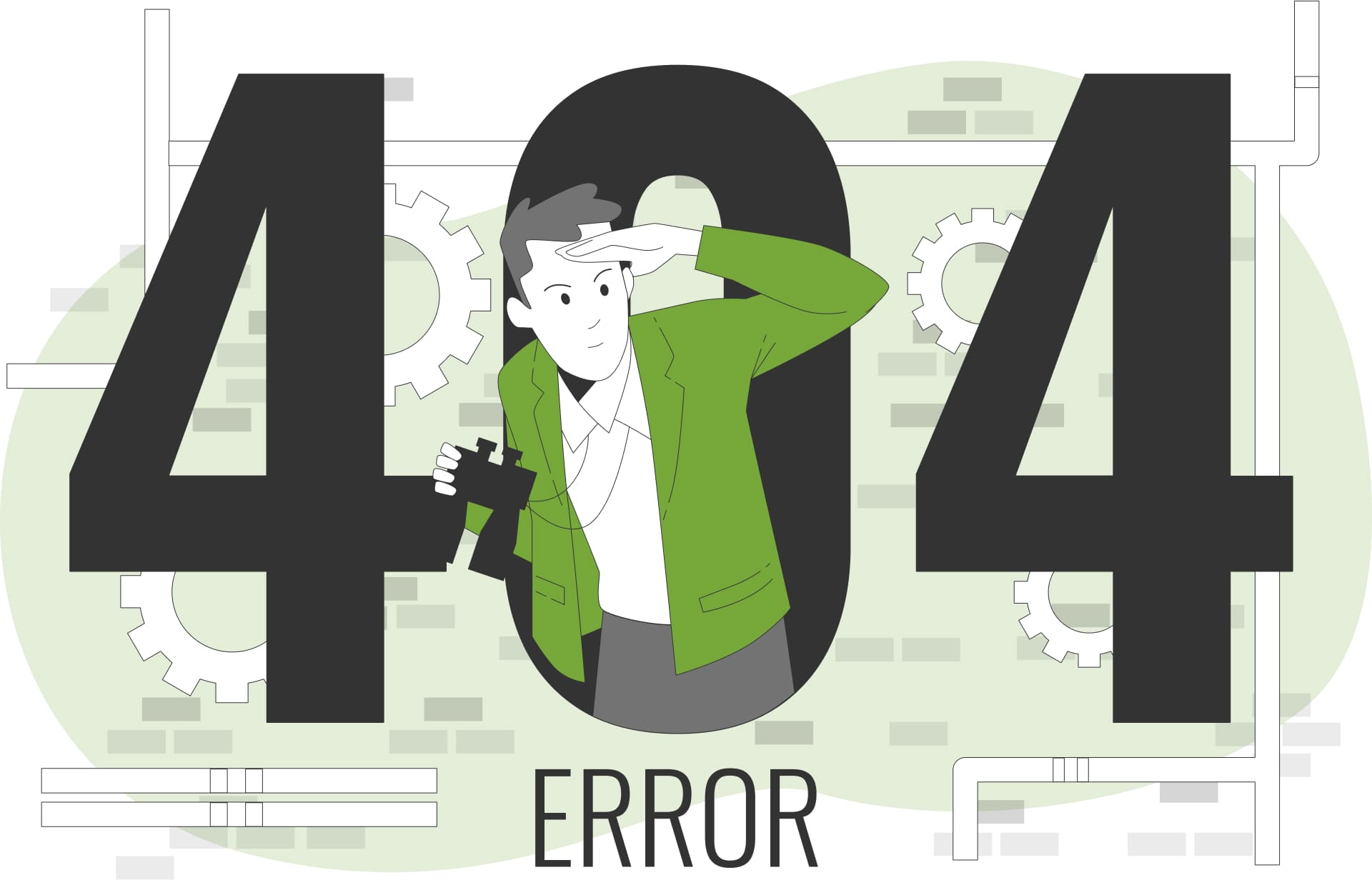 First of all, you have to know very closely what is 404 Error.
A 404 error is one of the most common errors, encountered when users try to find something that is not live on the website. Or may the user mistakenly types the wrong spelling or mismatch the domain name or page name.
The HTTP status code 404 lets you know when a website's server or a particular webpage you tried to access cannot be found.
Just assume that you put a link on your homepage for the shop page but you misspell the link For example, if a website links to one of your blog posts but misspells the URL, then all the visitors who click on that link will be presented with your website's 404-page instead of the actual blog post.
Causes of 404 Page Error
As we see above that if you misspell the link
Losing website content as a result of a server error or website transfer
However, the most common mistake made by users is when they edit the blog post title they do not give more attention to it. The result is in the google search result page has an old blog URL and users always see a 404 error.
Impact Caused by 404 Error Page
The loss of visitors is the 404 error pages' most noticeable effect. It happens frequently because no one wants to stay on a website if they believe it lacks the information they are seeking for. This will affect the ranking of your website as the visitor will instantly exit your site after viewing only a single page. It can be a more serious problem ever than you think.
What is All 404 Redirect to Homepage?


The All 404 Pages Redirect to Homepage plugin is the best WordPress 404 redirect plugin or you can say the best wp redirection plugin on the WordPress platform. The usage of the plugin is to redirect 404 to homepage. This is a very simple plugin and is ready to use just by installing it.
How to redirect 404 to Homepage WordPress
Step 1: Install the All 404 Redirect to Homepage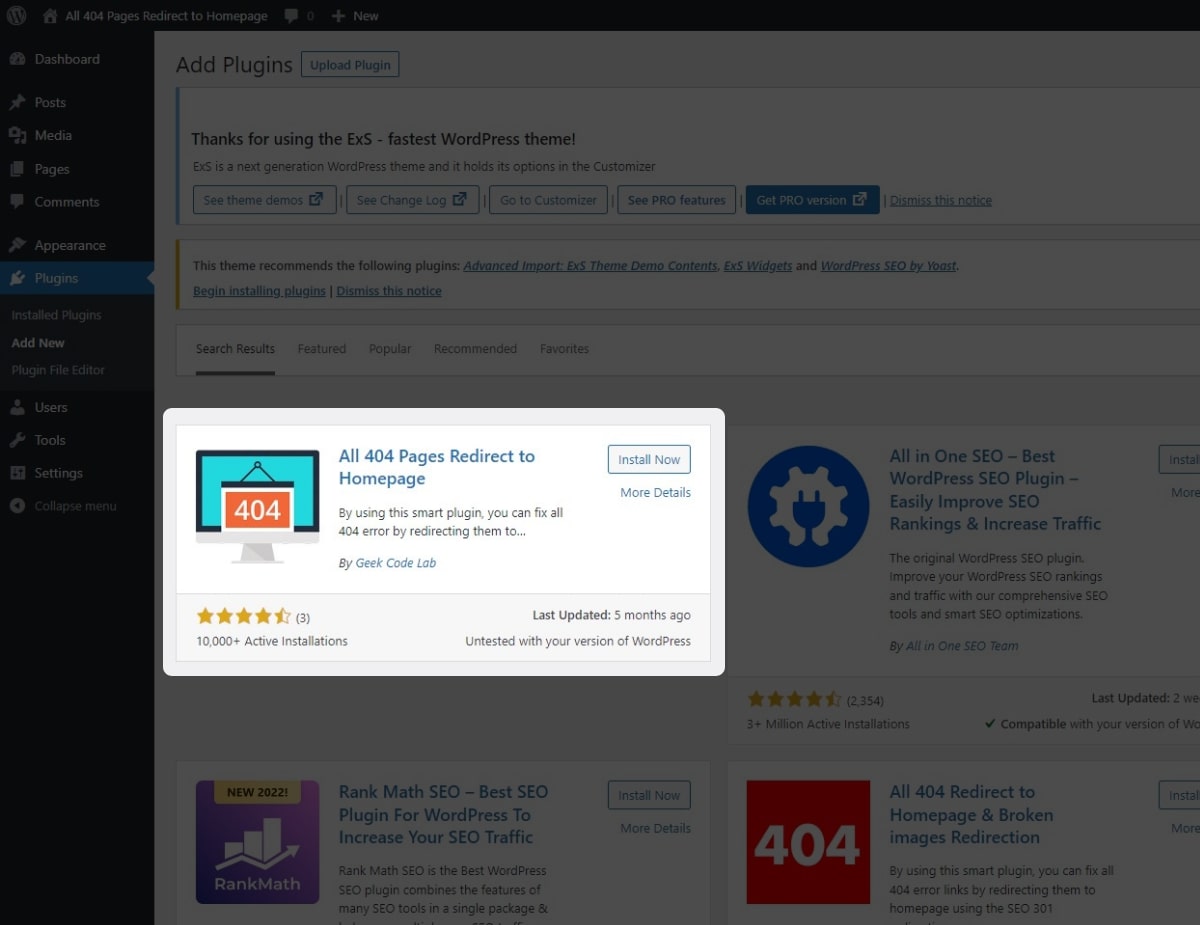 WordPress.org is the official website of WordPress, here follow these easy steps to download the plugin, WordPress Admin Dashboard > Plugin > Add New > Search All 404 Pages Redirect to Homepage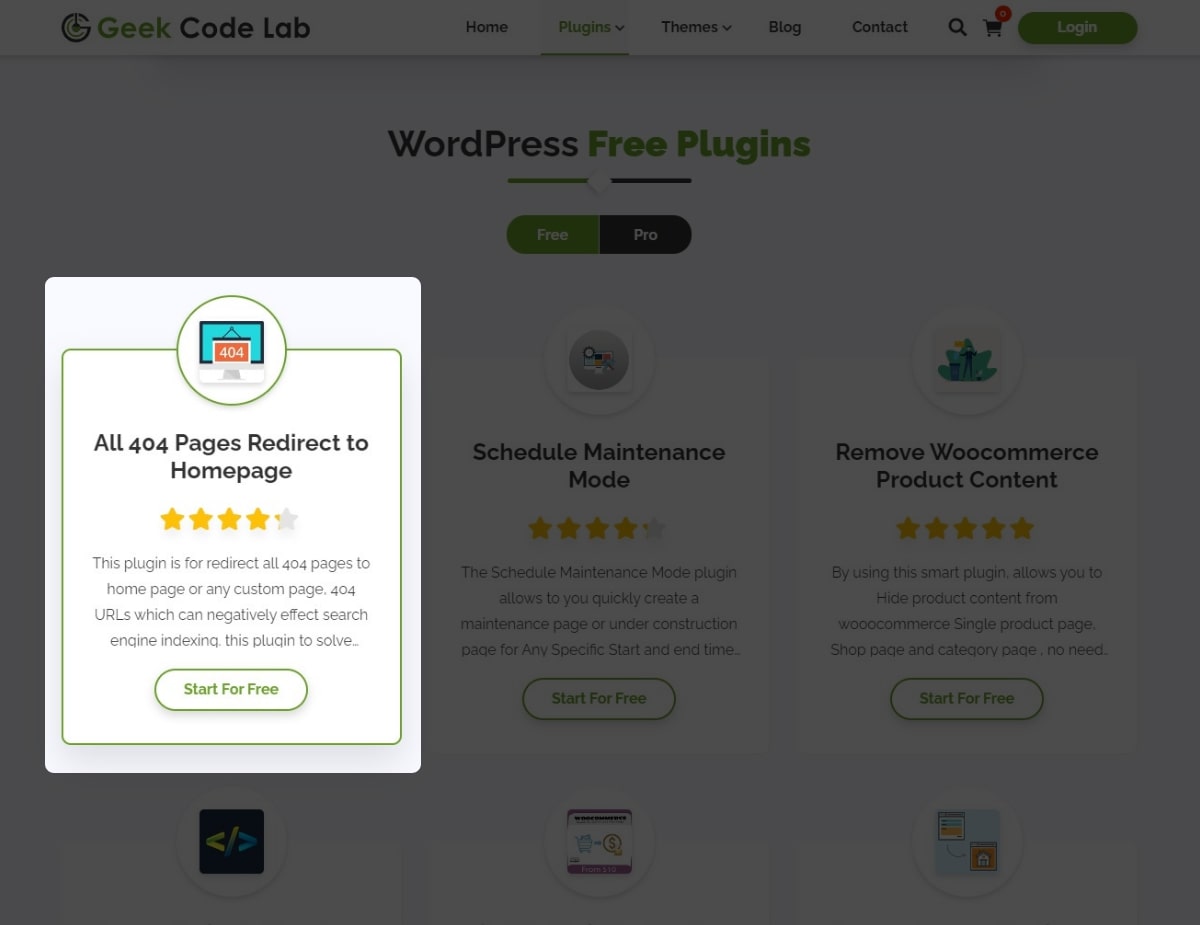 You can download the plugin from our official website Geek Code Lab, you need to perform some little steps only, geekcodelab.com > WordPress Plugin > Free Plugin > and look for the All 404 Pages Redirect to Homepage
Step 2: Active Redirect 404 to Homepage WordPress plugin and go to the settings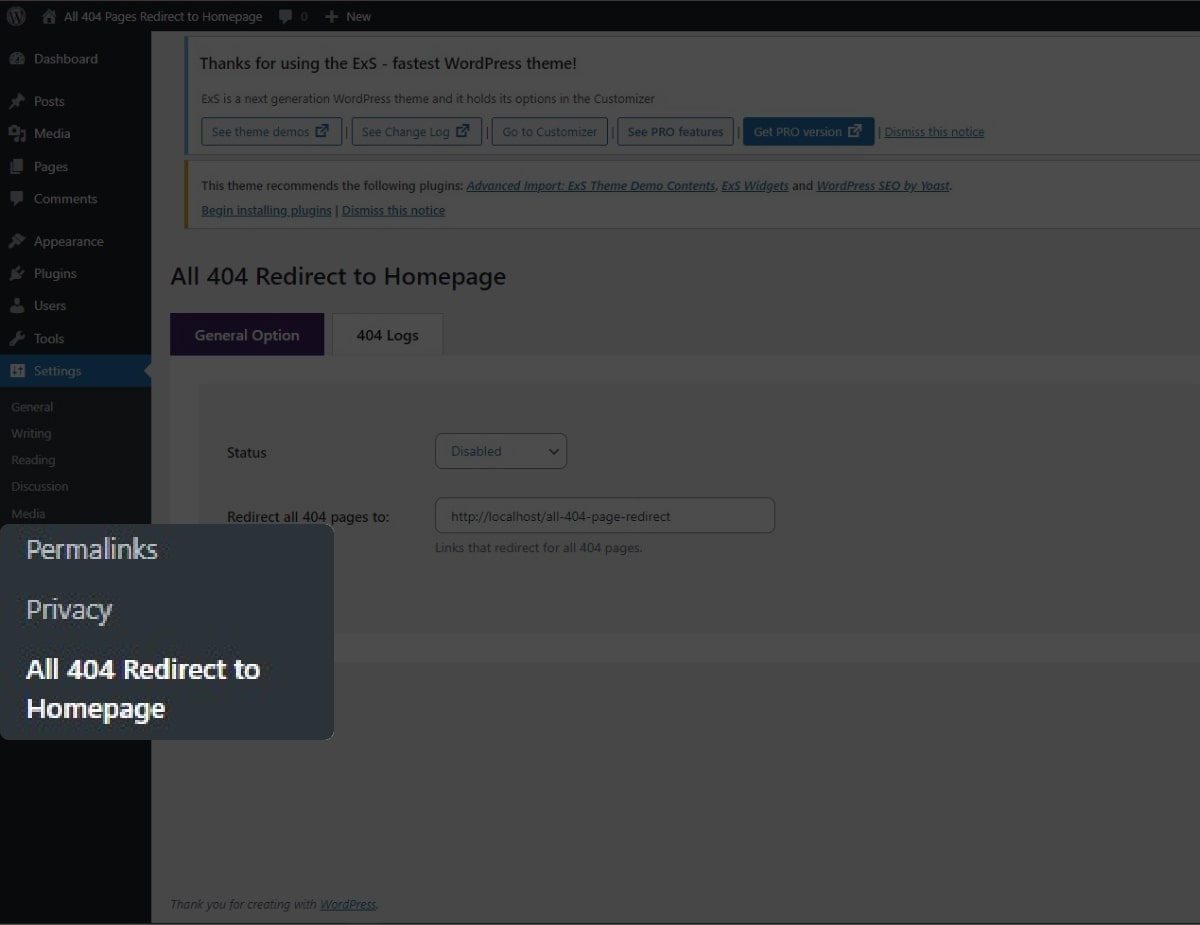 Now after downloading the plugin simply install and activate it. Once you activate the plugin you can go to the Setting page from the Installed Plugin page, or you can go to this way WordPress Admin Dashboard > Settings > All 404 Redirect to Homepage
Step 3: Enable the status and enter the URL for redirect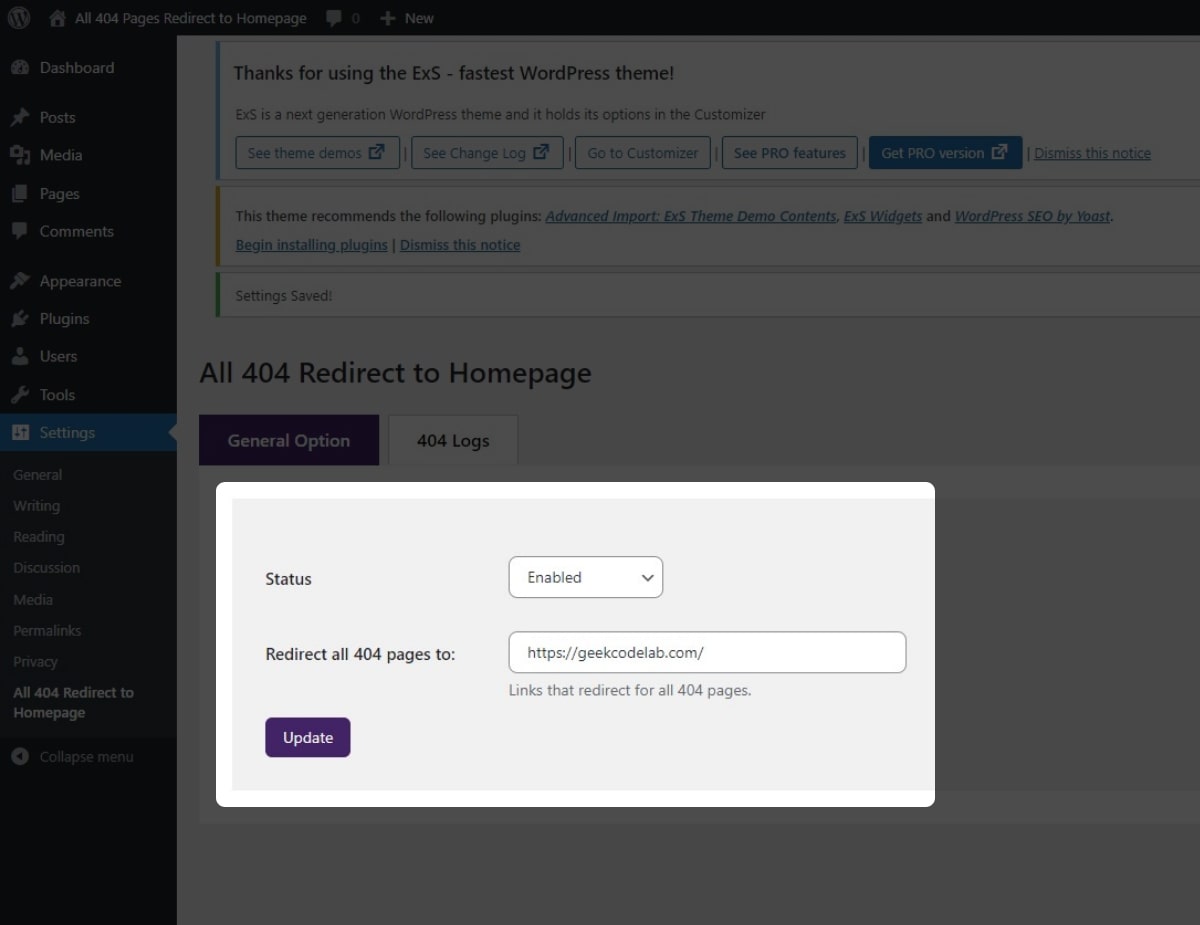 Now on the plugin's Setting page, you can see only a few little settings like "Status" to enable/disable WordPress 404 redirect and "Redirect all 404 page to" to enter the URL for where to redirect when a 404 error occurs.
Extra Feature: Check the log of the WordPress 404 redirect

Here we provide the logs for every 404 error, in these 404 logs you can get information like Ip Address, Date, URL, etc.
If your website work is in progress we recommended you to use our best "Schedule Maintenance Mode" Plugin for Coming Soon Page.
Pros of the Redirect 404 to Homepage WordPress Plugin
Both use and omit permalinks.
The plugin GUI is simple to use and navigate.
Redirect to any new, internal or external URL
Pretty Safe to redirect on user given URL
Cons of the Redirect 404 to Homepage WordPress Plugin
No cons if you're going to use our best WP redirection plugin. The safest way to redirect WordPress 404 pages to the homepage of your website. This quite impressive plugin never lets you down.
At Geek Code Lab you can find the best quality WordPress and WooCommerce plugins, HTML templates, XD Graphics templates, and creative logos to improve the look, sales, and growth of your website to the next level. For more fantastic stuff please stay tuned with us.
---
RECENT POSTS