7 Online Business Ideas You Can Start online business from home
Everyone wants to start their own business. Who doesn't want to be the boss? You can do anything at any time if you own the business. In most people's minds, the perception is that starting a business requires a lot of capital and is a very complicated process. Yes, it is but not for each business. There are two types of businesses. 1. Physical business 2. Online business.
In the physical business, you need to put a lot of effort and capital to start a physical business. However, online businesses are very easy to set up and manage. You can start and manage your online business from directly home. The world is changing very fast,  it's going digital, and companies are shifting towards it.
Now in this technological era, everything is under your fingertip. That's where online businesses come to play a role. Now you don't need to go physical to open up your business. You can make your own online business just from your home.
Anyone can start their business online from home. start online business from home is very easy, requires less money and is much more effective. It does require a little bit of technical and your core domain knowledge. And today, we are going to discuss how to start an online business from home.
What is the requirement to start your business online? As the name suggests, online means it does require a stable internet connection, and you do need a mobile device, laptop or pc, as per the requirement.
Now come to the point, which businesses you can start from home? There are many online businesses that you can start, for example:
List of 7 Online Businesses that you can start from home
Ecommerce business
Affiliate marketing
Online Coaching
Youtube
Freelancing
Trading
blogging
In this blog, we are going to discuss all of these businesses in detail. We will also talk about how to start and what you should do and don't. Let's start understanding the best online businesses in depth.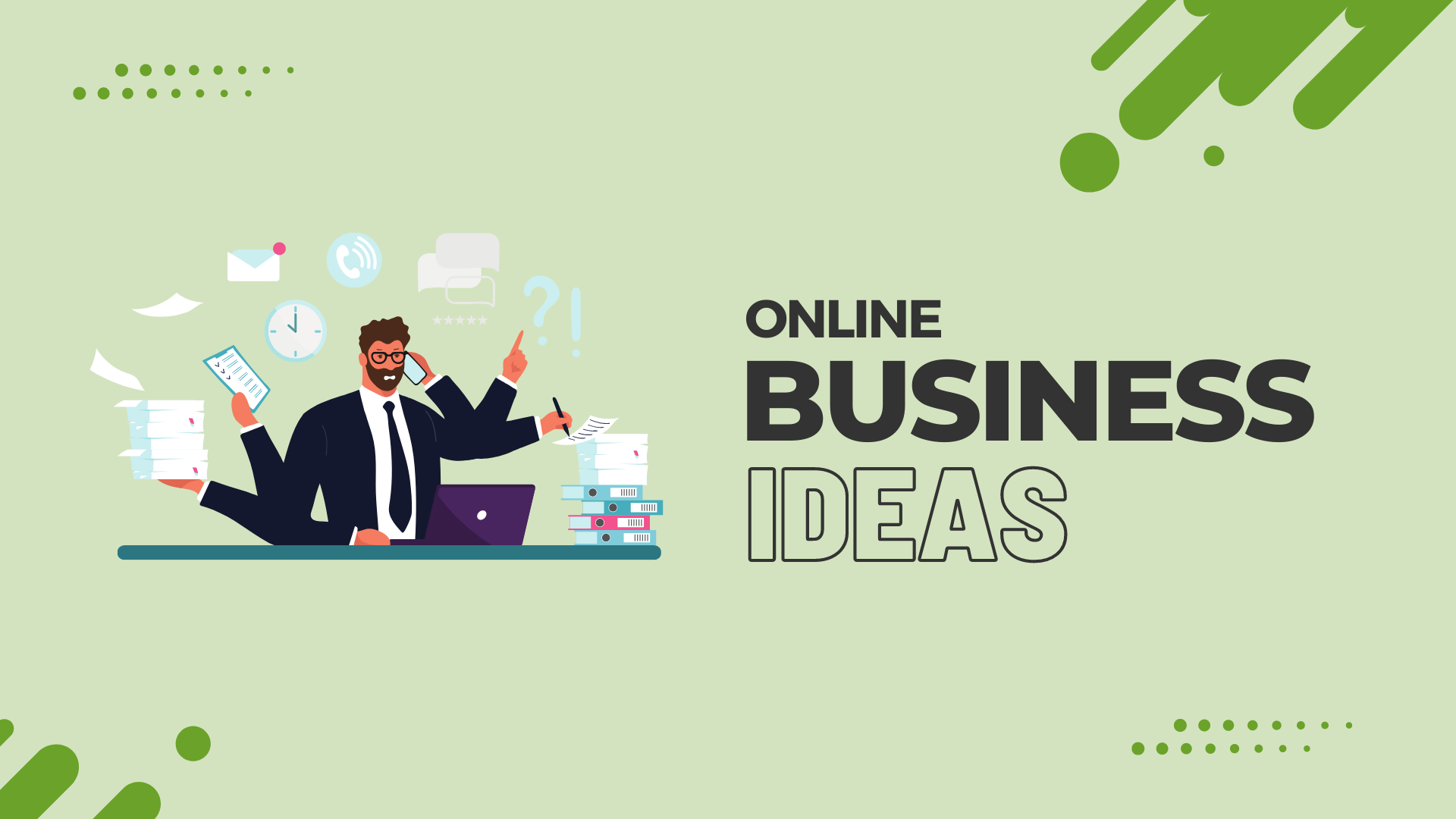 1. Ecommerce Business
Ecommerce is the best online business that is gaining popularity among people. But what exactly eCommerce business is? An ecommerce business is nothing but buying and selling products or services online. You already know about Amazon, eBay, Flipkart, etc. They all are eCommerce businesses. Where we used to buy or sell products online.
Suppose you have a great business idea or unique products or services to sell. In that case, you can also start your own online store or eCommerce website to sell your product or services. You can make benefit from your skills by converting them into online business.
You want to open up your own eCommerce website, but what if you don't know the programming? Well, in that case, you can use ready-made eCommerce themes to make your website. You need to visit the GeekCodeLab website, and you can search for the eCommerce theme. And now you are ready for your eCommerce business. you can also use WordPress Survey Plugin and many more others plugins.
If you don't know how to make an eCommerce website but still want to sell your products? Then you can look out for online distributors who can help you sell your products. For example, Amazon FBA is a platform where you can sell your product through amazon. Amazon will handle all the stress and complex process. You just need to focus on your product. So, it doesn't matter if you are a technical person or not. Online business is very simple if you have the right knowledge.
2. Affiliate Marketing
Affiliate marketing is a great online business when you don't have money to invest. This is called the zero investment business model. Why? Let's understand affiliate marketing first. Affiliate marketing means helping to sell someone else's product or service to get a little commission from them. You don't have to make your own service or products. You just need to put in a little bit of effort, and you can start making money with zero investment.
You can join the affiliate marketing program to start this business. Like the amazon associate program, You can become an associate of Amazon to sell their products and get revenue from them. So, if you have a weak financial condition but still want to make money online, you can seek an affiliate marketing business.
3. Online Coaching
Online coaching is the best online business you can do if you have a skill set in a particular field. If you are good at teaching, then you can start an online coaching business. It requires almost no money, and you can start just by using the internet.
You can sell your courses online by creating yours on an education website. If you don't know how to make it, you can use our Education theme to get started. Or you can join online education universities like udemy, unacadamy and work for them. It is a great business to do from home.
4. Youtube
Youtube is completely free and easy to start for everyone. This is the easiest online business of all the different types. You only need a stable internet connection and a device like a laptop or mobile. Youtube is a video streaming service, but it is not limited just to that; you can become a creator and use that platform to generate revenue.
You can make different types of video content and post it on youtube. You can follow your passion and show it to the world using the youtube platform, and it will generate revenue for you. You can make money while doing the work you like.
5. Freelancing
Freelancing is another great online business to start when you have nothing to invest. Same as youtube, here you also need only internet and a mobile or laptop to get started. Freelancing means working for someone else by yourself. You don't need to join any company to do this business.
If you have the right skill set and you can fulfil the client's requirements, then freelancing is the best online business you can ever get. You can make an enormous amount of money from freelancing. If you are good at coding, help someone to make their software or website. If you are good at writing, then write for them. If you are good at logo design, then make a logo design for your clients. So, by doing these projects individually, you can make huge with freelancing.
6. Trading
Trading is something different when it comes to online business. Trading means buying or selling things. It could be stocks, bonds, crypto, derivatives, commodities, forex, etc.
Trading can be business and gambling both ways. What do you mean by that? That means if you have the knowledge and treat trading as a business, then it can be very profitable and scale it like a business. But if you don't know anything about trading and you just started doing randomly, then you are in trouble. Because it can damage you financially and mentally so hard.
Trading requires a little bit more capital compared to other businesses to start making profits. But once you master the money game, you can easily make a lot of money you couldn't have imagined.
7. Blogging
Blogging is almost essential for all businesses, whether it is physical or online. You need to tell your customer about your product or services. And how would you do that? Blogging is the best way to communicate with customers in easy language and more informative explanations.
You can start your own blogging website, or you can write for other people's blogs. If you want to make your own blog website, you can visit GeekCodeLab and select the Blogger template that will set blogger website for you. You can start your blogging business online with almost nothing to invest in. It can be much more profitable as per your content quality.
As we discussed earlier, there are many types of online businesses you can start with your idea. The only main requirement is an internet connection and a mobile phone or laptop. In terms of money, There are many businesses where you don't need to invest anything. You can just start making money with your talent.
In most cases, you do need to create a website for your online business idea. However, if you don't know much about coding, then you can use our ready-made templates to create your website. Visit GeekCodeLab to know more.
Additionally…
If you want your online business to grow faster you will need the Popup Box plugin.
Ays-Pro is the creator of the Popup plugin for WordPress. This plugin will undoubtedly become your favorite. This plugin will increase your sales. Additionally, buying this plugin will be your most cost-effective investment.
---
At Geek Code Lab you can find the best quality WordPress and WooCommerce plugins, HTML templates, XD Graphics templates, and creative logos to improve the look, sales, and growth of your website to the next level. For more fantastic stuff please stay tuned with us.