Introduction
Do you want to learn how to use the Invitation Code Plugin for Contact Form 7? In this blog, we will discuss how you can easily use the Invitation Code Plugin. We will also learn about how this plugin works and the benefits of this powerful invitation code plugin for Contact Form 7. So, let's dig in and learn about this powerful plugin.
What is Invitation Code Plugin For Contact Form 7

A powerful plugin called Invitation Code for Contact Form 7 was created to assist you in validating subscribers and creating a personal relationship with them for your company. Using this plugin, you can develop special invitation codes that you can use with Contact Form 7 to produce a small number of high-quality leads.
With the plugin Invitation Code for Contact Form 7, you have a quick and easy approach to selecting and choosing excellent-quality leads. You can apply invitation codes to ensure that the leads you receive are truly interested in your products, improving engagement and increasing the likelihood that they will convert.
So, now let's discuss how you can use this plugin with the help of screenshots and easy steps.
Steps to Use the Invitation Code Plugin For Contact Form 7
To use the Invitation Code for Contact Form 7 plugin effectively, follow these steps:
1. How to Install and Activate the Plugin with the Help of WordPress?
Begin by installing and activating the Invitation Code for Contact Form 7 plugin. You can find this plugin in the WordPress directory or by searching for it within your WordPress dashboard's plugin section.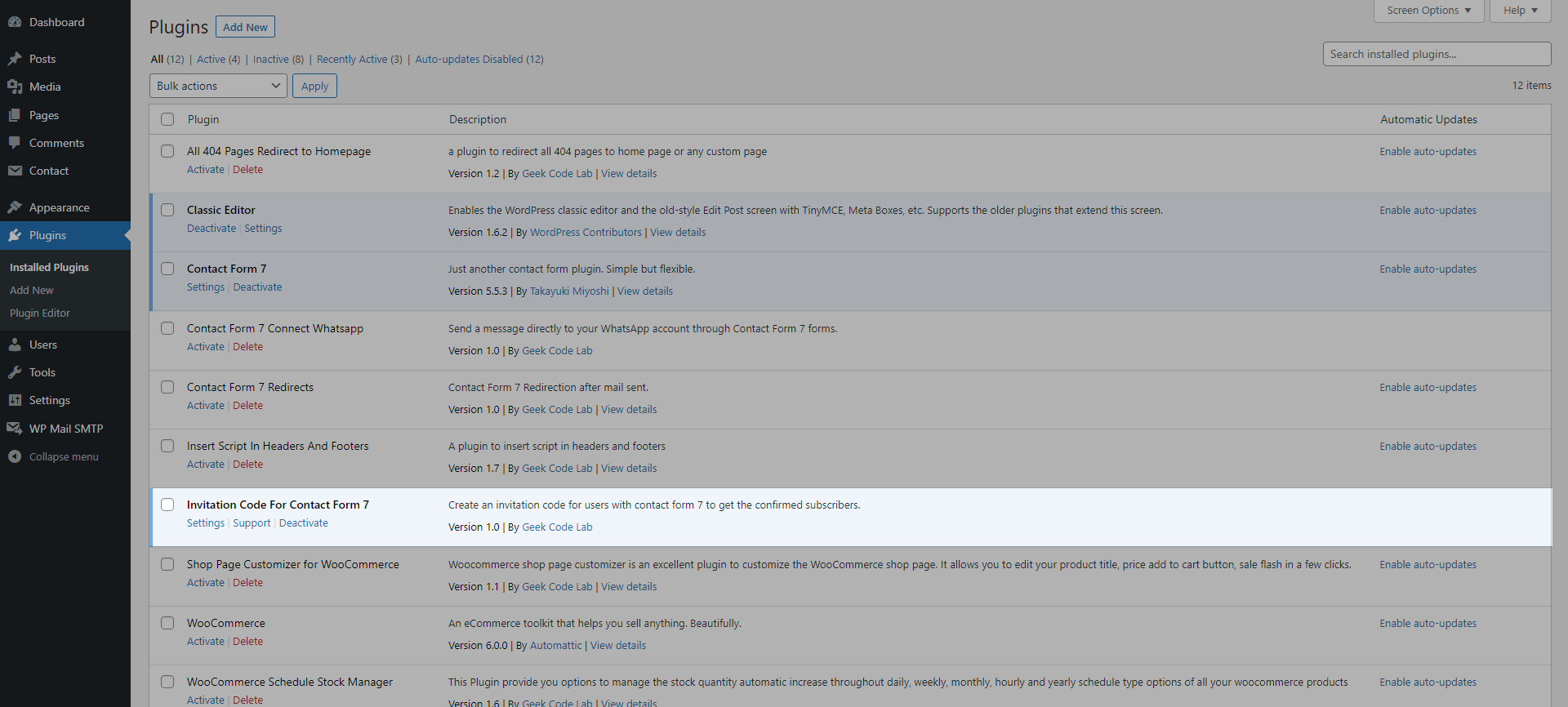 2. How to Install and Activate this Plugin with the Help of Geek Code Lab Website?
If you want to download this plugin easily, you should try this way. Just open the Geek Code Lab Website and click on the plugins button. Scroll down and you will get the invitation code for Contact form 7 plugin.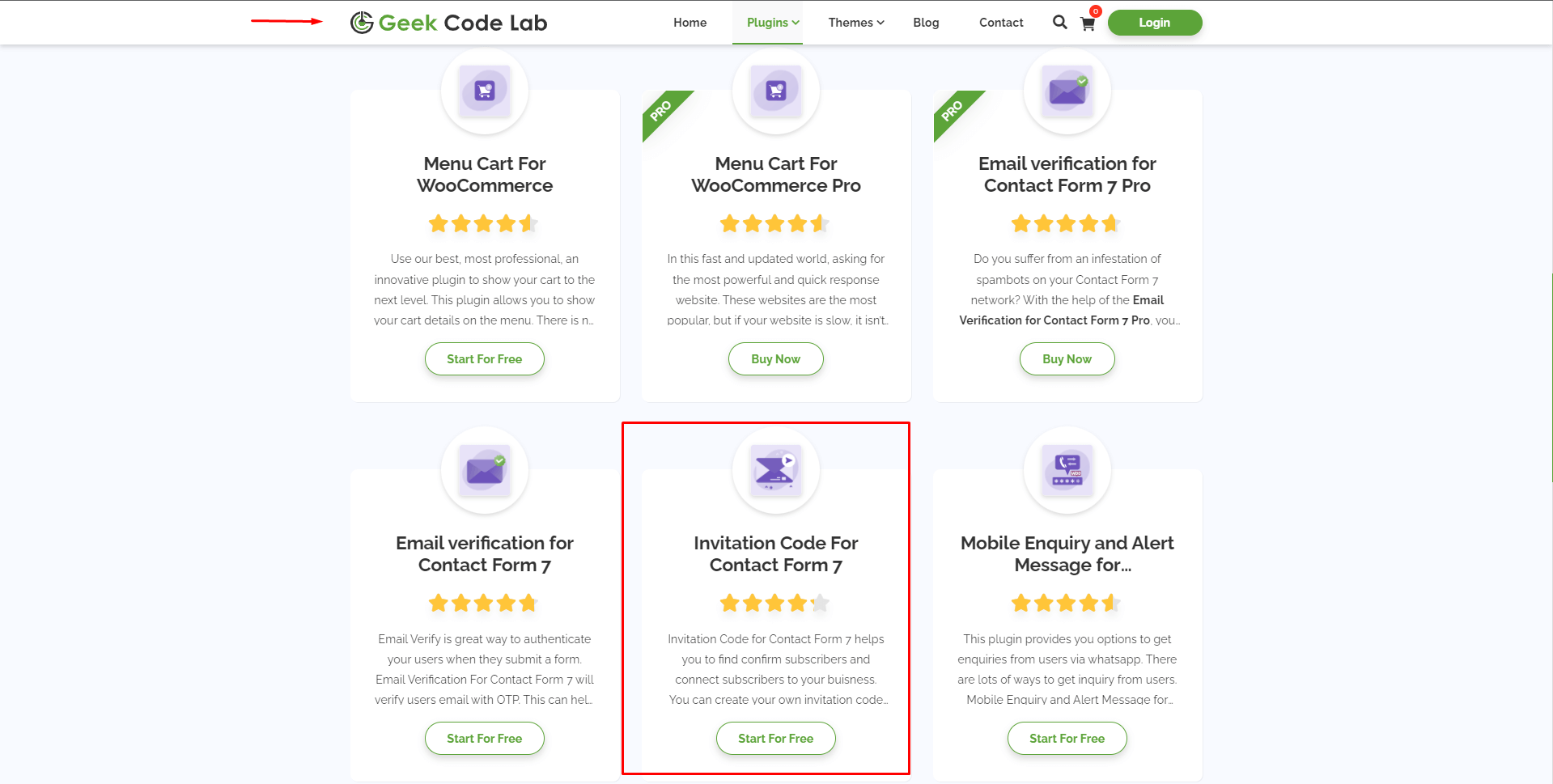 Now click on the "start for free" button. After which you will get the "Free Download" button and your plugin will be downloaded in seconds.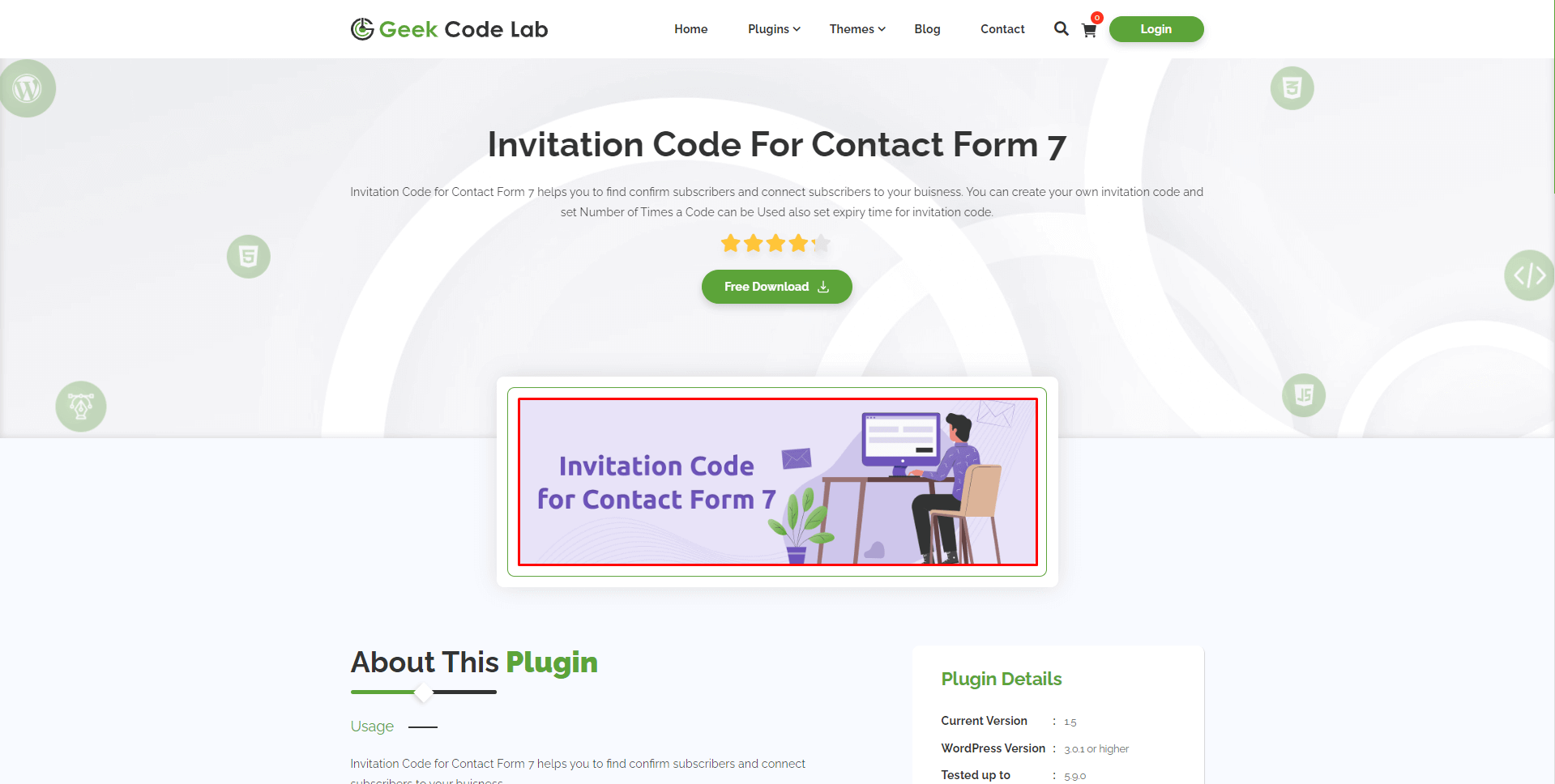 You can also read the plugin details on this page. So, this is one of the easiest ways to download plugins that are powered by Geek Code Lab. So, go and download the invitation Code For Contact Form 7 Plugin for free with the help of Geek Code Lab Website. 
Related Article: How To Integrate Contact From 7 To WhatsApp
3. How to Generate Invitation Codes on Your Website.
Once the plugin is activated, navigate to the plugin's settings page. Here, you can generate your invitation codes. Customize the codes according to your preferences, such as the length, format, and any specific characters you want to include.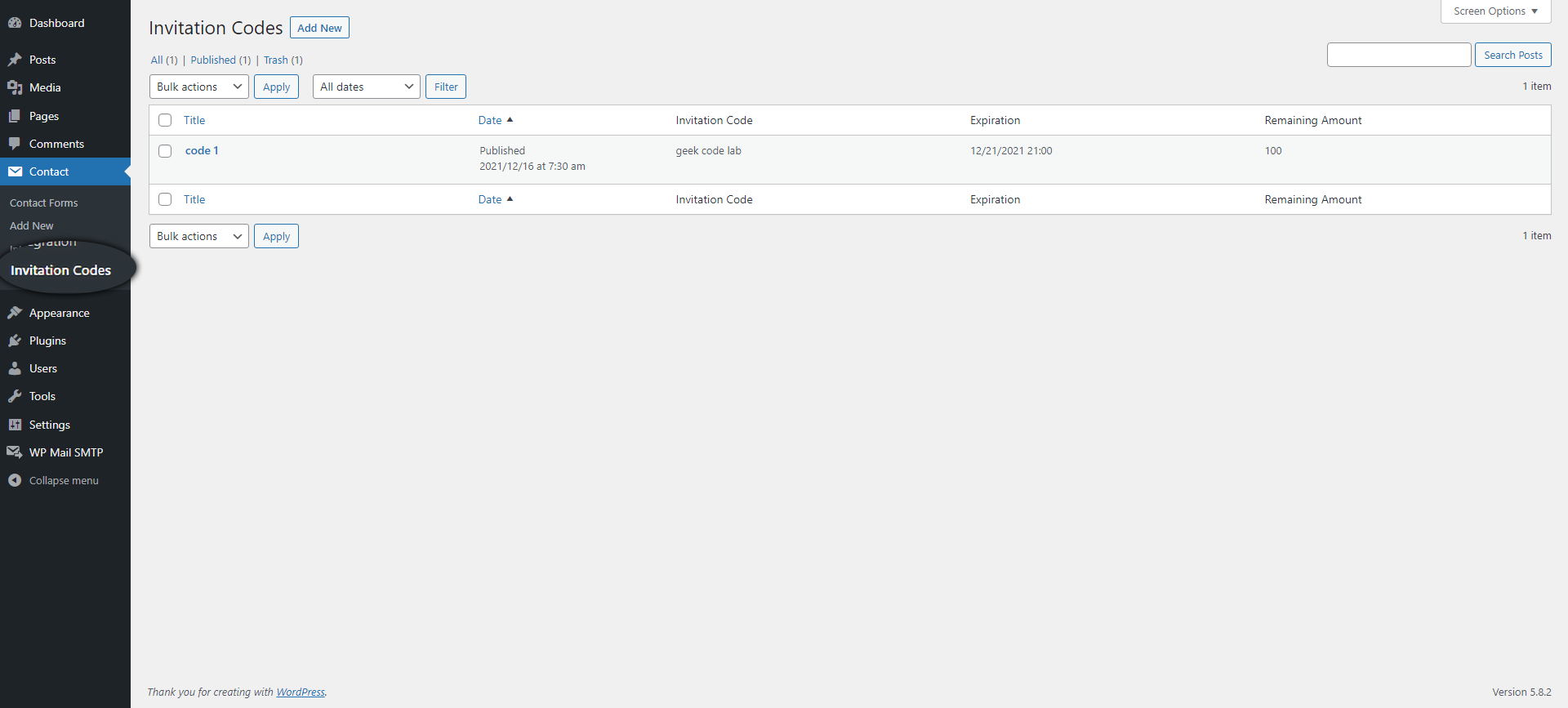 4. How to Configure Usage Limits and Expiry Time (optional)
The plugin allows you to set usage limits for each invitation code. Decide how many times a code can be used before it becomes invalid. Additionally, if desired, you can set an expiry time for the codes, specifying when they will no longer be valid.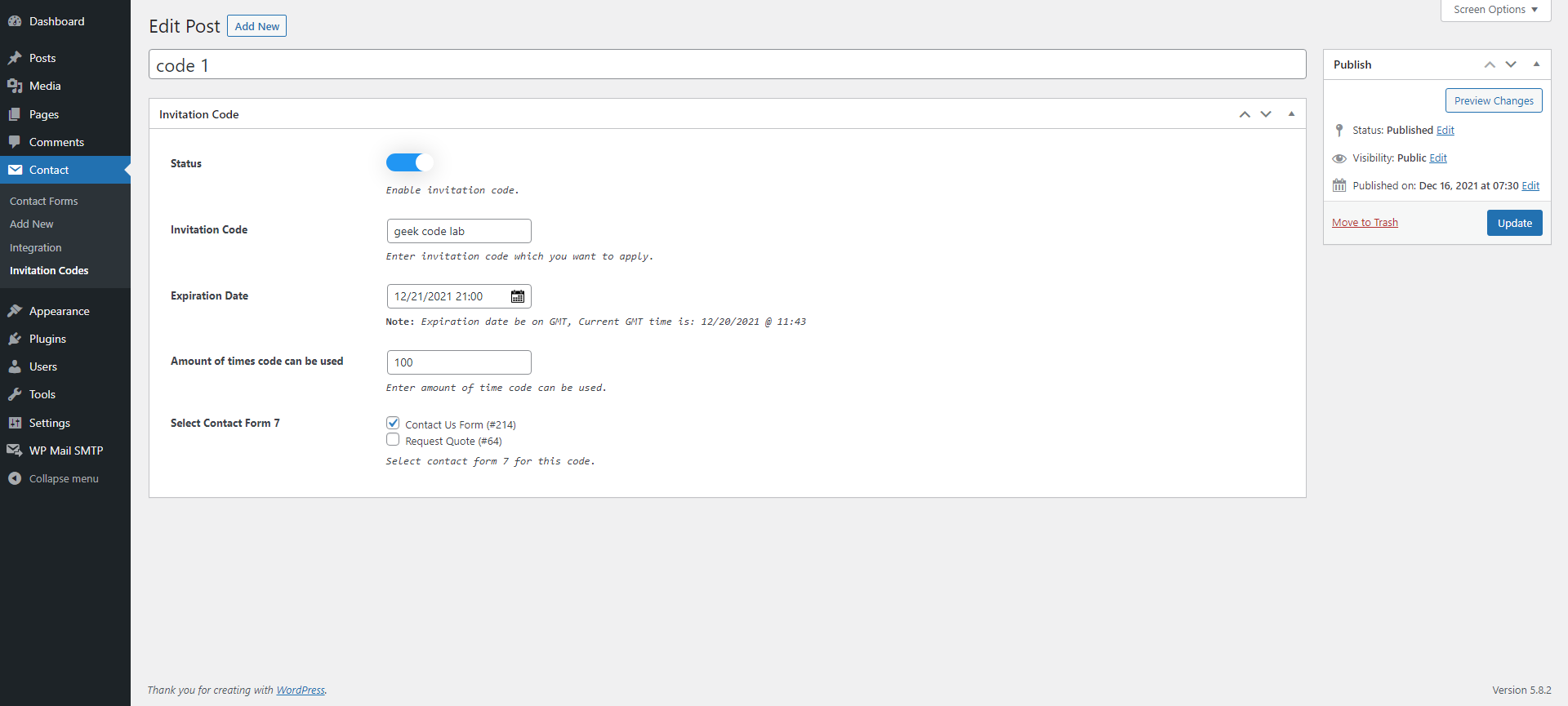 5. Steps to Share the Invitation Codes.
After generating the invite codes, share them with your contacts or potential subscribers. It can be done through various channels, such as email campaigns, social media posts, or your website. Provide clear instructions on how and where to enter the invitation code.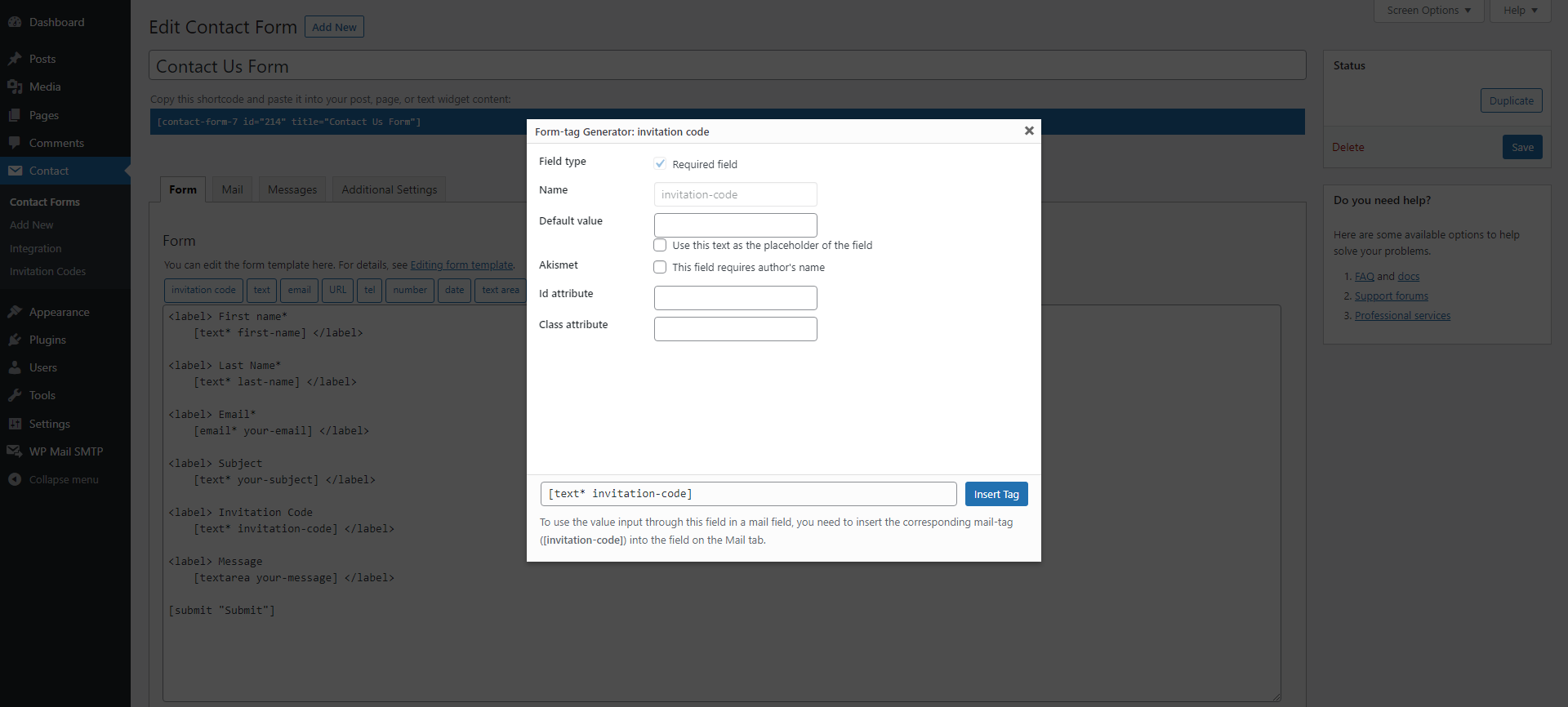 6. How to Integrate with Contact Form 7?
In your Contact Form 7 setup, add an invitation code field to your form. You can do this by using the "Text" or "Text area" field type and specifying it as a required field. It ensures that users enter a valid invite code to complete the form.
also check. How to Use and Install WordPress Poll Plugin For Contact From 7
7. Steps to Confirm Genuine Subscribers
When users fill out your contact form, the form will remain incomplete until they enter a valid invitation code. Once users enter a correct code, their submission is considered genuine, and they become confirmed subscribers.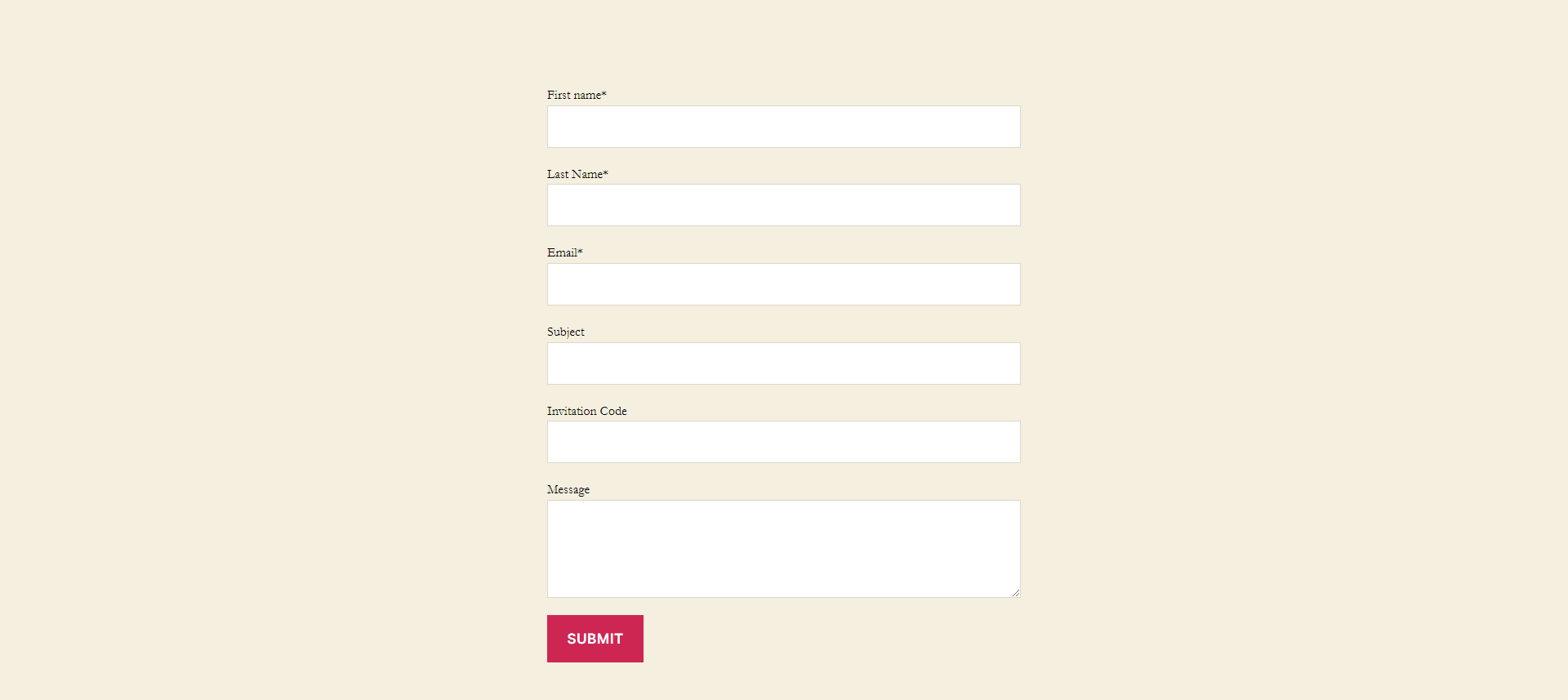 8. Connect and Engage with Subscribers
With the confirmed subscribers' information, you can now connect with them through email marketing, personalized offers, or other engagement strategies. Nurture these relationships and leverage the information obtained through the invite codes to drive conversions and enhance your business growth.
Following these steps, you can effectively use the Invitation Code for Contact Form 7 plugin to confirm subscribers and connect with them for your business.
I hope you guys will understand this process. Now let's head towards the benefits of the Invitation Code for Contact Form 7 Plugin.
Benefits of the Invitation Code for Contact Form 7 Plugin.
There are many benefits of the Invite Code for Contact Form 7 Plugin. The following are some major benefits of utilising this plugin:
High-Quality Leads: By using invitation codes, you make sure that only those who have active codes can fill out your contact form. You can find high-quality leads with real interest in your company or your products using this screening process.
Enhanced Lead Verification: Invitation codes add another level of lead verification. By lowering the likelihood of obtaining fraudulent or spam submissions, you can be certain that the leads you obtain are reliable and worthwhile.
Better Subscriber Management: The plugin provides a systematic way to manage and organize your subscribers. You can easily track and identify those who have used specific invite codes, making segmenting your audience and creating targeted campaigns simpler.
Flexibility and Customization: The plugin offers various customization options, allowing you to generate invite codes that align with your branding and marketing strategy. You can set usage limits for each code and even specify expiry times, giving you control over the availability and duration of the codes.
Easy Integration: The Invitation Code for Contact Form 7 plugin seamlessly integrates with the popular Contact Form 7 plugin, widely used for creating contact forms on WordPress websites. This makes it convenient to add the invitation code functionality to your existing forms without significant modifications or additional plugins.
You can streamline your lead generation process, get high-quality leads, and build deep relationships with your subscribers by taking advantage of the features offered by the Invitation Code for Contact Form 7 plugin. This may result in increased conversions, better engagement, and overall business growth.
Conclusion
In conclusion, the Invitation Code for Contact Form 7 plugin provides a simple method for validating subscribers and establishing a connection with them. You may get high-quality leads, enhance verification, personalize communication, and increase conversions with customized invitation codes, usage caps, and expiration choices. Its simple Contact Form 7 integration offers a user-friendly experience. Use this plugin to improve the effectiveness of your lead-generating activities and subscriber management.
For more such interesting and informative blogs, keep visiting the Geek Code Lab Website. Here we provide you free plugins, templates, XD templates, logos, and some helpful blogs. So, stay in touch with this website to collect more information.