Do you want to Remove WooCommerce product content from your WooCommerce store?
WooCommerce provides lots of features that are pre-built. But it is very time-consuming work because you need to update each product or have to do some coding. Remove WooCommerce Product Content Pro plugin can help you work smarter and faster, making you look like a Pro WooCommerce Store owner.
In this article, I will show you how to remove product content in WooCommerce store, in faster and smarter ways.
Why do you need to use Remove WooCommerce Product Content Pro plugin?
The Remove WooCommerce Product Content Pro plugin can remove selected product content from multiple products in WooCommercce. In the default WooCommerce store, you don't have options for the bulk editor for products.
This plugin can give options for removing the content from a WooCommerce single product, all WooCommerce products, and WooCommerce category-wise products. This removed data can't show on WooCommerce single product page and WooCommerce Shop page.
The price is so cheap than other highly paid plugins; the price of this pro plugin is only $19, which is a big reason to buy the Remove WooCommerce Product Content Pro plugin.


What information can be hidden using Remove WooCommerce Product Content Plugin?
You can hide the selected WooCommerce product content from the WooCommerce product pages and the WooCommerce Shop page.
Single Product Page
Flash Sale
Product Price
Rating
Short Description
Categories and SKU
Add to Cart
Thumbnail Product
WooCommerce remove related products
WooCommerce product description
Review Tab
Additional Information
All Product Tabs
Product Shop Page
Sale Flash
WooCommerce Product Rating
WooCommerce Add to Cart
Price
Sale Price
Variable Price
How to remove product content from your WooCommerce website?
There are lots of ways to remove content from your WooCommerce Store. But the easiest way is by using the Remove Product Content Plugin.
You can download the free version form here. And if you like this free version of the Remove WooCommerce product content, you can download the pro version of the best WooCommerce plugin.
First, download and install the plugin Remove WooCommerce Product Content, then follow the instructions below.
Upon activation, you must redirect yourself to the WooCommerce > Remove Product Content Pro page, and here you get the settings for hiding the product content for all products.
Here you can commonly hide the information for all the products on both WooCommerce product pages and WooCommerce Shop Page.
Next, you can also have options to remove the product content based on the WooCommerce product category. You can remove the content from all the products under the selected WooCommerce product category.
You can use the WooCommerce product category edit page to remove the content from the products under the specific WooCommerce product category. There are the same options as the general setting, but these only work differently.
Settings for Single Product Page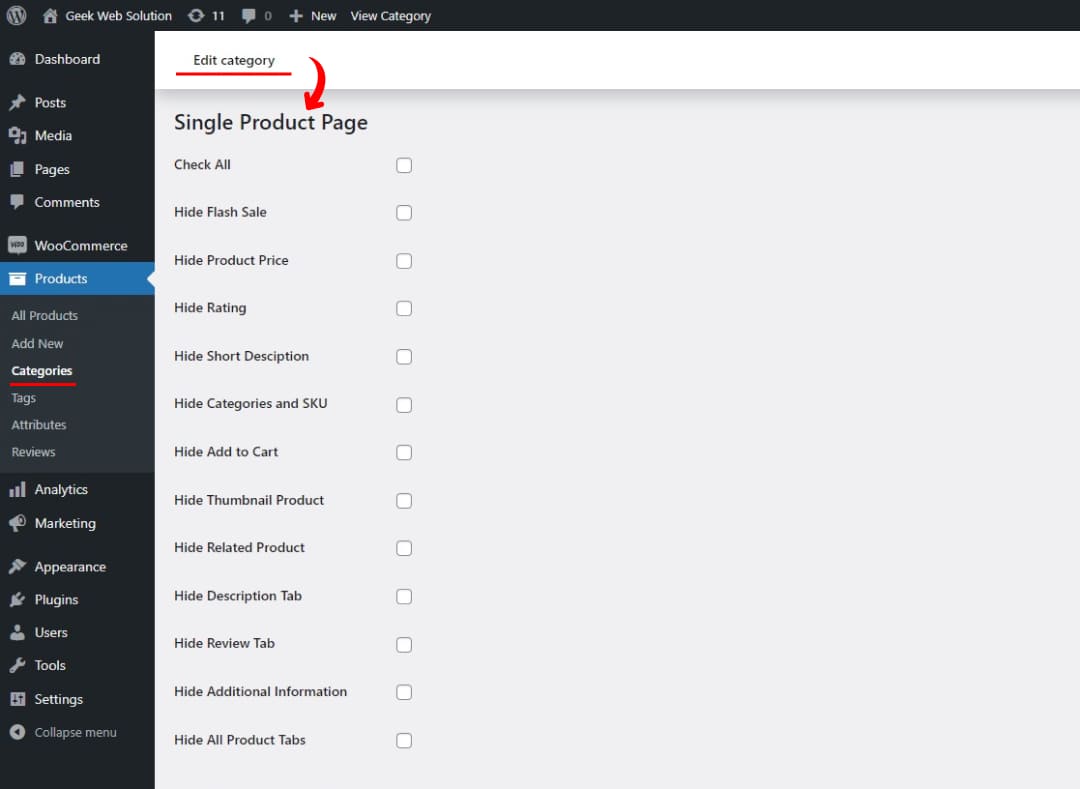 Settings for Shop Page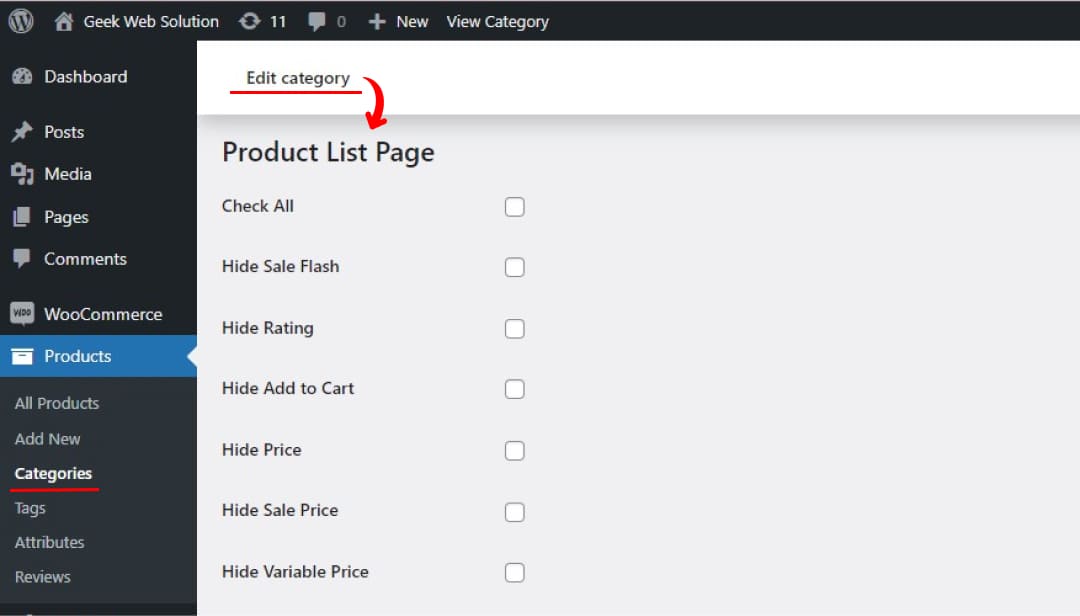 Now you can also perform all the functions for the specific WooCommerce single product. Use the dedicated edit product page to remove the content from it.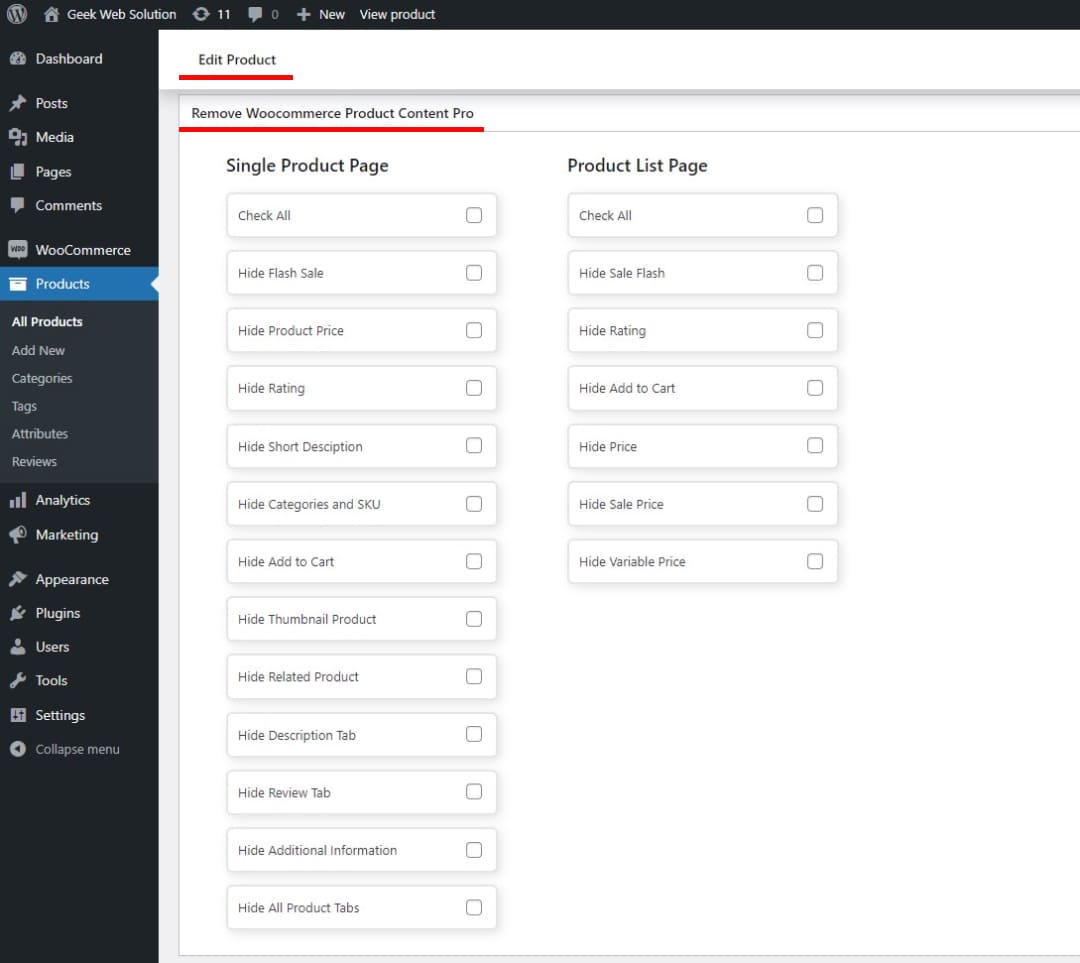 Some good features of the Remove WooCommerce Product Content plugin
Users can remove the related product from the Woocommerce single product page. Option to remove the product tabs. Admin can hide the WooCommerce product review tab. Ability to remove the WooCommerce Variable price. Like these, many good features are loaded in our pro plugins.
If you are already using our Remove WooCommerce Product Pro, then no need to worry about it; you can read it as guidance. Instead, you can use our other pro plugin, Menu Cart For WooCommerce Pro. And for more information on how to integrate into your WooCommerce store, check our article How to add WooCommerce Cart Icon to Menu.
This article helps you to learn how to remove Product content from your WooCommerce store. You can also pick the Top 10 WooCommerce plugins of Geek Code Lab.
If you like the article, please follow us on Facebook, Instagram, and Linkedin for more upcoming news and events, and stay tuned with us at Geek Code Lab.