Are you looking for free HTML5 Templates to market your skill in front of the world using a website? Then, you are at the right place where you can get free website's templates.
A website is your digital card that represents your past and present. Also, it creates an online presence. You can say your website is the backbone of your business.
No matter what you are doing for your new startup or a business. The website is a must to present your business worldwide, and it is considered the best marketing weapon ever. But, before building the website, you need a pillar where your website will stand.
Now you probably think what precisely the pillar is?
Whether you are using a CMS like WordPress, Jumla, HTML, CSS, or any other website making material, you need a proper and responsive HTML5 theme or template to build a blueprint of your website.
A good and attractive theme makes your website extraordinary. Your website is what the clients excitedly see and get a deeper insight regarding your work and business.
So, the website pillar is HTML responsive Themes or Templates.
GeekCodeLab is a place where you can get the best HTML Templates for totally free. You don't need to spend any cost on it. Not just great themes, but it is a factory where you can get each material like Logos, Plugins, Graphics to build a great website.
If you plan to build a website, a free HTML5 website template is a perfect option to start.  All available HTML5 Templates are the top responsive templates. All templates are customizable and pre-loaded with the required features. All are built according to the late design structures with the latest functionalities.
GeekCodeLab is a place where you can find a complete collection of all business HTML5 templates. With the help[ of this vast template collection, you can develop a professional website in a limited time period.
Note: Read our previous blog on how you can get a free wordpress donation plugin for your organizations.
Why are HTML5 Templates getting popular?
Well, if something is getting popular and demanding, that means it is beneficial and popular somewhere.
HTML5 is a markup language and supports all web browsers. So, it is beneficial to build all kinds of creative websites. HTML5 is easy to customize, and there are no hurdles during the developments. Because it is open source and you can do anything according to your requirements.
In HTML5, you can design across browser compatible websites very easily using it, and you can enhance some extra features like compatibility, cross-browser, in-built saas, clean coding, responsiveness, and many more. HTML5 is lightweight and takes less time to load. So, you can build a website that takes very little time to load.
Let's see the top HTML5 templates or themes in brief so the others can understand in depth.
DeCore – Architecture & Interior HTML5 Template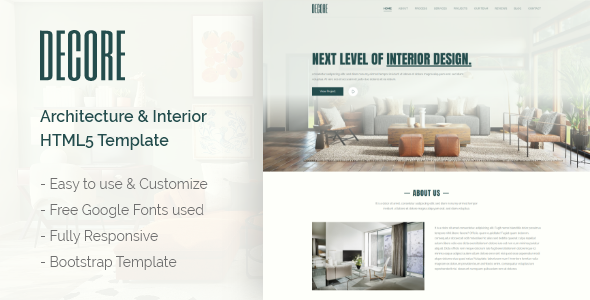 DeCore is the best HTML5 Template Theme for Interiors and Architecture. Architecture needs creativity, and if you belong to the same field, this HTML5 responsive template will help you present your creativity in front of the world. Website designs and their features are more important than other things.
This Architecture Theme combines HTML5, Bootstrap, CSS3, and JavaScript and is also customizable. You can customize this theme according to your requirements easily. This theme design will become your business priority if you are a freelancer or running a small or colossal architecture business.
Key Features:
Fully Responsive.
The Theme is W3C(World Wide Web Consortium) validated.
A theme made up of HTML5, CSS3, JS.
Well structured and organized sections by professionals.
Five-Star rated.
Top features.
Smooth and easily customizable.
Bootstrap-5 responsive.
SEO ready layout.
Google Maps & Google Fonts.
This theme has a wide range of features and benefits, which makes your website more reliable. You can add this theme very easily and customize it according to your way.
Digital Design – CreativeAgency HTML Template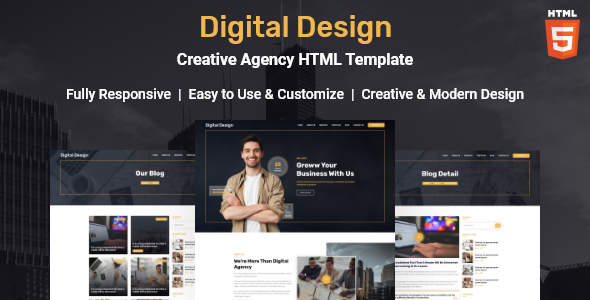 There are numerous Free responsive website templates available for agencies. But the given HTML5 theme comes with every possible feature, which makes your website complete. This theme is also mobile friendly and entirely flexible. Read the given theme feature below.
Digital Design is a creative agency and multipurpose business HTML templates. The theme is design is clean and clear, which is suitable for your business. This theme is for those doing multipurpose business, including creative agency, digital marketing, any new startups, products and services based company, portfolios, consultancy, and many more.
Key Features:
Fully customizable according to your requirements.
Creative and modern design structure.
Bootstrap 4 responsive
Flexible and responsive.
Five-star rated.
Easy to use and operate.
The technology includes HTML5, CSS3, JS.
SEO friendly.
W3C validated.
Besides the features, this theme is well organized in every aspect. From the customization to develop a freakish UI\UX, a lot of things to do with this theme.
Event & Conference – Responsive HTML5 Template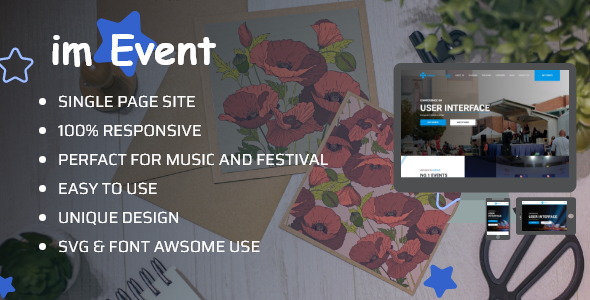 Event & Conference template has been developed on HTML5 with a bootstrap 4.X framework for the events, webinars, and events. It is a multipurpose template for events and seminars. The template comes with many sections related to the circumstances and workshops, customizable as per your creativity and marketing strategy. The areas include social links, countdown timer, google fonts, one page home layout, smooth scroll and many more.
The template supports all the available browsers and devices, which is a highlighted part of this template. This template is especially suitable for those who own event handling organizations. If you belong to a related field, this theme is for you to present your work globally.
Key features:
Based on the 4.X bootstrap framework.
Excellent support.
Google Maps & Google Fonts support.
Supported HTML5 and CSS3 technology.
Creative & modern design structure.
W3C(World Wide Web Consortium) validated.
All browsers are supported.
Easy customization.
SEO implemented.
Responsive for all devices.
Grand Restaurant – Responsive HTML Restaurant Template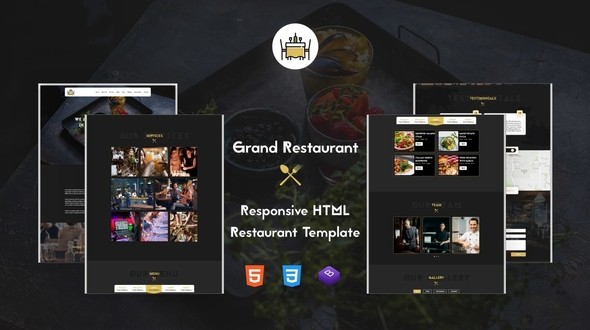 Having a great website to promote the food or restaurant business is a great way to promote your business. If you are a restaurant owner, marketing your business is a must.
There are many ways to be online. You can easily set up your business online and promote yourself online easily. You can also set up an online delivery service for your customers. You can set up your food gallery on your website and showcase it. So, the benefits are countless for being online.
Here, a Grand Restaurant theme comes with every required feature that any restaurant owner wants to create an online presence. This theme has been developed on HTML5, CSS3, Bootstrap 4 framework and specially designed for restaurants, cafes, and other food-related small businesses. This theme is well optimised and organised as per what precisely an individual restaurant wants in their restaurant.
All available theme features can help you grow online, and you can use them to increase and attract new leads. If you are looking and trying some unique and free HTML5 templates, please visit GeekCodeLab.
Key Features:
Responsive design.
easy to understand and customised.
Made with HTML5 and CSS3 combination.
Loaded with all restaurant features.
W3C(World Wide Web Consortium) pre-checked.
Fully responsive.
Bootstrap4 framework supported.
Build with the latest design structure.
Beauty & Salon – Responsive Salon Template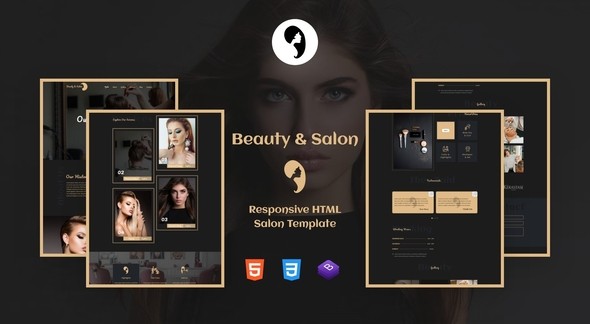 Beauty and salon, the most creative and skilled profession that requires presentation. Skills and perfection. These three expectations will help you to run this business. Every male and female salon runs on your skills bcos hairs are a compassionate mentor for all. Once you miss something during the work with your clients, there is a chance to lose your clients.
Beauty & Salon business requires good pictures of your work. GeekCodeLab presents a clean, responsive, modern, customizable theme only for all types of salon-like unisex salons, spas, fashion salons, and many more. This HTML5 template is fully responsive for all devices, and you can customize it according to the way.
Key features:
Loaded with the HTML5 & CSS3 technology.
Bootstrap-4 customization.
Easy to use and customize.
Beauty & Salon features.
Super Responsive.
W3C validated code.
Social share icon.
All browser support.
This is our five rated Salon & Beauty HTML5 and CSS3 template which comes in a single bunch with all required features that a salon owner needs in their website. The template is built on HTML5, CSS3, and Bootstrap-4 framework. This template will help to build a great-looking website. Download the theme, create your presence globally and generate new leads.
Choose the Right Responsive Website Templates for Your Site
Make sure that only responsive websites are not enough. It would be best if you also focused on the best template to get started. Use Free responsive website templates or anyone responsive website template. In the end, the choice is yours. Go ahead and find a suitable template for your dream project and make a presence globally. Selecting any template from the GeekCodeLab to the given top-rated HTML5 template will help you generate a new lead.
If you are looking for Free HTML & CSS responsive website templates and WordPress themes regularly, GeekCodeLab is where you can quickly get free articles and get paid at an affordable price. Also, you can get free WordPress plugins for your site.