Websites are a necessary part of the business if you want to be more successful. It creates an online presence in this vast digital world. A website is the best way to showcase your product or services to the outside world. With these ready-made Templates, you can easily set up your business online.
An attractive and user-friendly website enhances the popularity of your product or services. HTML Templates are much easier to customize. Also, it provides many other features. Templates are easy to implement, effective, and offer a wide variety of customization. Why not give it a try? Check out here the Amazing top 10 Best HTML5 Templates.
But the question is, where to get that wide variety of HTML 5 templates ?
Geek Code Lab is the best place to get all types of HTML Templates for free, and paid as well. Geek Code Lab offers you a variety of website templates design like blogs & magazines, e-commerce, travelling, food, photography, business, education, entertainment, and so on. So go and check our HTML Templates with Live Preview option on our website.
Why have HTML5 Templates gained so much Popularity?
HTML Templates are becoming more popular amid their simplicity, ease of modification, clean code, mobile-friendly, cross-browser support and much more.
But what is HTML5? HTML 5 is a Hypertext Markup Language revision used for creating websites.
If you are planning to create a website, HTML templates might be the excellent option to go your business online. Geek Code Lab is a place where you can find all types of HTML Templates that you need, and most template are free to use, easy to customize and one click downloaded option. There are multiple free and pro HTML5 templates available online, so you may easily pick one that suits your needs.
Let have a look at the collection of Responsive and Easy to Modify HTML Templates.
1. LFC Inc: Finance and Business Services Template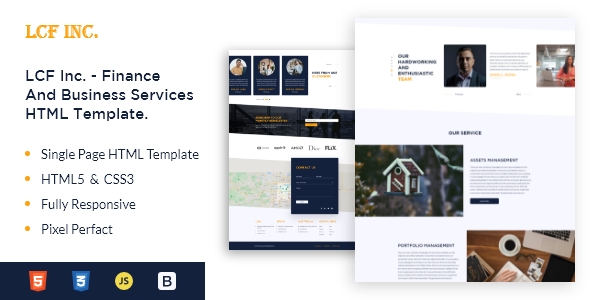 LFC Inc is a free HTML5 template that can help you make your finance or business service website look clean, professional, and more content friendly, which stands out against your competitors.
LFC Inc is a free HTML5 template design that is clean and professional in look. Also, it gives the flexibility to customize as per their business requirements. It can be used to set up a finance & business service website with ease. The template consists of HTML, CSS, and JavaScript that opens up the door for complete customization and is also very responsive and dynamic.
Features of HTML5 Business Services Template
Easy to use and customize
Well documented
Fully responsive
W3C validate
Faster loading speed
Clean code
Free to use
2. Foodify: HTML Food Website Templates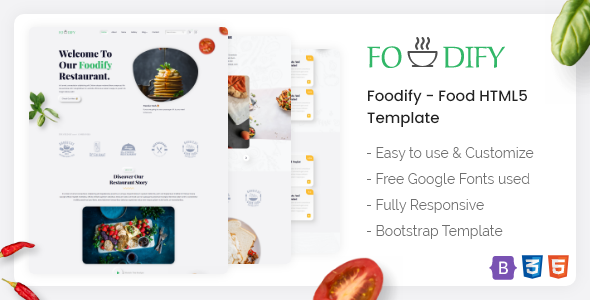 Foodify is another great HTML5 template that helps you make your food blog or restaurant website looks more elegant and Eye-catchy.
Foodify is a fully Responsive, professional and multimedia purpose template. It is magnificent for food blogging, restaurants, food vlogs, etc.
Foodify uses bootstrap, a consistent framework that supports a majority of all browsers and CSS compatibility fixes. It has a responsive structure which is essential. Also, it has an excellent grid system necessary in the food website to display food items and much more details.
Features of HTML Food Website Template
Built with bootstrap
Parallax and smooth scroll effect
Grid layout for targeting food and restaurant objectives
Masonry Grid layouts
Pixel perfect design
Can attract customers easily with the catchy eye look
Sticky menu
Social media links
W3C validate
Tested on different types of device
Clean typography
3. Event and Conference HTML Website Templates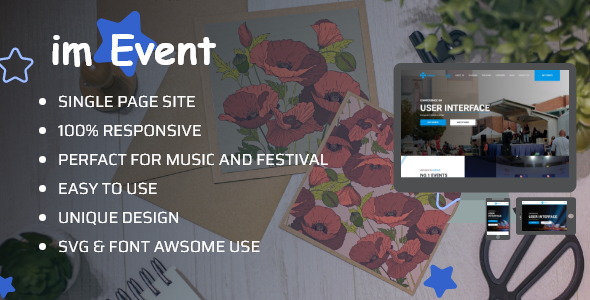 Event & conference is a quick responsive and multipurpose template and more suitable for organizing events and conferences. Do you want to handle an event or schedule a conference event? Yes, you are on the right track. Look at our Event & Conference HTML template, which is a very responsive and creative design.
Event & conference is a highly responsive multipurpose template for organizing and handling events effectively. It's built on a bootstrap framework, which allows you to make grids as per the requirement and help manage events effortlessly. It is a single-page template that makes an impression on the user experience because of easy access to information and easy to use.
Managing events with multiple challenges is quite hard work to do. Still, one-click-ready templates like our event & conference HTML 5 template are specially made for solving this purpose, which allows customizing as per the business need, and different frameworks make the website perform very responsive and fast.
With animations and simple structure of the template help to implement easy for the business operation optimization. Also, it comes with a dedicated support feature, if something went wrong.
Features of HTML Templates For Events
One page home layout
Easy to implement
The Fastest response time
Customization as per requirement
Performance focused
Custom animation support
Suitable for all devices
Dedicated support
Sticky menu
Professional interface
4. Holiday Planners: HTML5 Travel Agency Website Template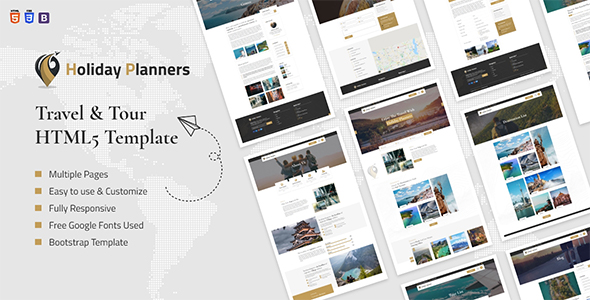 Holiday planner is a travel and tourism website specially designed to facilitate your beautiful holiday plans and help you execute your plans effortlessly.
A holiday planner is a website that can help you plan your holidays and manage your traveling journey, and to facilitate you to make your trip delightful. Social media is a part of our life; we all want to share our memories. A holiday planner provides you the facility to connect and share your memories on social media. It comes with a master slider plugin, making your image showcase and your memories look more beautiful and elegant.
A holiday planner is a multi-page layout theme that provides you a lot of customization, how you want to set up your gallery, how you want to organize your memories, and much more. The website contains media that requires more optimization and this template offers you high responsive, clean code, dedicated support, and gorgeous user interface.
Features of Travel Agency Website Templates
High customization
Highly responsive
Clean and beautiful interface
Facility to showcase your memories
Social media link
Dedicated support
Built with HTML, CSS, JavaScript
Custom animations
Rich interface
5. Slim Yoga: Responsive Yoga Website Template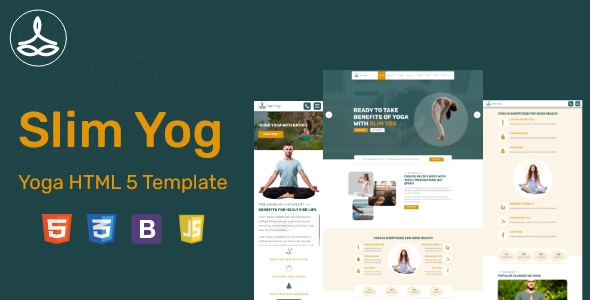 Slim yoga is a fully responsive HTML5 template that provides you a platform to start your yoga website. It offers customization for giving online classes to sharing your memories. Also, it gives support and blog features to make your yoga website more worthwhile
Slim yoga is a creative and responsive template that is the perfect match for your fitness or yoga website. It is a one-page template that provides simplicity and is easy to access your content. The organization of content is straightforward because of the format of the template, and response time is rapid.
The template is designed for yoga related blogging, booking an appointment, taking online classes, support, and much more. It is a perfect fit for a yoga trainer or even a gym trainer because of the simple interface and features to help manage work.
Features of Yoga Template
Faster loading time
Lightweight theme
Smooth scrolling
One page home layout
Easy to implement
Simple and easy interface
Pixel perfect design
Easy Navigation
6. De Core: Interior Design HTML5 Website Template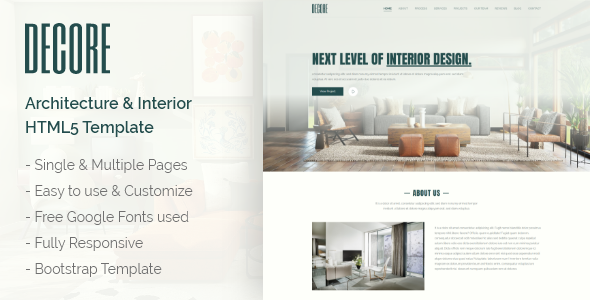 De Core — Architecture & Interior Design is the best HTML5 Template Theme for Interiors and Architecture. Architecture needs creativity, and if you belong to the same field, this HTML5 responsive template will help you present your creativity in front of the world. Website designs and their features are more important than other things.
This Architecture Theme combines HTML5, Bootstrap, CSS3, and JavaScript and is also customizable. You can customize this theme according to your requirements easily. This theme design will become your business priority if you are a freelancer or running a small or colossal architecture business.
Features of Interior Design Template
Responsive design.
easy to understand and customized.
Made with HTML5 and CSS3 combination.
Loaded with all restaurant features.
W3C(World Wide Web Consortium) prechecked.
Fully responsive.
Bootstrap4 framework supported.
Build with the latest design structure.
7. IT Solutions and Services Company HTML Template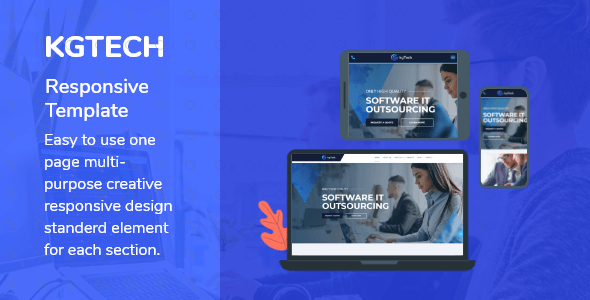 IT Solution & Services is a multi-purpose responsive HTML5 template that provides enough customization to set up your IT Solution & Service website. It is easy to customize and offers excellent features to make your website stand out against the competition.
IT Solution & Service is a free HTML5 template that you can use to set up your business website. As an IT website, it must be excellent in terms of design, performance, animation, user experience, and much more.
We use Bootstrap to go with the flow of material design and provide a world-class experience in terms of design. Animations and navigation are a vital part of a complex website, and as an IT Service & Solution, we have to take care of this thing seriously.
Templates are well documented and cleaner in terms of code which benefits when it comes to customization. With the help of this template, you can fulfill your business requirements without any predicament.
Features of It Solution HTML Template
Smooth navigation
Spacious customization
Material design
Premium user experience
Well documentation
Clean code
Multi hierarchy
Dedicated support
8. E Store: HTML5 e-commerce Website Template
E Store is a premium e-commerce template that comes with enormous features and support. Our premium template provides you with all kinds of services like displaying products to managing accounts, carts, and utterly secure payment, customer support, etc.
E-Store is an e-commerce HTML5 premium template that comes with a bundle of features and support, which must be required to set up an e-commerce business.
e-commerce business is expanding huge, and concerning the demand and boom of the industry, we made a solution to create a template that helps customers to set up their own ecommerce business without any hard lifting.
Our template lets you write about your products, showcase them well, and an easy navigation system makes it easy for customers to get familiar. We are focusing on the simplicity and performance that users can attract and make them comfortable to use.
Features of e-commerce website Templates
Grid layout
Creative and responsive design
Simple navigation
Efficient format to showcase products
In-built Payment system
Tested on multiple devices
Material design
Rich user experience
9. High Quality Beauty and Salon Website Templates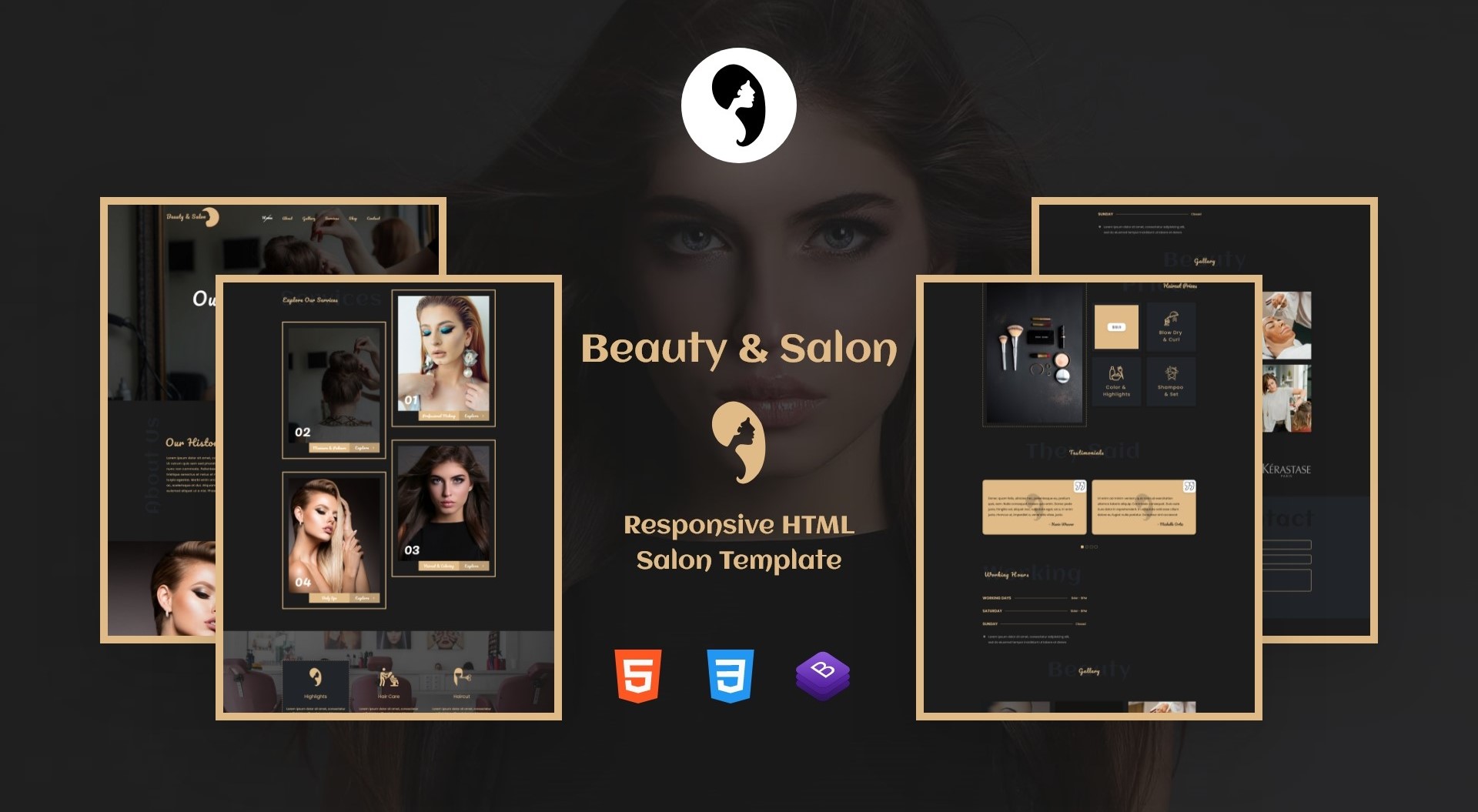 Beauty & Salon is a gorgeous HTML5 template that offers you a platform to make a beautiful beauty & salon website. The template is specifically taken measures to make for a salon and beauty website.
Beauty & Salon is a free luxurious HTML 5 template used to make a premium beauty & salon website. It comes with a rich user interface and branded website impression. Also, it allows you to customize more further as per the business requirement.
It gives a one-page solution for easy navigation and a fancy look. With Smooth scrolling and Animation, the website scores more in the competition. Bootstrap makes it easy to make changes as per the business requirement. For Beauty & Salon products, blogs, marketing, etc., this template is much suitable for these business professionals.
Features of Salon Templates
One-Page Home Layout
Fancy Fonts
Branded design
Deluxe user Experience
Customer support
Simple navigation
Social links
10. Responsive Education HTML Template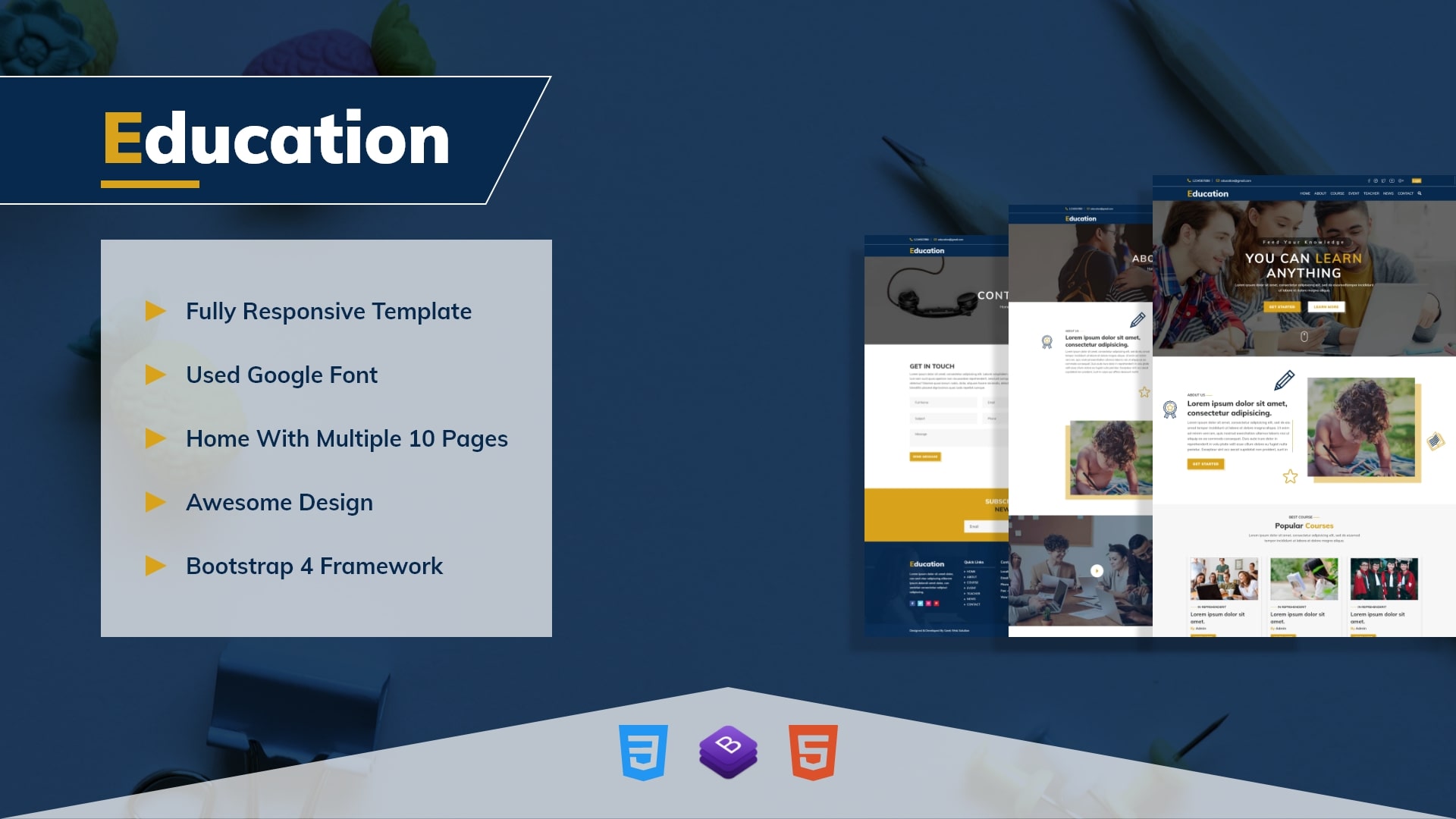 Education is a responsive HTML5 pro template that facilitates you to make an education-based website that might include online classes, blogs, video lectures, media sharing, screen sharing, etc.
Education is so crucial for the growth of any country. In any circumstance, you don't want education to stop. So, in our digital world, it's very likely to set up an education website that helps students learn from anywhere.
Our educational templates let you make an educational website very quickly. Our HTML 5 template is so simple to set up and customize as per the needs, and with bootstrap, we can make it more colorful to give a better user experience. Also, we provide dedicated support in our pro version and many other features.
Features Education website template
Simple to set up
Creative representation
Best use of material design
Animation and smooth scrolling
Based on bootstrap
Includes multimedia
Plug and play
Customer support
Tested on different devices
How to choose a suitable Template for your website?
When choosing a perfect website template for your site, you have to look for a template related to your domain so that it won't be difficult for you to customize. For example, If you want to create a food or restaurant-related site, you can use our Foodify template specially made for that purpose.
Besides the goal, we also have to consider features like response time, smooth animation, easy navigation, well documentation, etc.
Having all these necessary features gives you more benefits and creates a chance to stand against your competitors in the market.
You can visit Geek Code Lab to buy or get free themes. Which are very high quality in nature, robust customer support, time-to-time updating, and take care of every small detail that will help your website grow more on the internet. Grow your business with Geek Code Lab. All the Best.