Do you want to schedule the sale discount on your store? If your answer is yes, I can show you the best way to apply the sale on WooCommerce products using the best WooCommerce discount plugin.
Our WooCommerce Sale Discount Scheduler can help you to create and manage WooCommerce discount sales very easily without the help of any experts. You need to perform a few clicks; that's it, you're done. WooCommerce Sale Discount Scheduler is the best WordPress plugin, so in this article, I will explain the whole process step by step on how to create and manage scheduled sale discounts in WooCommerce.

Why use WooCommerce Discount Plugin?
The reason to use this WooCommerce discount plugin is simple, you can get lots of highly paid features for free. The user interface is relatively smooth and can be handled from one place. In the market, many plugins can do the same work, but they cost too high; also, they make individual plugins for individual features. But the WooCommerce Sale Discount Scheduler plugin can provide you with all in one place.
Here is the link to download the WooCommerce Sale Discount Scheduler plugin.
What is WooCommerce Sale Discount Scheduler?
Users are finding an ecommerce plugin WordPress which can give them the ability to manage scheduled discounts in one place with few clicks. Absolutely WooCommerce Sale Discount Scheduler is what they are looking for. This WooCommerce Discount Plugin can add the sale discount scheduler with the WooCommerce scheduler timer.
Users can set the start time and end time for the discount offer. There are 2 types of discounts, percentage based and fixed price based. Discount applies to the regular price. There are two options for the scheduler timer, Future Sale CountDown and On Sale CountDown.
The Future Sale Countdown shows when the sale will live, and the On Sale Countdown shows when the deal is ongoing and disappears when the sale is over. Here we have to give attention to the time because the time is on the GMT. You can set the sale discount scheduler for multiple products simultaneously.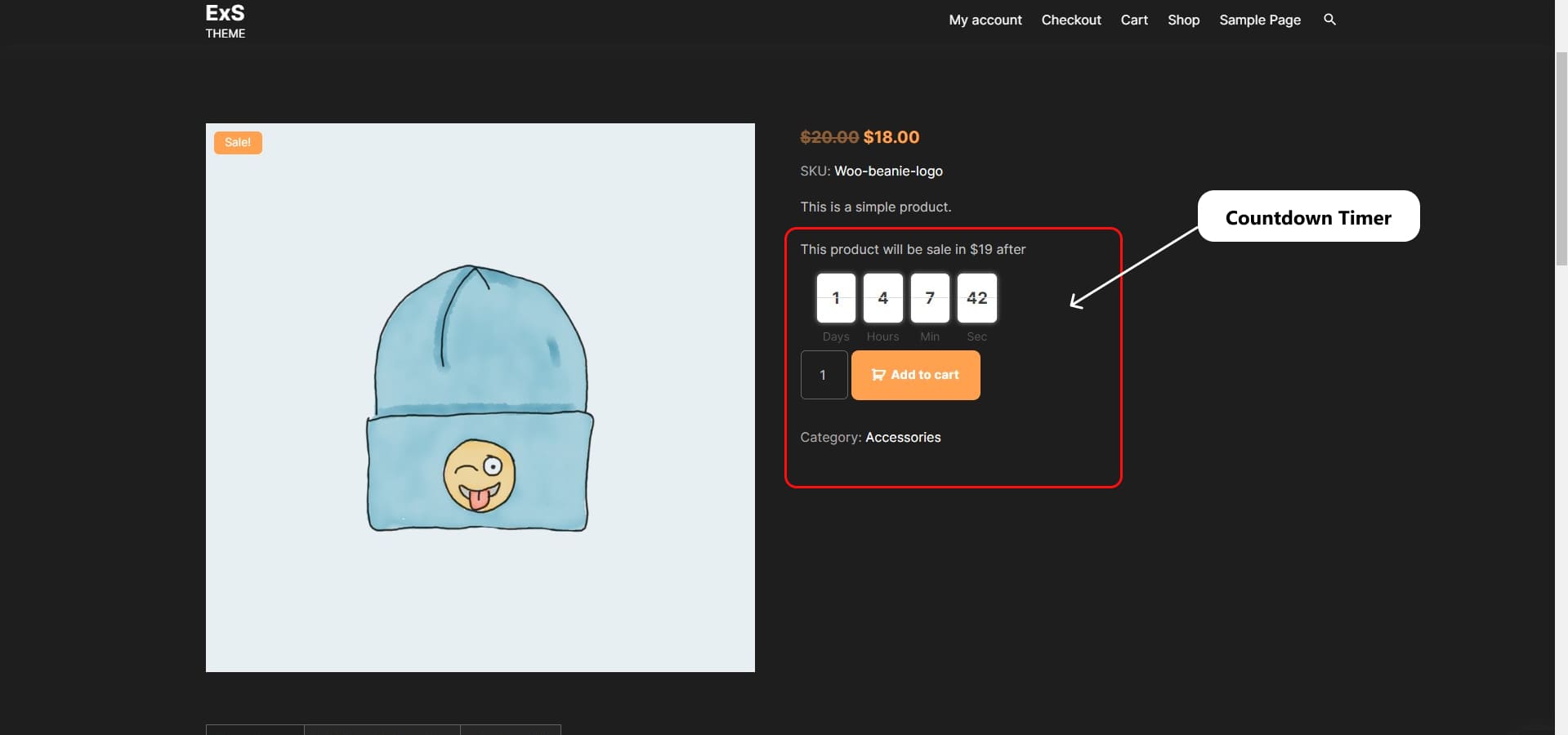 How to integrate WooCommerce Discount Plugin?
Let's see the integration of the best eCommerce plugin WordPress. I'm explaining step by step so you won't get confused. So ready for a ride? Here we go!
Once you Download and Install this WooCommerce Discount plugin on your WordPress Website. You can get the sale discount schedule settings on the product page. You need to know that the settings are separate for every product, so you have to set up all settings for each product. But I also have one good news: you must continue reading this article till the end.
Follow the steps to apply the sale discount scheduler on your WooCommerce Store.
Step 1: Enable the Status to apply WooCommerce discount Plugin.
Users can enable and disable the status for the sale discount scheduler for any product at any time.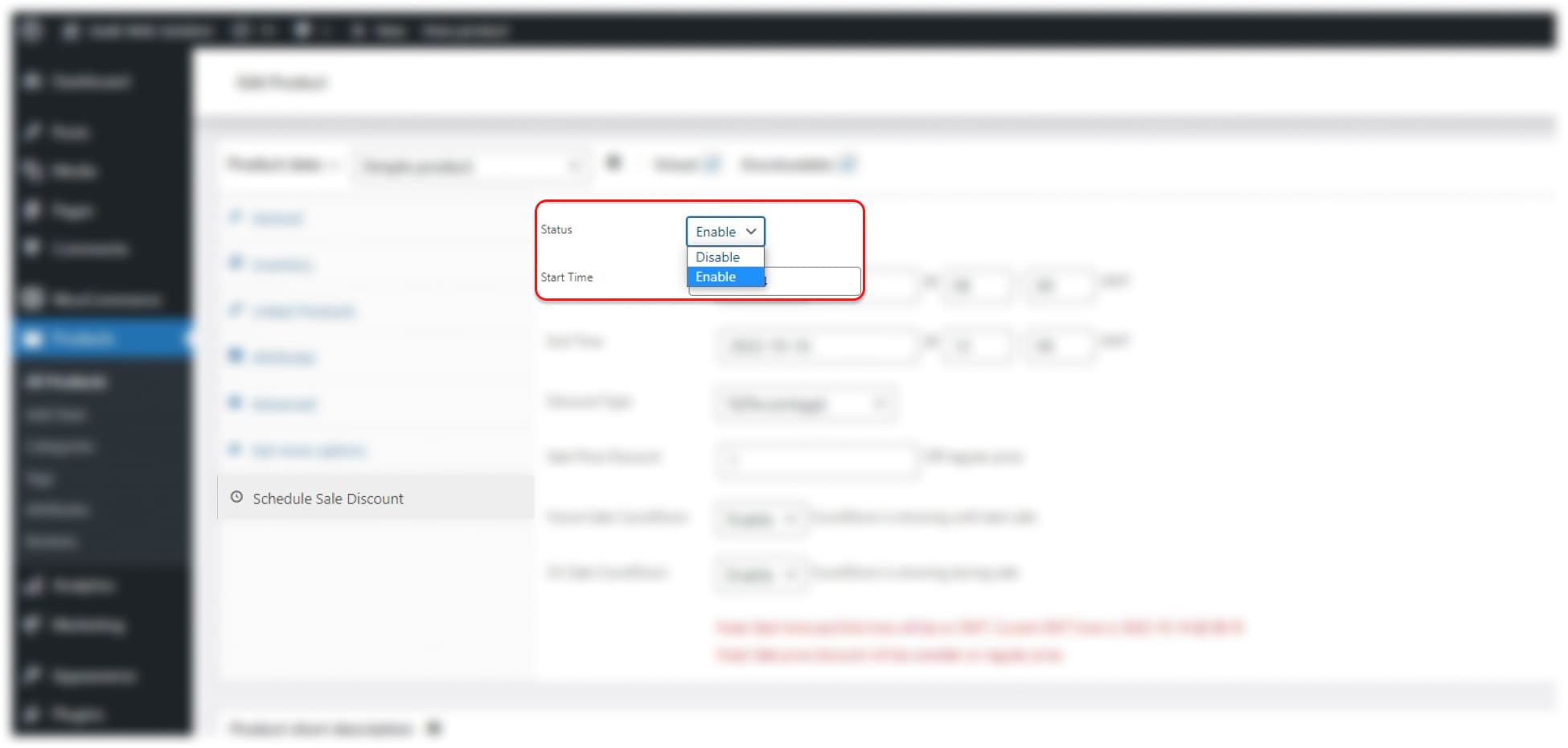 Step 2: Enter The scheduler timer Start time and End time.
You have to assign the timing for running the scheduler timer. You must be careful before entering the time because the time is in the GMT zone.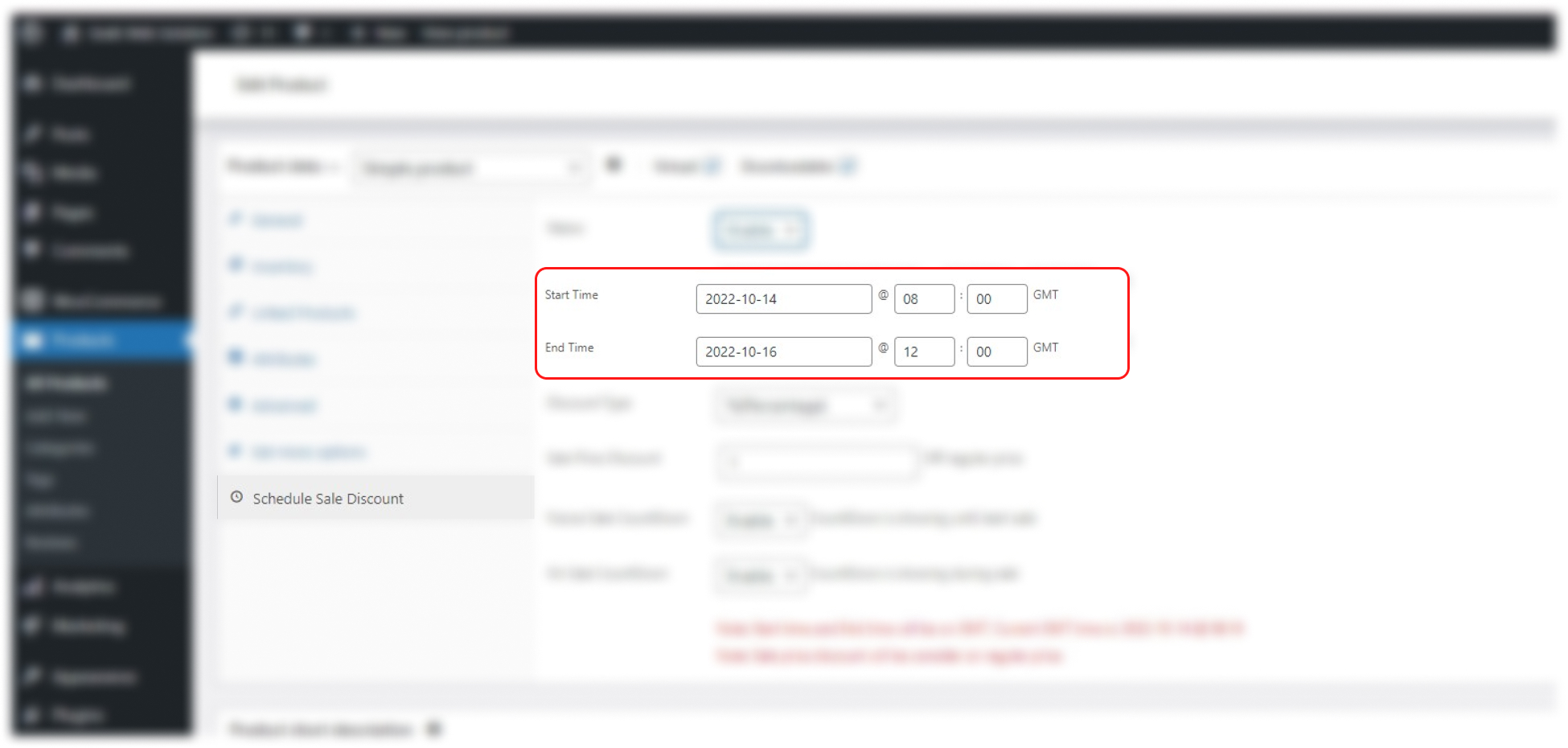 Step 3: Select the discount type and the price amount.
As we see above, this plugin provides 2 discount options: WooCommerce percentage sale-based discounts and Fixed price-based discounts. After selecting one, you can enter the discount amount, which is applied to the regular price.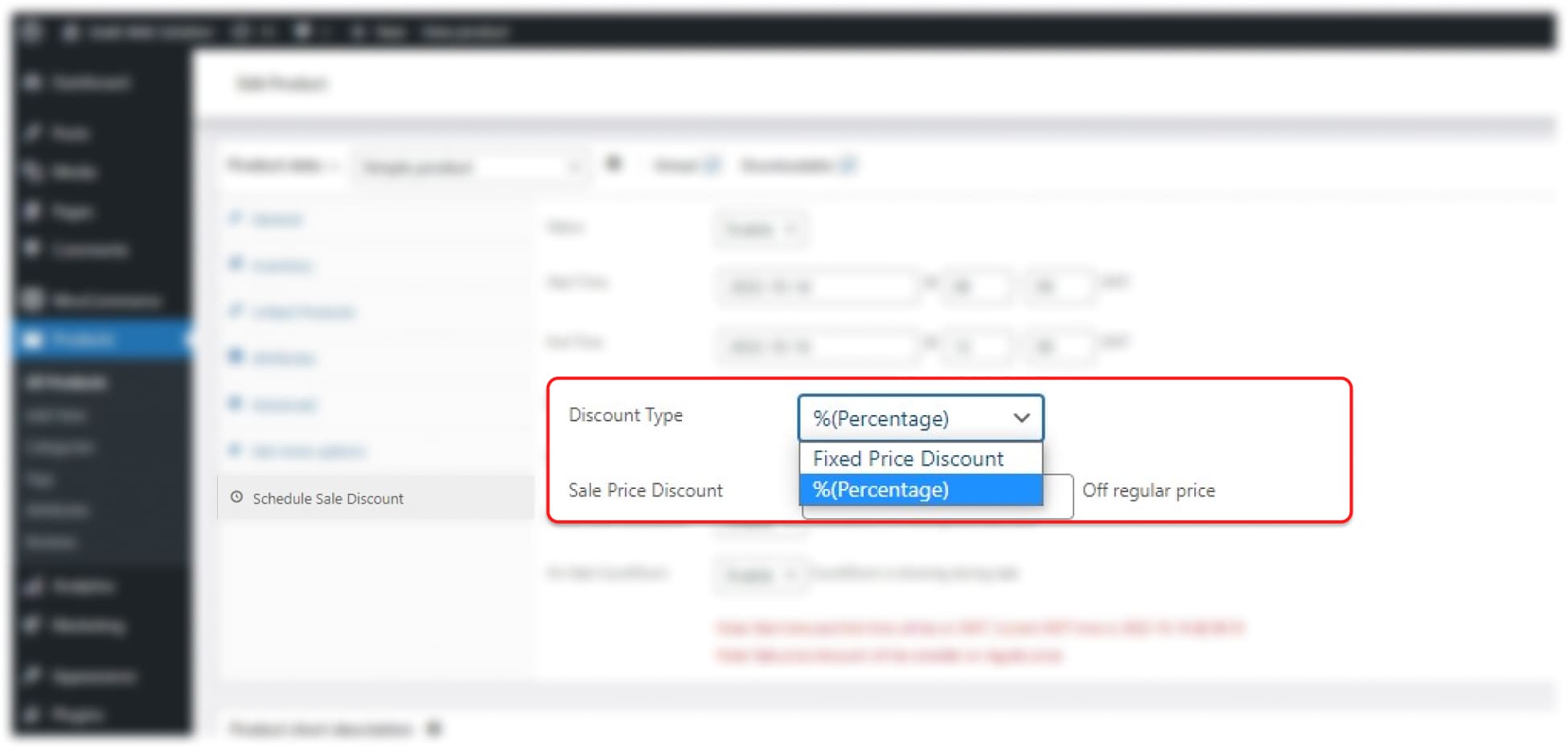 Step 4: Set the sale countdown timer.
You can enable and disable the status of the countdown timer. Here are 2 types of countdown timers one for a presale discount scheduler timer(Future Sale CountDown), and the second is an ongoing discount scheduler timer(On Sale CountDown).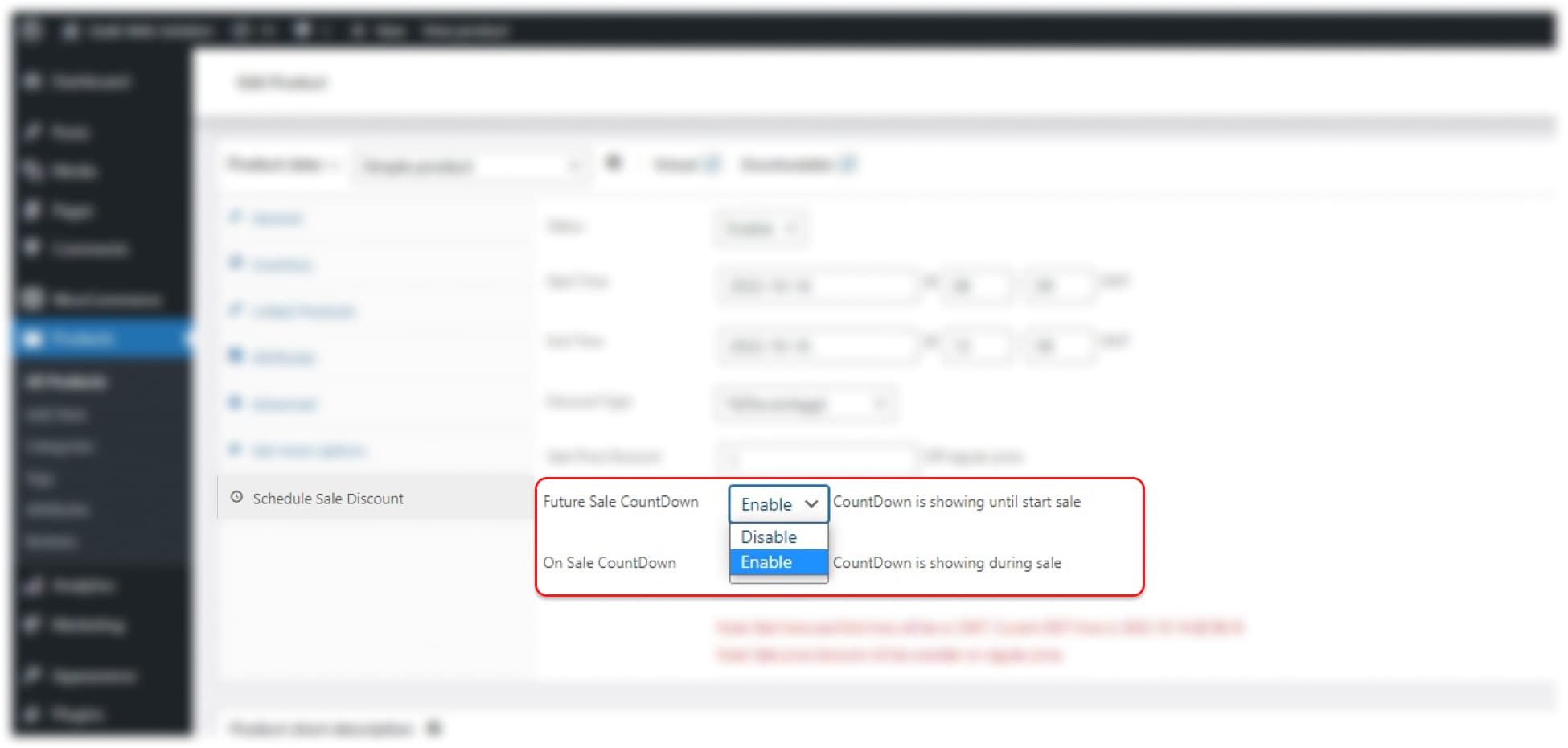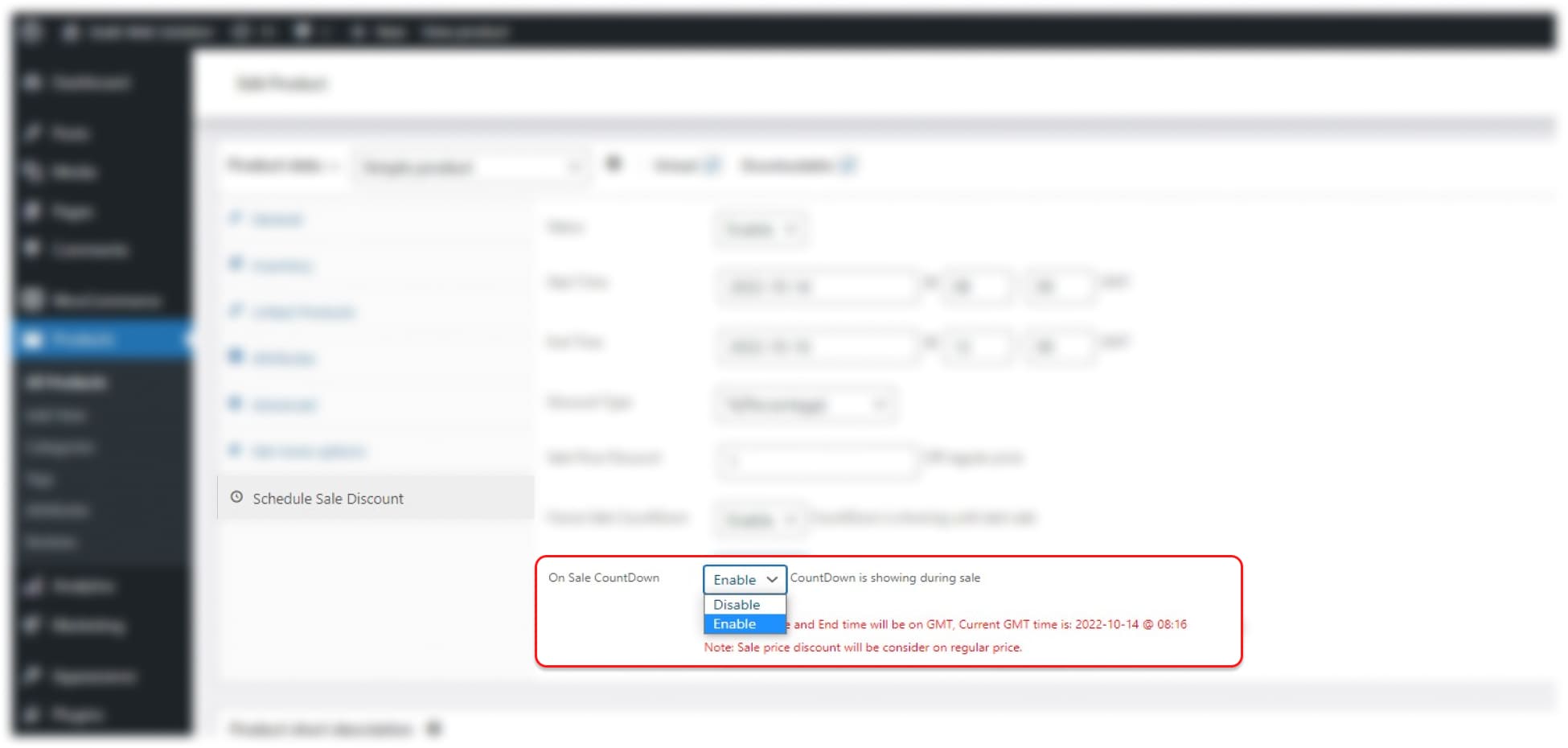 Features of the WooCommerce Discount Plugin
Users can create flash sales scheduled to begin at a user-defined time.
Options to add seasonal WooCommerce discount offers, which are triggers and expire on specific scheduled dates and times.
Can set the sale discount scheduler for multiple products simultaneously.
The discount types are Woocommerce Percentage sales and fixed price amounts WooCommerce discounts, which are applied to the regular price.
Users have options to show the upcoming sale's scheduler timer.
WooCommerce sale discount scheduler is available on time range and for each simple product.
Admin can enable and disable the sale discount scheduler at any time.
Ability to show WooCommerce scheduler timer for upcoming sales and ongoing sales.
Options to showcase your upcoming sale and ongoing sale products on your website.
WooCommerce discounts are shown on the shop page, product detail page, and cart page.
Advantages of WooCommerce Discount Plugin
Simple and ordinary, but a crucial benefit of the plugin is a smooth user interface.
Do a few clicks for setup and apply WooCommerce discounts on your Woocommerce Store.
Easy to use with very few settings.
Creative scheduler timer for presales and live sales.
The scheduler timer's time is based on the GMT time zone, which is best at the international level.
Multiple discounts are offered, so users can apply woocommerce discounts more effectively.
More convenient tools are available: shortcodes and widgets for display presales and live sales products anywhere on the website.
Good News: As I told you above, I have one good news, and the good news is that you can show all of the products in one place, which is in the sale discount scheduler
Disadvantages of WooCommerce Discount Plugin
WooCommerce Discount Plugin is a very accurate plugin. It's like a plugin without any cons, but I find one is users can't edit bulk products simultaneously; users can apply the Sale Discount Scheduler on multiple products but can't edit them in one place. They have to edit each product if they want to change something.
At Geek Code Lab, you can find the best quality WordPress and WooCommerce plugins, HTML templates, XD Graphics templates, and creative logos to improve your website's look, sales, and growth next level. Please stay tuned with us at Geek Code Lab for more newly updated trends.